Mireille Guiliano's "Meet Paris Oyster" kissing the sea from the English Channel to the Mediterranean (excerpt & recipe) – part two
12 Wednesday Nov 2014
Tags
Brasserie Lipp, Chef Barbara Lynch Menton No 9 Park B&G Oysters, City of Light, Daniel Boulud The Dinex Group, Ernest Hemingway A Moveable Feast, France, French cuisine, French food, French Women Don't Get Fat Mireille Guiliano, French Women for All Seasons Mireille Guiliano, Garnier Paris, Gillardeau oysters France, Girard Depardieu L'Ecaille de la Fontaine Paris, Grand Central Life & Style, Hachette Book Group, Huitrerie Regis, Huitrerie Regis oyster bar Paris, International Editions Mireille Guiliano, La Coupole Paris, Le Dome Paris, Le Figaro Mireille Guiliano, Le Procope Paris, lIe de Re French oysters, LVMH Veuve Clicquot, L'Ecailler du Bistrot Paris, Marennes-Oleron French oysters, Meet Paris Oyster Mireille Guiliano, Mireille Guiliano LVMH Veuve Clicquot, Oven fried Oysters recipe, Oyster Brochettes recipe, Oyster Omelet with Shiitake Mushrooms recipe, Oyster Soup with Creme Fraiche recipe, Oyster Vichyssoise recipe, Oysters a la Charentaise recipe, Oysters a la Normande recipe, Oysters from Brittany, Oysters from Japan, Oysters Rockefeller recipe, Oysters with Champagne recipe, Oysters with Citrus Sauce recipe, Oysters with Curry Sauce recipe, Oysters with Parmesan recipe, Paris, Paris cuisine, Roasted Oysters recipe, Shrimp with Oysters and Seaweed, Skillet Fried Oysters recipe, The French Women Don't Get Fat Cookbook Mireille Guiliano, USA Today Mireille Guiliano, Veuve Clicquot, Women Work & the Art of Savoir Faire Mireille Guiliano
Share it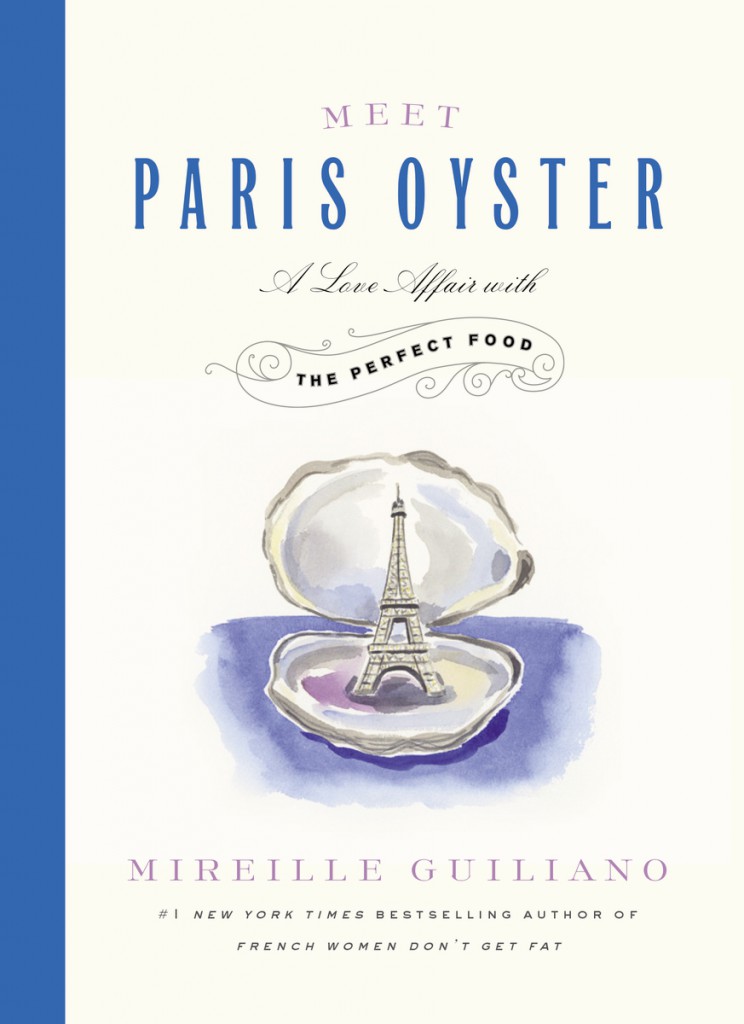 Excerpted from Meet Paris Oyster by Mireille Guiliano. Copyright © 2014 by Mireille Guiliano. Used with permission of Grand Central Publishing. All rights reserved. Including recipe for Oyster Vichyssoise.
Meet Paris Oyster: A Love Affair with the Perfect Food is an engaging exploration of the Parisian love affair with the world's most sensuous shellfish. It centers on Huîtrerie Régis, a tightly packed oyster bar in the heart of the City of Light, with an opinionated owner and a colorful cast of regulars. Part cultural journey, part cookbook, and part slice-of-life play, this book introduces readers to the appetites (gastronomic and otherwise) of Paris and its people. Beyond Huîtrerie Régis, the French oystermen, and the other characters in pursuit of the oyster, Mireille Guiliano shares information about the best oysters around the world, their nutritional value, the best wine pairings with them, and a dozen mouthwatering recipes that will have readers craving, buying, and preparing oysters with confidence. Indulge and enjoy! To purchase Meet Paris Oyster (November 2014, Hachette Book Group), visit: Meet Paris Oyster.
Visit: French Impressions: Mireille Guiliano's "Meet Paris Oyster" in pursuit of the world's best oysters and wine pairings with them, her interview on A Woman's Paris®.
Book photo by Tim Knox
Meet Paris Oyster, and the Parisians' Love for Them: Chapter three (part two)
Kissing the Sea 
If in ancient times all roads led to Rome, it is very safe to say that for the past few hundred years, all French roads have led to Paris. And on those roads from the sea, oysters travel every day.
France is the number one consumer of oysters in Europe, and 90 percent of the production of European oysters comes from France: that's about 130,000 tons, though in some recent years problems (natural and man-​made) have caused production to fall to as low as 80,000 tons.
From the English Channel to the Méditerranée along the whole Atlantic coast, France equals oyster farming. From the north, Normandy, counterclockwise west to north and south Brittany, down to Charente-​Maritime (Marennes-​Oléron and Ile de Ré), to the Arcachon basin near Bordeaux, and across to the Thau lagoon in the southwestern Languedoc-​Roussillon region are the prime breeding grounds for France's oysters.
The tastes are all different, though the variety of oysters is not. They are mostly (98 percent) cupped oysters, or creuses (pronounced "krØuz"), along with some flat ones, or plates (pronounced "platt"), mostly from Brittany. These two types, which I discuss in much more detail later, are the common types found the world over.
The breeding methods are many: in deep water, on tables or basins, and in estuaries. However, on more than 3,000 hectares (more than 7,000 acres) between the Seudre and the Oléron Island, oysters benefit from particular methods of affinage (aging, refining, finishing) and breeding in claires (clay basins). Located below the level of the highest tides, the basins fill and empty on the whim of the ocean. Since the basins are not deep, exposure to the sun allows for a quick growth of plankton, the oyster's food.
The basins used to be salt marshes but have been progressively used for oyster breeding since the nineteenth century. It was Victor Coste at the time of Napoléon III and the Second Empire, who, at the behest of the ministry of agriculture, was asked to come up with consistent and sustainable production methods to meet consumer demands. He compared the methods for capturing and breeding oysters and became the founding father of modern oyster culture by creating the oyster farm system. He recognized the superiority of raising and cleansing oysters in basins and, through legislature, supported the concept of a collective group of basins being recognized as a farm.
The basin of Arcachon and Marennes-​Oléron are the only two significant areas in France where oysters reproduce naturally. They provide the spats (oyster larvae) that are sent to many basins elsewhere in France. After having been "capted" on collecteurs (tubes), the oyster larvae develop for a year before they are detached to be put in beds, where the oysters will stay for two years. The basin passage gives the oysters their more pronounced goût du terroir in addition to the sea savor. Those oysters are also meatier.
While the deep-​sea oysters of Normandy are marked by their iodized flavors, and those of Arcachon can be distinctively suggestive of vegetables and minerals or in places citrusy, the oysters of two areas generally stand out for reasons beyond just taste.
In Brittany, where most of the flat oysters are farmed, those from Cancale are famed and have been exported since Roman times. Here the oysters are subjected to some of the strongest and widest ranges of tides in the world and become richly oxygenated and salty and associated with iodized flavors. Even more famous are those from the Aven-​Belon appellation (yes, oysters in France have regulated origins). These rare Belons (the species is Ostrea edulis) are matured in a site where the freshwater from streams and rivers mixes with seawater and the local algae. They are relatively small, plump, and firm and burst with bold flavors, notably metallic and earthy. Copper is a common flavor description, and Belons have a strong aftertaste of zinc. I appreciate that might not sound so appetizing, but trust their high prices as testament to their gastronomic delights.
The other standout appellation is Marennes-​Oléron, which is France's and the world's most extensive oyster farming region. Here the oysters are cup shelled, originating in Japan (species Crassostrea gigas), and exhibit a range of briny flavors, from which each basin (claire) contributes its unique properties, in some cases even bluish-​green dyed highlights from certain algae. The Gillardeau oysters, a brand named after the family that has owned and operated a small company for more than a century, for example, are today grown in Normandy and Ireland but finished in their traditional claires near where the Charente River meets the ocean. They are appreciated for their abundant flesh, modest salinity, near sweetness, nuttiness, and strong aftertaste.
These are the oysters that travel to the markets, bistros, and oyster bars of Paris. Parisians love their oysters.
My first restaurant experience of eating an oyster occurred in Paris when I was a young professional right out of college. It was at Brasserie Lipp. And it was on a date. Oysters and romance (read "sex") have long been associated, as I noted earlier. Remember Botticelli's naked Venus rising up on an oyster shell? Frenchmen and French culture just accept the legend of oysters as an aphrodisiac (believing so must mentally make it so?). And Brasserie Lipp has a few romantic atmospherics of its own. As you may know, it is the famous Left Bank Alsatian brasserie dating from the 1880s with a 1920s Art Nouveau interior that is now government protected to preserve the same look. So, physically, it is much the same as when Simone de Beauvoir and Jean-​Paul Sartre dined there regularly, the same as when Hemingway wrote there, the same as when I was "romanced" there, and the same as when, in the 1950s, Albert Camus, Jean Genet, Marc Chagall, Balthus, Francoise Sagan, Charles Trenet, and Simone Signoret with Yves Montand were among the artists, celebrities, and politicians who frequented the place. A dozen oysters, umm . . .
I was also frequently taken to La Coupole, where I remember best the oysters on the plateau de fruits de mer (a platter of assorted fresh and cooked shellfish). That I remember the seafood on a platter more than the guys who took me there surely says something about me . . . or maybe about them! La Coupole, another grand Art Deco palace, was also an artist hangout in its heyday . . . Pablo Picasso, Man Ray, Brassa., Albert Camus, Henry Miller, Josephine Baker . . . ate and drank there . . . oysters for sure. The fruits de mer platter made for a special date and always a special occasion—oysters, clams, shrimp, crabs, crayfish, lobsters, periwinkles, mussels, snails, sea urchins, all on a bed of ice on an enormous platter raised above the table. A little lemon, perhaps a mignonette sauce, some special cutlery, some good bread and butter, Champagne, beer, or white wine. It was a wonderful experience, in Paris or elsewhere, but for me it will always epitomize a slice of Paris. And many Parisians celebrate their joie de vivre at La Coupole and its sister bistros and brasseries. Early in our marriage, Edward and I celebrated a memorable New Year's Eve there. It was indeed romantic—the Christmas and New Year's colors and decorations, sybaritic oysters laid out like the sea, the Art Deco setting that brought us into a movie scene replayed for decades amid the Réveillon revelers and lovers; indeed, the smartly dressed diners all around us that evening kissing and laughing and kissing some more and enjoying the best of moments; the waiters running about in their black-​and-​white attire, and, of course, the sound of Champagne corks popping, popping, popping.
While oysters are raised and enjoyed all over the world, in Paris—ah, Paris—the oysters are oh so French. Previously mentioned Ernest Hemingway perhaps best captured in English the shared experience of eating a French oyster in Paris when he was living there in the 1920s: "As I ate the oysters with their strong taste of the sea and their faint metallic taste that the cold white wine washed away, leaving only the sea taste and the succulent texture," he wrote in a now-​famous passage from A Moveable Feast, "and as I drank their cold liquid from each shell and washed it down with the crisp taste of wine, I lost the empty feeling and began to be happy and to make plans."
I have felt the same . . . in Paris at Le Dome, the great and classic brasserie; at L'Ecailler du Bistrot; at Garnier; at the historic and touristy Le Procope; at Girard Depardieu's L'Ecaille de la Fontaine; at Brasserie Lipp and La Coupole; and at beaucoup de bistros and restaurants. And I have felt that way dozens and dozens of times (as in a dozen oysters dozens of times) at Huitrerie Régis the now supremely regarded little destination and just the place to lose that empty feeling and be happy.
Excerpt: Mireille Guiliano's "Meet Paris Oyster" on the Parisians' love for them (excerpt) – part one, published on A Woman's Paris®. 
Praise for Meet Paris Oyster
"Like any true French countryman, enjoying a good oyster brings me memories of slurping them unadulterated from their shells, seasoned perfectly with their own fresh salt water. Mireille's amusing anecdotes and classic recipes capture the infatuation for this delicacy that so many of us share." —Daniel Boulud, Chef/Owner, The Dinex Group
"In pure Mireille fashion, this charming little book is a delicious, stylish, and, of course, tres français ode to the oyster that will certainly inspire a craving in most readers; halfway through I immediately began wanting briny, icy oysters of my own to slurp." —Chef Barbara Lynch, Menton, No.9 Park, B&G Oysters, and more
Oyster Vichyssoise
This will appeal to lovers of leeks, cream, and oysters. Count me in on that one, too. Served with a chilled muscadet, this dish makes for a perfect brunch course.
Serves 4
Ingredients:
– ¾ cup crème fraiche, divided
– 2 tablespoons unsalted butter
– 3 medium Yukon Gold potatoes, peeled and cut into small cubes
– 4 leeks, white parts only, cleaned and minced
– 3–4 cups chicken stock
– ¼ cup dry white wine
– 1 tablespoon lemon juice
– Salt and freshly ground pepper
– 16 shucked oysters and their liquor, divided
Directions: 
1. Whip ¼ cup of the crème fraiche and reserve in the refrigerator.
2. Melt the butter in a saucepan over medium heat, add the potatoes and leeks, and sauté, stirring, for 3 minutes. Add 3 cups of chicken stock, the remaining ½ cup crème fraiche, the wine, and the lemon juice. Season to taste with salt and pepper, increase heat to medium high, and bring to a boil. Reduce heat to medium low and gently simmer until the potatoes are very tender, 25–30 minutes. Carefully transfer the mixture to a blender and puree or pass through a vegetable mill, adding more chicken stock if too thick. Place the pureed soup in a clean saucepan and add the oyster liquor; stir over medium heat until hot. Season to taste.
3. Place the raw oysters in warm soup dishes and pour the soup on top. The hot soup will "cook" the oysters slightly. Garnish with whipped crème fraiche and serve immediately.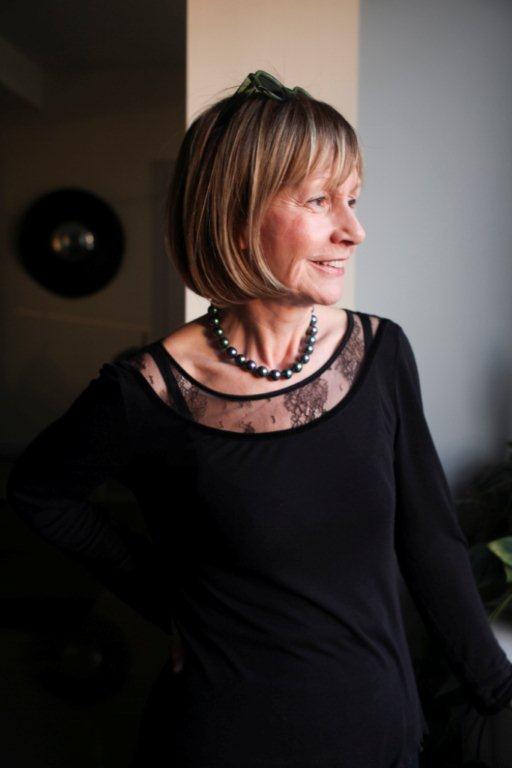 Mireille Guiliano, a former chief executive at LVMH (Veuve Clicquot), is "the high priestess of French lady wisdom" (USA Today) and "ambassador of France and its art of living" (Le Figaro). She is the author of the #1 New York Times bestseller French Women Don't Get Fat: The Secret of Eating for Pleasure, as well as French Women Don't Get Facelifts, and three other books. Born and raised in France, she is married to an American and lives most of the year in New York, Paris and Provence. Visit Mireille Guilano to learn more. (Website) (Facebook) (Twitter) (Instagram) (Pinterest) (Google+)
Portrait photo by Tim Knox
You may also enjoy A Woman's Paris® post Patricia Wells' "The Food Lover's Guide to Paris" on Restaurants, Bistros, and Brasseries (excerpt). Patricia Wells, author of the award-winning Bistro Cooking, and for more than two decades the restaurant critic for The International Herald Tribune, takes readers, travelers and diners to the best restaurants, bistros, cafés, patisseries, charcuteries, and boulangeries that the City of Light has to offer. Including Willi's Wine Bar's Bittersweet Chocolate Terrine—the irresistible chocolate dessert that is one of Patricia's Paris favorites.
Alexander Lobrano's "Hungry for France" – My appetite for France (excerpt). Hungry for France: Adventures for the Cook & Food Lover by acclaimed food writer and Paris-based author Alexander Lobrano. Every food lover's ultimate dream is to tour the countryside of France, stopping off at luxurious inns with world-class restaurants and sampling fresh produce and regional specialties from local markets. Hungry for France offers just that with Lobrano sharing his thirty-plus years of exploring every corner of this gastronomically rich country with readers. Including a recipe for Layered Ratatouille Gratin.
Whistle Stop Coffees: Flore der Agopian on Cafés in Train Stations in Paris. "When I walk inside a train station in Paris," writes Parisianne Flore, I always feel like I'm taking a journey back in time; an out-of-reality experience immortalized in countless French and American films: Nikita, Les Poupées Russes, Mr. Bean's Holiday, and Ocean's Twelve, to name a few." Flore writes about Gare Montparnasse, Gare de Lyon and Gar du Nord and the cafés and restaurants you will find there—from the famous Le Train Bleu and Terminus Nord to Paul, the boulangerie café founded in the late 19th century, and now a worldwide success.
Hotspots and Hot Chocolate: Student Cafés in Paris by Parisian Flore der Agopian. The Left Bank has always been "the place to be" for intellectuals, artists and students. By strolling through the famous Latin Quarter, which attracts many students from the whole of France, you can feel the lively, bustling atmosphere created by the presence of the famous universities, such as La Sorbonne. Follow Flore as she visits the seven most famous student cafés in Paris.
Café Culture in Paris, by Parisienne Flore der Agopian. The café, writes Flore, is a pleasurable way of sitting unbothered for hours on end with a book, with friends, or jut watching all sorts of people coming and going. Le Café de Flore, one of the oldest and most prestigious in Paris, where you can meet or observe its famous clientele among the Parisians, tourists and waiters dressed in their black and white uniforms as if they were still in the 1920s. To Flore, Café de Flore is almost mythical, legendary—a real institution.
Text copyright ©2014 Mireille Guiliano. All rights reserved.
Illustrations copyright ©Barbara Redmond. All rights reserved.
barbara@awomansparis.com