Je suis Charlie: "Paris Mourns Heroes of the Pen" by Ronald C. Rosbottom
17 Tuesday Mar 2015
Tags
A Walking Guide to Occupied Paris Dr Alan T Marty, American Library in Paris, Amherst College Ronald C. Rosbottom, Anne Morgan Franco-American Museum Picardy France, Back Bay Books Little Brown and Company, Charlie Hebdo, Charlie Hebdo headquarters Paris, Chateau de Blerancourt France, City of Light, Collaboration Gertrude Stein Bernard Fäy Vichy Dilemma Barbara Will, France, Je suis Charlie, Notre Dame Cathedral, Paris, Paris at the End of the World John Baxter, Paris Mourns Heroes of the Pen by Ronald C. Rosbottom, Place de la Republique Paris, Place des Vosges Marais Paris, President Hollande, Scott Turow Identical, Stacy Schiff A Great Improvisation, Stacy Schiff Cleopatra, Stacy Schiff Véra, The Hotel on Place Vendôme Tilar J Mazzewo, Wall Street Journal, When Paris Went Dark Ronald C Rosbottom
Share it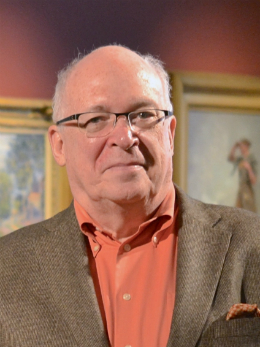 Paris Mourns Heroes of the Pen by Ronald C. Rosbottom. © 2015 Ronald C. Rosbottom. Published with permission. All rights reserved. Read in part at the American Library in Paris on January 15, 2015 in Paris. 
(French) Ronald C. Rosbottom, author of the bestseller When Paris Went Dark, is the key person to talk to about Paris having gone dark once more considering the tragic attack at the Charlie Hebdo headquarters earlier this year. Ronald's letter to colleagues and friends captures the terror and humiliation that was Paris. We feel When Paris Went Dark: The City of Light Under German Occupation, 1940-1944, is timelier than ever.
Paris Mourns Heroes of the Pen
By Ronald C. Rosbottom
January 8, 2015
One of you, hearing of yesterday's attack at the headquarters of Charlie Hebdo, a satirical weekly here in Paris, wrote: "Are you safe?" The answer is yes, we are, but we do not live in safe times.
We were in a restaurant at lunch yesterday on the Left Bank, when one of our friends read from her cell phone that there had been an armed attack near the Place des Vosges in the Marais where we often shop and dine. We asked the waiters if they had more news, but they were as uninformed as we. My wife, Betty, and I decided nevertheless to go to the Marais where we had planned to spend the afternoon. We stopped in a café to watch TV, and the news was stunning: a dozen people, ten of them journalists, cartoonists, and staff for the paper, had been gunned down just before noon. Amateur videos showed two masked killers getting into a car, but not before shooting a wounded policeman in the head.
The news spread quickly throughout the city, and everywhere we went on our way home Parisians were checking their cell phones for more information. Within hours, thousands had gathered spontaneously at the Place de la République, the square that has served as a rallying spot for all sorts of public support for the rights of man. We saw on TV hundreds of people holding candles, signs that read "Je suis Charlie," but, more poignantly, holding up their pencils, their Bics, their fountain pens, in sympathy with those journalists who had joyfully, satirically, and often "tastelessly," mocked the religious and political opinions of the certain.
Today, it's raining in Paris, as crowds gather in front of Notre Dame Cathedral, again in the Place de la République, and elsewhere throughout the city and the country. President Hollande has declared a rare three-day period of national mourning. The rain only reinforces the sense of mournfulness that covers this beautiful city. The 19th-century poet Baudelaire wrote about such dismal times "quand le ciel bas et lourd pèse comme un couvercle/Sur l'esprit gémissant en proie aux longs ennuis,/Et que de l'horizon embrassant tout le cercle/Il nous verse un jour noir plus triste que les nuits." [When the low and heavy sky weighs like a lid/Upon the soul moaning in injury,/And when, spanning the city's horizon,/It pours a black day sadder than our nights"]. This is how Paris felt today when I went out to buy a dozen newspapers—of all political stripes—commenting on yesterday's still resonant events.
Paris represents many things for Betty and me: a joie de vivre, that is, a deep belief that life can be pleasant, that being with friends over a slow meal is the height of sophistication, that just watching others enjoy the city is entertainment enough, that there are so many small actions that Parisians take that add aesthetic comfort to daily existence. Yet these events remind us of another Parisian tradition, that of tolerance, belief in the curative power of intellectual engagement, criticism as a healthy antidote to smugness and comfort. Liberty is not an empty ideal here, but a palpable reality.
Charlie Hebdo was not a great newspaper, nor a widely read one. Its most persistent impact came from the outrageous cartoons that its illustrators created, and which were picked up by media all over the world. Nothing was sacred; everyone's beliefs were criticized. And, a few years ago, the paper's offices had been fire-bombed, and its employees threatened. Most recently, the weekly had been relentless in its targeting of "radical Islam," or of those who used one of the world's largest religions for their own narrow purposes. In a formidable essay on Salon's e-zine, Laura Miller wrote that "to kill someone for making fun of you is a tacit confession of your own impotence, a demonstration of the fragility of your self-respect and legitimacy." Yet this felt impotence and sense of fragile legitimacy too frequently combine to create thoughtless and profane murderers. Thanks to countries like France, the light of reason will continue to show the rest of the world the way toward sanity.
In one of those coincidences that make living so surprising, I had gone to the Marais to buy a Christmas gift I had promised myself: a beautiful fountain pen. I purchased it just a few hours after twelve people had died defending my right to use it as a critic.
When Paris Went Dark: The City of Light Under German Occupation, 1940-1944 by Ronald C. Rosbottom. Long listed for the National Book Award, now in paperback.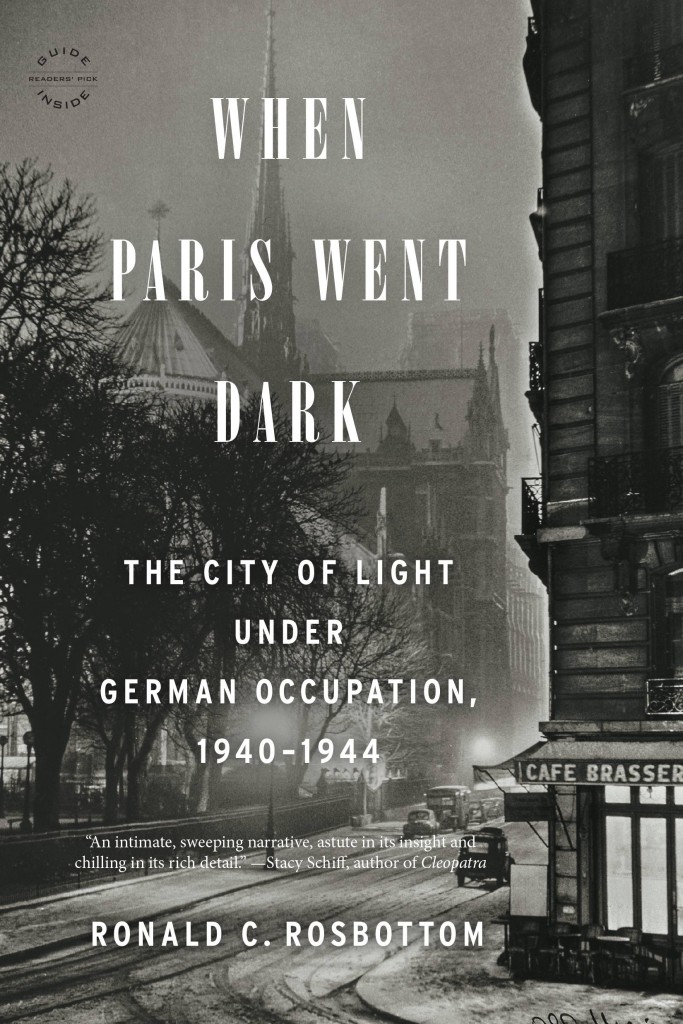 June 14, 1940, German tanks entered a silent and deserted Paris. The City of Light was occupied by the Third Reich. Parisians were stunned, humiliated, and yet curious about the sudden appearance of thousands of German soldiers on their boulevards. The Germans too were curious: How do you treat a city that did not fire a shot in its own defense?
Celebrating more than 70 years since the Liberation of Paris, Ronald C. Rosbottom's When Paris Went Dark: The City of Light Under German Occupation, 1940-1944 (Back Bay Books/Little, Brown and Company; March 17, 2015), now in paperback, weaves a rich tapestry of stories to help readers rediscover the texture of daily life in a city that looked the same but had lost much of its panache. Over the four years of the Occupation, an eerie sense of normalcy would settle over Paris as the occupiers and the occupied struggled to coexist.
This expansive narrative will fascinate readers who are interested in exploring the continuing legacy of World War II, Jewish history, and the role of art in a repressive environment—and, of course, lovers of France. (Purchase)
Excerpt: When Paris Went Dark: The City of Light Under German Occupation, 1940-1944 by Ronald C. Rosbottom. Copyright © 2014 by Ronald C. Rosbottom. Reprinted with permission of Little, Brown and Company (Part One)(Part Two).
Interview: Ronald C. Rosbottom's "When Paris Went Dark" – Marking the 70th anniversary of the Liberation of Paris (Part One) (Part Two) published on A Woman's Paris®.
Praise for When Paris Went Dark
"A well-rounded overview of the many subtle forms that accommodation took, as well as a vivid sense of what the French to this day call 'les années noirs," the four long years in which their country was not their own." —Wall Street Journal
"A riveting account of one of the most resonant hostage takings in history: the 1,500 days when a swastika flew from the Eiffel Tower. Ronald Rosbottom illuminates every corner of a darkened, heartsick city, exploring the oddities, capturing the grisly humor, and weighing the prices of resistance, accommodation, collaboration. The result is an intimate, sweeping narrative, astute in its insight and chilling in its rich detail." —Stacy Schiff, author of Cleopatra, A Great Improvisation, and Véra
"When Paris Went Dark recounts, through countless compelling stories, how Nazi occupation drained the light from Paris and how many of its residents resisted in ways large and small. This is a rich work of history, a brilliant recounting of how hope can still flourish in the rituals of daily life." —Scott Turow, author of Identical
Ronald C. Rosbottom is the Winifred Arms Professor in the Arts and Humanities and a professor of French and European Studies at Amherst College. Previously he was the dean of the faculty at Amherst and the chair of the Romance Languages Department at Ohio State University. He lives in Amherst, Massachusetts.
Photo credit: Kane Haffey
2015 Tour Dates for When Paris Went Dark
March 12: New York, NY – Mid-Manhattan Library
March 13: Maplewood, NJ – (words) Bookstore
March 27: Washington, DC – Politics & Prose
April 7: Baltimore, MD – Enoch Pratt Library
April 8: Washington, DC – Kramerbooks
April 17: Chicago, IL – Seminary Co-Op
April 18: Bexley, OH – Bexley Public Library
May 1: New York, NY – Paris American Club
May 4: Cambridge, MA – Porter Square Books
August 8: Stonington, CT – La Crua Center
You may also enjoy A Woman's Paris® post Anne Morgan's war: American Women Rebuilding France, 1917-1924. Anne Morgan, daughter of the prominent financier J.Pierpont Morgan, and the 350 American Women—all volunteers—left comfortable lives in the United States to devote themselves to humanitarian aid in France; an account from the exhibition of photographs and silent films from the Franco-American Museum in Picardy, France. Château de Blérancourt, in Picardy, France was created by Anne Morgan and is today a national French museum devoted of friendship and collaboration between the United States and France.
Tilar J. Mazzeo's "The Hotel on Place Vendôme" – Hôtel Ritz in Paris: June 1940 (excerpt). Tilar J. Mazzeo, author of the New York Times bestseller The Widow Clicquot, and The Secret of Chanel No. 5. This riveting account uncovers the remarkable experiences of those who lived in the hotel during the German occupation of Paris, revealing how what happened in the Ritz's corridors, palatial suites, and basement kitchens shaped the fate of those who met there by chance or assignation, the future of France, and the course of history.  (A Woman's Paris® interview with Tilar J. Mazzeo)
John Baxter's "Paris at the End of the World" – Patriotism transforming fashion (excerpt). Preeminent writer on Paris, John Baxter brilliantly brings to life one of the most dramatic and fascinating periods in the city's history. Uncovering a thrilling chapter in Paris' history, John Baxter's revelatory new book, Paris at the End of the World: The City of Light During the Great War, 1914-1918, shows how this extraordinary period was essential in forging the spirit of the city we love today. (A Woman's Paris interview with John Baxter)
French Impressions: Barbara Will on Gertrude Stein, Bernard Faÿ, and the intellectual life during wartime France. From 1941 to 1943, Jewish American writer and avant-garde icon Gertrude Stein translated for an American audience thirty-two speeches in which Marshal Philippe Pétain, head of state for the collaborationist Vichy government, outlined the Vichy policy barring Jews and other "foreign elements" from the public sphere while calling for France to reconcile with its Nazi occupiers. In her book, Unlikely Collaboration: Gertrude Stein, Bernard Faÿ, and the Vichy Dilemma, Barbara Will outlines the formative powers of this relationship, treating their interaction as a case study of intellectual life during wartime France.
French Impressions: Dr. Alan T. Marty on the dark history of the City of Light. Alan T. Marty, MD, armed with an historically-informed exploratory spirit, has often encountered Paris' endless capacity to evoke a mood, to surprise with similar absent/present paradoxes, as detailed in his A Walking Guide to Occupied Paris: The Germans and Their Collaborators, a book-in-progress. His work has been acknowledged in Paris dans le Collaboration by Cecile Desprairies, Hal Vaughan's book Sleeping with the Enemy: Coco Chanel's Secret War; and referenced in Ronald Rosbottom's When Paris Went Dark, and in an upcoming book about Occupied Paris by Tilar Mazzeo.
Readers' Choice: 253 Good Books About France (2014). Your quest is to dig below the surface, peek behind the façade, where lurks a story, rumor, recipe or fossil. We have an eagerness to explore fresh ideas, to forge powerful relationships and build a community. Readers, we invite you to draw close this narrative, woven on A Woman's Paris, a narrative that has come to life, to discover secrets of the past and take part in shaping the future. Become a part of our conversation. We celebrate the art and ideas of people from every place and every heritage.
Text copyright ©2015 Ronald C. Rosbottom. All rights reserved.
Illustrations copyright ©Barbara Redmond. All rights reserved.
barbara@awomansparis.com