French Impressions: Elaine Uzan Leary on the American Women Volunteers in Wartime France
30 Thursday Oct 2014
Tags
100th anniversary of World War I France, Alliance Francaise Minneapolis St Paul, Allied troups France World War I, American Committee for Devastated France Anne Morgan World War I, American Friends of Blerancourt France, American Red Cross World War I France, American Women Rebuilding France 1917-1925 Anne Morgan, American Women's Hospital World War I France, Andrew Carnegie library, Anne Morgan J Pierpont Morgan daughter, Brooklyn Navy Yard, Charlie Chaplin The Kid, Chateau de Blerancourt France, Colony Club New York, Elisabeth Marbury, Elsie de Wolf, Florence Nightingale School Bordeaux France, Ford trucks World War I France, France, Franco-American Museum Chateau de Blerancourt Picardy France, General Petain, Isabel Lathrop the American Fund for French Wounded AFFW, James Addams Hull House Chicago, Le Palais Versailles, Marne battlefields France, Newberry Library Chicago, Paris, Picardy France World War I, Ronald C Rosbottom When Paris Went Dark, World War I France
Share it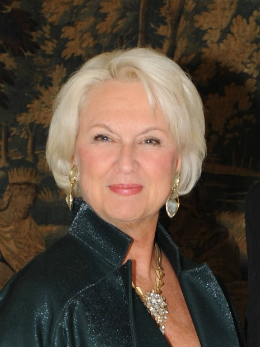 Elaine Uzan Leary, born Elaine Vivian L'Heureux in Auburn, Maine of a Franco-American family, Elaine's many accomplishments reflect a true Francophone and Francophile passion. Elaine is a graduate of Stetson University in Deland, Florida; Universite de Strasbourg, France; Middlebury College Graduate School, VT; and Emerson College in Boston. She began her professional career as a French teacher in Connecticut in 1969 then in Massachusetts starting in 1973.
In Boston, Elaine became involved in many French organizations and co-founded the school of the Alliance Francaise of Boston in 1973 and the French Theatre in Boston, Compagnie Bernard Uzan. She also served as trustee for the Boston-Strasbourg Sister City Association, and launched the French-American Chamber of Commerce of New England.
From 1985-1997 Elaine's career moved to textbook publishing for Heinle & Heinle Publishers and Houghton-Mifflin Company where as Marketing Manager she received many awards for the successful promotion of French language materials, Foreign Languages, and ESL in both secondary schools and colleges.
Her last position in Boston was as Executive Director of the French Library and Cultural Center/Alliance Francaise of Boston (known as the French Cultural Center) from 2001-2008. In 2003 she created the first Fête de la Francophonie at Boston City Hall bringing together all French-related organizations in New England for the first time. Elaine has created many scholarships for students in Boston public schools, a French afterschool program for Haitian children, and most recently chairs the scholarship committee for the American Society of the French Order of Merit, which supports bilingual education in New York public schools.
In June 2008, she was a member of the New England committee for the 400th anniversary of the founding of the City of Quebec, which proudly presented a monument to Quebec honoring the French Canadians who came to New England. Since summer 2008, Elaine has been the Executive Director of the American Friends of Blerancourt in New York, which supports the Franco-American Museum, Chateau de Blerancourt in Picardy, France. She is responsible for the traveling exhibition "American Women Rebuilding France 1917-1924", seen by over 110,000 people to date and scheduled to be in 8 other U.S. cities during 2014-2015.
Past French government awards she has earned incude the 2013 Renaissance Francaise Medaille d'Or de la solidarite et de la valuer, 2005 Chevalier dans l'Ordre National du Mérite, and the 1988 Officier de l'Ordre des Arts et des Letters. Elaine currently lives in New York City.
An exhibit entitled "American Women Rebuilding France, 1917-1924" showcases the extraordinary work undertaken by 350 American Women—all volunteers—who left comfortable lives in the United States to devote themselves to humanitarian aid in France. Barred from voting or serving in active social combat, these women instead directed their considerable energy toward international relief work to counter the devastation of war.
An exhibition of photographs and silent films from the Franco-American Museum in Picardy, France, showcased in the U.S.A. (Chicago, IL, Newberry Library in Chicago, 17 September 2014 to 3 January 2015 Visit: newberry.org; Minneapolis/St Paul, MN, Alliance Française – Minneapolis/St Paul, November 7, 2014 Visit: afmsp.org.)
For information contact: AmericanFriendsofBlerancourt.org /  US.RendezvousenFrance.com/Blerancourt
Visit: Anne Morgan's war: American Women Rebuilding France, 1917-1924, published on A Woman's Paris.
INTERVIEW
Franco-American Museum, Château de Blérancourt in Picardy, France
The only French national museum dedicated to the friendship between France and the U.S.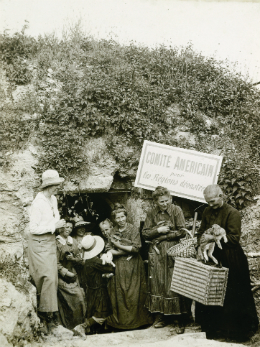 AWP: American Women Rebuilding France, 1917-1924. What inspired the underwriters—The American Friends of Blérancourt, The Florence Gould Foundation, the French Ministry of Culture and Communication, and RMN l'agence photographique—to stage this exhibition?
EUL: The Franco-American Museum had staged this exhibition in France several years back, but it had never come to the U.S. When I was hired to be the Executive Director of the American Friends of Blerancourt in 2008, I was drawn to the story of Anne Morgan and her philanthropic work following WWI, which are exemplified in the original photos in this exhibition. I was convinced that in order to promote this museum, the Anne Morgan story needed to be told.
The Chateau de Blerancourt was her base of operation for aid. I knew Americans would be interested in knowing more about this woman.
Working with the curator at the time, Anne Dopffer, we were able to convince the various agencies that this traveling exhibition was important, and since I had procured a potential contract with the National WWI Museum in Kansas City and the Morgan Library and Museum for 2010, they all agreed. That was the beginning of the traveling exhibition, which went on to the Woodrow Wilson House in D.C. and various French cultural organizations and galleries. With the commemoration of WWI in 2014, I formed a partnership with the Alliance Francaise U.S.A. to bring this exhibition to other locations in the U.S. This exhibition is currently on view in Chicago at the Newberry Library.
AWP: American Women Rebuilding France, 1917-1924, for the most part, is a revelatory exhibit from the archives of Anne Morgan, daughter of the prominent financier J. Pierpont Morgan, who collected private funds and founded the American Committee for Devastated France. How did you uncover these vintage photographs and rare vintage silent film footage?
EUL: After I was hired, I went to visit the museum, which was closed for initial renovations, and the curator showed me the archives and these photos and film footage. I was instantly impressed with the quality and subject matter.
AWP: How did the relief work of more than 350 American women—all volunteers—who devoted themselves to humanitarian aid in France influence the exhibit?
EUL: The entire exhibition is focused on the work of Anne Morgan's organization—CARD (Comite Americain des Regions Devastees) and divided into 3 areas: Devastation, Volunteers and their work, and Children and all the programs created for them following the war. These photos were commissioned by Anne Morgan as a fundraising tool following WWI—and they are truly moving.
AWP: Your research is exemplary. How did you accumulate and obtain this information? From civil and court records, memoirs, letters, eyewitnesses, among others? Was the information primarily in French?
EZL: This information can be found in the archives and library at the Franco-American Museum, Chateau de Blerancourt, but there are also many references through letters at the Morgan Library and Museum. Most of these resources are in English. But I also had 2 living references—Miles Morgan, the grand nephew of Anne Morgan and Member of the Board of Directors of the American Friends of Blerancourt, and the videographer for the multimedia materials for the museum, Alan Govenar of Documentary Arts.
AWP: You are making some very interesting discoveries about American Women in France during World War I through research and the archives of Anne Morgan. Are you finding an underlying message that is especially significant for us today?
EUL: Yes, in the various cities where this exhibition has gone, we have uncovered the families of many American women who were involved in Anne Morgan's organization, including just this past spring, the infamous unsinkable Molly Brown in Denver. Family members have donated scrapbooks and additional photos and letters to the museum as a result of this exhibition. It is a wonderful acknowledgement of the generous spirit of these women who came from privileged society to come to the aid of the French. I believe the important messages are: American women's involvement, which signaled the beginning of the women's movement at the turn of the century, liberating them from simply caring for home and family; the amazing generosity of Americans; and finally the proof of incredible talent and leadership of Anne Morgan to form a philanthropic organization following a catastrophic war and leaving a lasting legacy of sustainability.
All of the programs she set up—clinics and medical care such as visiting nurses, orphanages, schools, training programs, reconstruction companies, traveling libraries, regional centers for supplies, and even sports centers—all of these were turned over to the French and many still exist today.
AWP: You entrench this work in a different part of France's past, taking stock in the civilian, as well as the lives of those who fought at the front. What challenges did you encounter, and how did you unfold the story that you wanted to tell?
EUL: It was done for me by Anne Morgan. Her fundraising campaign included these photos and film, which she showed in N.Y. and other cities showing the plight of the civilian population in these war-torn regions. Of course through the excellent design of this exhibition by museum curator Anne Dopffer, we had a story ready to be told. The biggest challenge in the U.S. was to educate people of the important and unselfish role of the daughter of J.P. Morgan, and the remarkable impact of her work and that of her volunteers. Anne Morgan is known in France, and especially in Picardy, but not here in the U.S. Also, this is a historical exhibition, and art institutions are somewhat reluctant to welcome this exhibition.
AWP: How have you been able to tell this story so that what people feel isn't hatred or despair, but the larger sense of the fragility of life?
EUL: Three quarters of the exhibition show the work of the volunteers and the results impacting children. After seeing the photos of the devastation, it is uplifting to know there were positive results. The photos elicit all the right emotions.
AWP: What did international relief culture during World War I imply for writers, artists, philosophers and political activists?
EUL: I cannot comment in detail about the impact for writers, artists and philosophers, but what I have learned is that there were hundreds of war relief organizations created by Americans during and following WWI, which have grown in importance—the American Field Service and the American Red Cross to mention just two. This war also was the beginning of America's involvement in world affairs and defined our role as ambassadors of aid to other countries, both in battle and in relief aid.
AWP: Which American women, who devoted themselves to humanitarian aid in France, write best about the fluctuations in emotions during World War I?
EUL: Anne Morgan, Anne Murray Dike, and Edith Wharton.
AWP: During the early years of World War I, did many American women who devoted themselves to humanitarian aid in France believe they were framers of a new era? Do we know their shared "truths?" Were they caught in their own web of self-proclaimed "genius" or did they see themselves as historical interpreters, thereby influencing events around them?
EUL: What is most impressive about these women volunteers is that they were not driven by any political or historical ambition. They were not analyzing themselves. Many were doctors, nurses, community leaders defending the rights of children (child labor), and women workers at home, and played an active role in improving the living conditions of immigrants. They were raised in a society that stressed aid to those less fortunate, and the obligation they had to serve others as privileged members of society. WWI offered them an opportunity to put these values to work on a global scale.
AWP: What was the most surprising thing you learned about the war from the distance of 100 years at its start?
EUL: Americans are not well versed on WWI and the impact it had on our world and on America's future involvement in world affairs. It launched women's independence, the war machine and its new inventions, and a more global view of America's strategy. The horror and brutality of this war in a region that was totally devastated coupled with the fact that these people were hit again in WWII, is depressing. We do not seem to learn or evolve as a human race.
AWP: How did this extraordinary period become essential in forging the spirit of the Franco-American relations we know today?
EUL: It brought America into European affairs as a member of world organizations and alliances. Americans have a special relationship with France: Lafayette and Rochambeau, funded by the French monarchy, came to our aid during the American revolution, and our mutual belief and support of the values of human rights have kept us close. Even to this day, France always joins the U.S. in fighting the atrocities committed to peoples of the world.
AWP: Is there one statement that channels everything you have uncovered about World War I?
EUL: Unfortunately, The Great War was not the war to end all wars.
AWP: When you started creating American Women Rebuilding France, 1917-1924, did you have a sense of what you wanted to do differently from other historical exhibits about World War I whose work you had seen?
EUL: My goal was to bring the amazing story of Anne Morgan's philanthropic organization, CARD, and the awareness of American generosity to the general public, as well as the knowledge of the suffering of the French people in modern history.
AWP: Are there things that you feel haven't been said about World War I that you are trying to explore?
EUL: We should be proud to be Americans—on all social levels.
AWP: What was the last book you read? Would you recommend it?
EUL: Jojo Moyes' novel The Girl you left behind (Penguin Books 2012). The story of Sophie Lefevre starting in 1916 in Picardy, France and what she does to keep her family safe under German occupation while her adored husband Edouard fights at the front. I highly recommend this human view of WWI.
AWP Your life is extraordinary. What's next?
EUL: I would not say my life is extraordinary, but it is interesting. And I love to pursue new projects. I am a hard-working woman with a passion for the French. What's next? Good question—certainly something to do with education. 
BOOKS RECOMMENDED by Elaine Uzan Leary
My Life in France by Julia Child with Alex Prud'homme, Anchor Book 2006
Morgan, American Financier by Jean Strouse, Random House 1999
The Widow Clicquot: The Story of a Champagne Empire and the Woman Who Ruled It by Tilar Mazzeo, Harper 2008
Dance of the Furies: Europe and the outbreak of WWI by Michael S. Neiberg, Belnap/Harvard Press 2011
Acknowledgements: Natalie Ehalt, contributing editor at A Woman's Paris, and Spanish teacher at Hiawatha Academies in South Minneapoils, MN.
You may also enjoy A Woman's Paris® post French Impressions: John Baxter on the First World War: A reflection on Paris' history and transition during the war years. John Baxter, acclaimed memoirist, film critic, and biographer, is the author of The Most Beautiful Walk in the World, Immoveable Feast: A Paris Christmas, We'll Always Have Paris, The Perfect Meal, The Golden Moments of Paris, and his most recent book, Paris at the End of the World: The City of Light During the Great War, 1914-1918. For four years, Paris lived under constant threat of destruction. And yet in its darkest hour, the City of Light blazed more brightly than ever. Including an excerpt from Paris at the End of the World.
French Impressions: Ronald C. Rosbottom's "When Paris Went Dark" – Marking the 70th anniversary of the Liberation of Paris. Marking the 70th anniversary of the Liberation of Paris, Rosbottom's When Paris Went Dark weaves a rich tapestry of stories to rediscover from the pavement up the texture of daily life in a city that looked the same but had lost much of its panache. This expansive narrative will fascinate readers who are interested in the history and continuing legacy of World War II.
Andy Fry on the Jazz Age – African American music in Paris, 1920-1960. The Jazz Age. The phrase conjures images of Louis Armstrong holding court at the Sunset Cafe in Chicago, Duke Ellington dazzling crowds at the Cotton Club in Harlem, and stars like Bessie Smith and Ma Rainey wailing the blues away. But the Jazz Age was every bit as much of a phenomenon in Paris, where the French public found their own heroes and heroines at the Folies-Bergère and Casino de Paris. 
French Impressions: Barbara Will on Gertrude Stein, Bernard Faÿ, and the intellectual life during wartime France. From 1941 to 1943, Jewish American writer and avant-garde icon Gertrude Stein translated for an American audience thirty-two speeches in which Marshal Philippe Pétain, head of state for the collaborationist Vichy government, outlined the Vichy policy barring Jews and other "foreign elements" from the public sphere while calling for France to reconcile with its Nazi occupiers. In her book, Unlikely Collaboration: Gertrude Stein, Bernard Faÿ, and the Vichy Dilemma, Barbara Will outlines the formative powers of this relationship, treating their interaction as a case study of intellectual life during wartime France.
Text copyright ©2014 Elaine Uzan Leary. All rights reserved.
Illustration copyright ©2014 Barbara Redmond. All rights reserved.
barbara@awomansparis.com