French Impressions: Jackie Clark Mancuso's ex-pat canine becomes a Parisian, or Paris-Chien!
04 Tuesday Jun 2013
Tags
Albert Kahn Museum Paris, Baron Rouge, Bois de Boulogne Paris, Bon Marche, book publishing, Brentano's in Paris, Buttes Chaumont Paris, Chez Janou, chiensenville, children's book publishing, Childrens books, Childrens literature, Danton Paris, Degas, Derya Paris, dogs, Eric Kayser Paris, expatriates Paris, France, French cuisine, French fashion, French language, French lanugage for children, French poodle, Galeries Lafayette, Huîterie Régis Paris, Jackie Clark Mancuso Paris-Chien Adventures of an Ex-pat Dog, La Grand Epicerie Paris, La Librairie Parisienne, La Mascotte Paris, Le Géant des Beaux-Arts, Local Hero, Luxembourg Paris, Maison Européenne de la Photographie, Marche d'Aligre Paris, Marquet, Matisse, monchienmaville, Morisot, Musée Marmottan Paris, Nolo Press, Norwich Terrier, Palais Royale, Paris, Pierre Hermé Paris, Publishers Weekly, Shakespeare and Company in Paris, Spring Restaurant Paris, Sylvia Beach Shakespeare and Company Paris, teaching French, Thanakra, Time Inc, TV5
Share it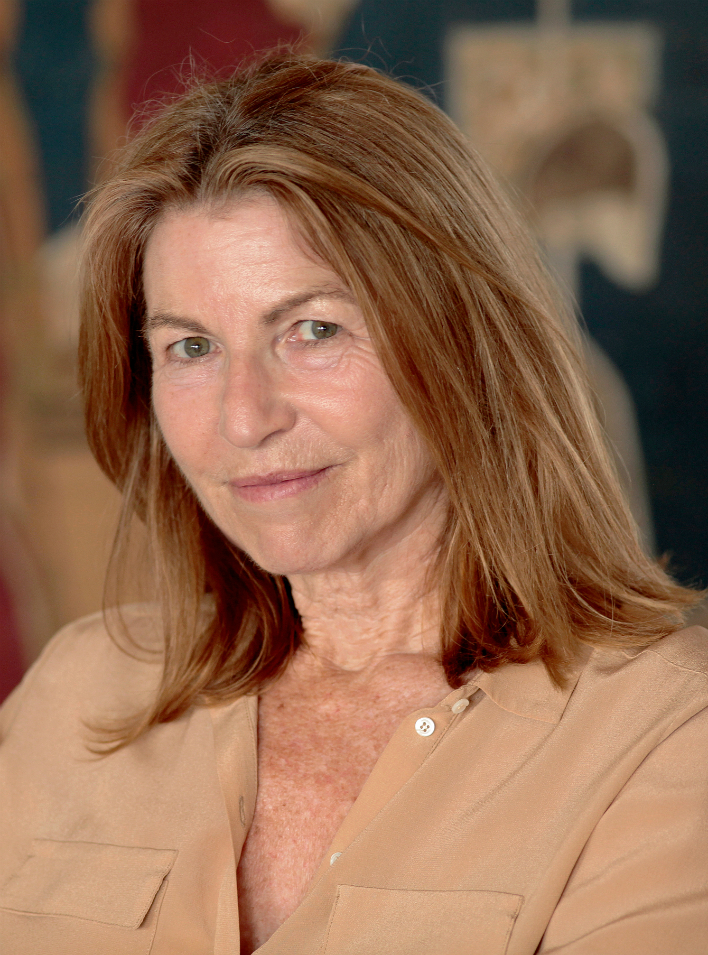 Jackie Clark Mancuso is an artist from Los Angeles. Her experiences living in Paris inspired her to write and illustrate Paris-Chien: adventures of an ex-pat dog, a children's book that also appeals to adults. To keep up her French, Jackie watches TV5 and French films, and visits her Parisian friends, human and canine, every chance she can.
When Hudson, an adventurous Norwich Terrier, moves to Paris for a year, he loves the new sights and smells, but when he tries to make friends, Hudson discovers the Parisian dogs only speak French. Nobody told him about this part. When his mom suggests going to French class, Hudson discovers other ex-pat dogs are in the same boat. Determined to make friends, he hits the books, studies, and things begin to look up. Hudson becomes a Parisian, or Paris-Chien! (chien is dog in French).
Paris-Chien is as much a story for adults, dog lovers and Francophiles as it is for children. Young readers will love the appealing story of a little dog who tries to find his way in an unfamiliar city. His desire to make friends and thrive in his new environment is so strong that he learns a new language. Hudson's successful experience is meaningful to children who move to a new country, city or school.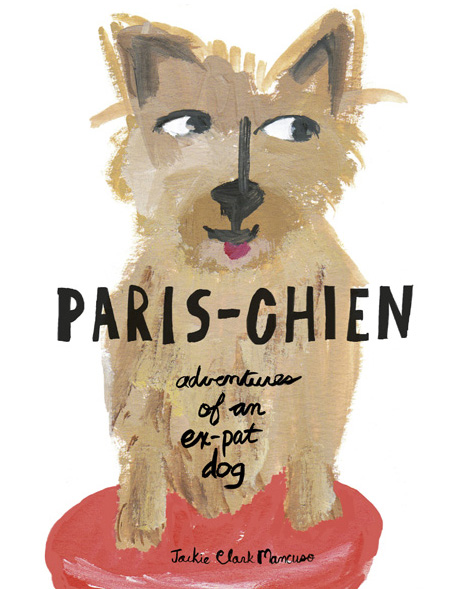 Adult readers appreciate this slyly observed, amusing look at Parisian culture. As an added bonus for beginning language students both young and old, French words are defined in a glossary. For everyone, vibrant and painterly gouche illustrations of dogs, people, parks, markets and cafes bring Paris to life.
Paris-Chien: adventures of an ex-pat dog by Jackie Clark Mancuso is available June 2013 wherever books are sold. (Jackie Clark Mancuso: Website / Facebook / Blog / Purchase)

Paris-Chien: adventures of an ex-pat dog
"Hudson, a plucky terrier, can't wait to meet some French dogs while spending a year in Paris….Though he sees many other dogs running errands with their owners…everyone is "so busy going places" that he isn't able to make friends. When he finally finds a dog park, another obstacle arises: the dogs only speak French. Hudson eventually absorbs the language, thanks to lessons from—who else?—a French poodle, and debut author Mancuso includes a sprinkling of French words throughout, which are defined in a glossary. Paris-Chien showcases Mancuso's playful paintings of Paris and its human and canine denizens, and she gives Hudson a bold, amusing narrative voice." —Publishers Weekly
INTERVIEW
Paris-Chien: adventures of an ex-pat dog
AWP: What inspired you toward a life and career in publishing? What influenced this vision?
JCM: I had just graduated from UC Berkeley when a friend who was writing for Nolo Press in Berkeley recommended me as an art director. Nolo was a pioneer in publishing self-help legal guides written by lawyers to instruct non-lawyers how to perform routine legal tasks. I was proud to be part of Nolo's good work. That's where I learned about publishing, and how to design books, catalogs and newspapers. When I first started, we were three designers working at a large communal light table. We used exacto knives and spray mount to paste up galleys with "spec'ed" type we ordered from the typesetter, and art that we had sized at the photo lab. It was very hands on. When the first desktop publishing programs were released, we switched to creating galleys on the computer. I always missed designing pages by moving the pieces of text and illustrations around by hand. I even missed cutting myself with the exacto knife and trying not to bleed on the clean pages. After ten years at Nolo, I wanted to try magazine publishing and moved to New York and took a job as an art director at Time, Inc.
AWP: You published your first children's book, Paris-Chien, in April of 2012. Why was this the right time to publish your book? Did you feel a need to share a particular time and place for young children?
JCM: When my partner took a sabbatical to Paris, I requested a leave of absence from my job so that I could go with him. I brought a suitcase full of art supplies. I liked to sit in Luxembourg Gardens reading and drawing. One morning, I woke up imagining an American dog visiting Paris who was having a terrible time making friends because the other dogs spoke French. I soon realized the little dog was me, since I didn't speak French well, and often didn't understand what was being said. I started to paint from my sketches and from photos I took around the city. Two years later, and back in the U.S., I finished Paris-Chien: adventures of an ex-pat dog, a picture book about a little terrier who persevered, as I had, to learn a new language and make friends.
AWP: How would you describe your philosophy and approach to children's literature?
JCM: All my life, books have taken me on adventures to places I dreamed of visiting. Characters who were brave and strong have given me confidence, and those facing difficulties taught me empathy. I wanted to show a character confronting and overcoming adversity.
AWP: In the creation of your first book, what was the most surprising thing you learned? What were the challenges? How did you overcome them?
JCM: I learned about story structure. I hadn't written fiction before, but I was fortunate to have writer friends who were willing to read my first drafts and work with me on structure.
Another challenge was my initial resistance to creating images that seemed fantastical, but eventually I decided to just have fun with it. Now one of my favorite images is the French class where the professor and the students are all dogs.
AWP: When you started your book, did you have a sense of what you wanted to do differently from other authors and illustrators that you had seen?
JCM: I wanted the narrative to be direct and authentic, yet hopeful. I didn't want the story to be too sweet. I didn't want the illustrations to be sweet either. I've always found a rough line more interesting. My style is to interpret reality, not reproduce it. And I'm crazy for color, especially certain color combinations.
AWP: Children's literature is a culture of excitement and means of a journey into dreams and the imagination. Tell us about the people in the world of children's literature: their passions and desire to be a part of this industry. How do you fit in with these women and men?
JCM: We all share a vivid imagination and sense of possibility. And a desire to inspire children to become their most authentic selves.
AWP: An underlying theme in children's literature is the message of freedom for children, and adults, to experience themselves differently. Why is this message significant, especially today?
JCM: Making a big world smaller by exposing children to the differences and similarities between people all over the world prepares them for opportunities that will enrich every aspect of their lives. Whatever challenges a child may be facing at home or in school, when there is access to books in schools and libraries, there is hope. A big thank you to all librarians!
AWP: How has your experience as a children's book author and illustrator changed your world?
JCM: I have to confess that it's thrilling when people tell me they love the book. And I am proud of what I accomplished with help from my friends. When publishers were interested but also afraid the audience for the book wasn't large enough, I created La Librairie Parisienne to publish it. I contacted bookstores and encouraged them to try a few copies. Books sold and they re-ordered. Paris-Chien was then reviewed by Publishers Weekly. Now La Librairie Parisienne has national distribution and Paris-Chien is available at independent bookstores, chains and online in the U.S. and Canada. It's even at Shakespeare and Company in Paris, and will soon be at Brentano's in Paris as well. And I'm working on a sequel.
AWP: What is it about dogs and the Parisienne?
JCM: Everyone knows that Parisiens love dogs and take them everywhere—cafes, stores, on the metro if they are small enough to fit in a sac. But few people know that dogs are only allowed in designated areas of larger parks like Luxembourg and Buttes Chaumont, and then only on leash. I've seen dogs playing off leash at Bois de Boulogne. Dogs are forbidden in small parks and squares in Paris even on a leash. If you are interested in finding out about organizations that advocate green spaces for dogs to run and play in Paris, see monchienmaville.com and chiensenville.fr.
AWP: Several of our contributors would love to work in the children's book publishing industry. Many of our followers are preparing for a career in writing and art. What would you say to them?
JCM: Read. Draw. Network with other writers and illustrators. Persevere.
PERSONAL STYLE
AWP: What is it about women and Paris?
JCM: The aesthetic bar is very high. The city's architecture and natural light set the stage where everyone feels obliged to create even more beauty.
AWP: Describe your own "Paris."
JCM: Seeing friends and family; my partner has aunts, cousins, nieces and nephews in France. Walking and more walking. Taking a break at Palais Royale or Luxembourg. Shopping at Galeries Lafayette, Bon Marché, La Grand Epicerie and Marché d'Aligre. K. Jacques and Odetta followed by a provencal lunch at Chez Janou. Rugs at Thanakra in the 7th. Le Géant des Beaux-Arts on rue de la Roquette to replenish gouache colors I can't find at home. Vin chaud in winter or pastis in summer at the Danton. Watching French films without subtitles. Oysters at the Baron Rouge, La Mascotte or Huîterie Régis.
AWP: How has Paris affected your work? Your life?
JCM: In Paris I feel expansive and visually stimulated.
AWP: Some expatriates are predisposed, each in their own way, toward other countries: through fantasy, family or cultural context. Some have already held a piece of their narrative. How was that the same for you?
JCM: My favorite artists as a child were French: Degas, Matisse, Marquet, Morisot. I was passionate about ballet, and my uncle's French poodle, Pierre.
AWP: What nourishes your passions?
JCM: Painting in my studio, traveling, reading, watching films, seeing exhibitions.
AWP: Name the single book or movie, work of art or music, fashion or cuisine that has inspired you.
JCM: The film Local Hero. It's great storytelling about falling in love with a magical place and its quirky inhabitants.
AWP: What is the last book you read?
JCM: I'm actually just now reading Sylvia Beach's Shakespeare and Company for the first time. I'm not sure how I missed reading this historic portrait of literary Paris in the twenties before now.
AWP: Was being stylish important to you growing up? Is it now?
JCM: Absolutely. I grew up in L.A. with a single mother who had style. I loved watching her dress to go out. I loved beautiful clothes then and I still do. When I was a teenager, my grandmother taught me to sew so that I could make clothes I couldn't afford to buy. My style in L.A., living at the beach, is more casual than when I am in Paris or New York, though it is always a mix of classic and boho.
CUISINE
AWP: Tell me about your cooking and eating habits and traditions.
JCM: I could exist on toast and butter, cheese, fruit, salad and tea, but I enjoy cooking when I have time, and especially having friends over for long Sunday lunches.
AWP: What is your most memorable meal to date?
JCM: Spring Restaurant on rue Bailleul in Paris. I love that you don't have to choose; they just bring you several exquisite and delicious courses, including two desserts(!), that are small enough and spaced out so that you feel perfectly sated but not stuffed. I love it.
AWP: What is in your refrigerator right now?
JCM: Wine, milk, cheese, eggs, arugula, anchovies, carrots, apples, smoked salmon, brown bread, butter and a dozen jars of homemade jam.
ART OF LIVING
AWP: If you were at a dinner party, what question would you be asked?
JCM: Where are you going next?
AWP: Contrast a Paris dinner party with a Los Angeles dinner party in the Pacific Palisades, where you live now.
JCM: In Paris, the conversation is in French, so I listen more than I speak, the meal is longer, and the subjects are likely to be film, art and politics. In L.A., the subjects are more likely to be film, travel and real estate, and the evening ends earlier.
AWP: Tell us something we don't know about Paris — its style, food or culture.
JCM: There are fabulous ethnic restaurants: my favorite is Derya on rue du Faubourg Saint Denis. The less well-known Albert Kahn Museum and Musée Marmottan. There is always a great show at the Maison Européenne de la Photographie. Eric Kayser for baguette traditionnelle, but Pierre Hermé for kouign amman.
You may also enjoy A Woman's Paris® post, The Child Madeline, by writer and educator Natalie Ehalt who shares her love of Madeline and brings a deserved respect for girls and children worldwide. Including excerpts from Mad About Madeline: The Complete Tales, by Ludwig Bemelmans.
I dream of Paris. Writer and educator Natalie Ehalt shares the quote from Napoléon, who wrote in 1795, "A woman, in order to know what is due her and what her power is, must live in Paris for six months." To Natalie, Paris is the ultimate in elegance and style. It is old-fashioned, it is cobblestone, it is aprons, it is a chauffeur helping you step off the curb…
What's in a Word? There's more to French class than you thought. Jacqueline Bucar, French teacher and immigration attorney, invites us to stimulate a way of thinking and learning that expands our understanding of the world and ourselves through the study of a foreign language. She shares "what's in a word," a way of thinking, a "mentality" that helps define the people who speak it and their culture. 
Franglais: Modern French-English words, by Canadian writer Philippa Campsie who writes that many French speakers are appalled by franglais, but there are those, like us, who find it fascinating. Included is a useful vocabulary of French to English translations for franglais, where you'll find words like, "les baskets: sneakers or trainers—literally, the shoes worn to play basket ball," which is one of our favourites. 
Paris: Sketch and paint with Barbara Redmond. When in Paris, Barbara arrives ready to paint and create art with a specific theme in mind. Whether it's a topic she has studied for months in advance or an impromptu search for pétale de rose ice cream, the city of light seems to give up its secrets to her in a new way. Including what she packs and where she buys her art supplies in Paris.
A behind-the-scenes look at French parenting, by au pair Alyssa Glawe who asks, "How do the French have such polite and courteous children without lifting a finger?" For Alyssa, every day leads to new cultural shocks and humorous situations. 
A Woman's Paris — Elegance, Culture and Joie de Vivre
We are captivated by women and men, like you, who use their discipline, wit and resourcefulness to make their own way and who excel at what the French call joie de vivre or "the art of living." We stand in awe of what you fill into your lives. Free spirits who inspire both admiration and confidence.
Fashion is not something that exists in dresses only. Fashion is in the sky, in the street, fashion has to do with ideas, the way we live, what is happening. — Coco Chanel (1883 – 1971)
Text copyright ©2013 Jackie Clark Mancuso. All rights reserved.
Illustrations copyright ©Jackie Clark Mancuso. All rights reserved.
Illustrations copyright ©Barbara Redmond. All rights reserved.
barbara@awomansparis.com