"À la Mode:" Adding a Touch of French Style to your Everyday Look
23 Thursday May 2013
A Woman's Paris™ in Style
Tags
Accessories, Cat eyes, Complexion, eyeliner, France, French beauty, French culture, French fashion, French language, French women, lipstick, Make up tips, Paris, Parisian women, Pin-Up Girl Lipstick
Share it
By Katie Vergosen
I became a French admirer at a young age. At age 4, I began speaking French and learning about the French-speaking world from my parents, avid travelers and learners of the French language themselves. My first trip to Paris was as a preteen. Passing by the Parisian boutiques and peering into the windows taught me about fashion, about the French way of creating a look. The experience was inspiring, to see women of all shapes and sizes feeling beautiful and confident through the looks they were creating.
At times it can seem imposing: How do they do it? How can French women look effortless, glamorous, and above all—trendy—even on their worst days? While I may not be able to define the art of sophistication that exists among French women, or pinpoint the exact brands, cosmetics, or etiquette lessons that we can learn from them, what I hope to do is this: provide a few lessons that can brighten up your appearance, especially on days when you may not be feeling the most chic.
Makeup
On mornings when you are running late, spending time on makeup isn't always a top priority. Looking chic many times is associated with spending twenty minutes perfecting the perfect eyeliner technique, or finding the exact color of lipstick that pops. The truth is, however, that those who spend less time look the most naturally glamorous. Keep it simple during the day. Pick one feature, whether it is your eyes or lips that are the central theme of your makeup for that day. Here are a few combinations to try:
Cat Eyes. Start with a basic foundation and/or concealer to hide any imperfections on your face. With a sheer eye shadow, coat your lid entirely with the color (it is good to have a base for the eye and to add a darker color to it). Take a black eyeliner pencil (in my experience I have found that a pencil works best for creating a symmetrical look that can be traceable later with a liquid or cream eyeliner over it). With the pencil, trace over the lower edge of your top lid, extending past the corner, a few millimeters past the corner of your eyelids. Once you have traced a line, trace over the line with jet-black waterproof eyeliner (liquid or cream are the best to create a dramatic effect). Curl your eyelashes with an eyelash curler. After the eyeliner has been added, add your favorite jet-black mascara for flirty lashes. This dramatic eye effect will highlight your eyes, while still looking natural. At night, line the bottom rim as well for an "evening out" look, and trace over your top eye with an eyeliner pencil one more time to ensure flawless coverage.
Pin-Up Girl Lipstick. It is a universal truth: lipstick adds to any outfit. It is true, though, that it takes great confidence to wear brightly colored lipstick, and you'll need the "I can pull it off" attitude to make it work. For this look, keep cheek color to a minimal to not draw attention away from the lipstick. Try a subtle red, bright pink or peach. Along with the lipstick, apply a light foundation and mascara. The lipstick will add color to your face (drawing attention to your features in a subtle way) and will also add a touch of class, suited for any occasion. At night, choose a darker color (a deeper red or a more bold pink) to add effect.
Peachy Complexion. This is the ultimate go-to look in a hurry. Apply a blending foundation or cover up to your face. Using a soft pink or bright peach blush, apply the blush with a blush brush to the apples of your cheeks, and right under your eyes. Apply a truffle-colored eye shadow for an extra glow (optional). Add a clear lip gloss and you are ready for the day!
Accessories
When it comes to accessories, French women seem to know the ins and outs of current trends. Accessories are designed to accent an outfit, and a simple accessory such as a belt or watch can add just the right flair. If you think accessories aren't really your style, think again! Accessories, like makeup, are designed to fit your style, and include scarves, clutches, earrings, necklaces, broaches, hats, sunglasses, watches, and hair wraps or bands. Find a few pieces that are versatile and can be put together in a hurry. Here are a few suggestions, whether you are going to a coffee date with friends or to a concert with a date in the evening.
Day: For a comfortable yet artistic look, try a pair of vintage post earrings, paired with Greek sandals or ballet flats. Earrings not your thing? Take a scarf with a colorful design, and either add it as an addition to your purse (wrap around the straps of your purse for an added touch). Wear big sunglasses or a sun hat to keep you cool and collected on a rather hot and humid day. A men's inspired watch adds a posh touch to an everyday wardrobe.
Night: Have fun! Go for a sophisticated look with a thick strand of pearls, diamond chandelier earrings, and/or a bright clutch to complete your evening out.
You, too, can pull off a look that French women do every day. From day to night try these tips to pull together a look that is fashionable, sophisticated, and above all, French! Transform your style into a trend of its own, and as the French say "Bonne chance!"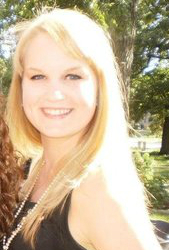 Katie Vergosen graduated from Drake University in 2012 with degrees in International Relations and Music, and a Global Ambassador Certificate. At age 4 she began studying French and has been in love with the French language and culture ever since. A Minnesota native, Katie has traveled extensively throughout the U.S. and Europe; and studied abroad in Vienna, Austria, during college. She is working toward a career in International Marketing and Management. In her spare time, Katie enjoys cooking, fitness, traveling, reading, and playing oboe. Katie, visit: (Website)(Twitter)(LinkedIn)
You may also enjoy A Woman's Paris® post, French Impressions: Edith Kunz on the mystique of the Frenchwoman (sexy, smart, and chic). Edith Kunz, author of Fatale: How French Women Do It, shares clues that unmask the delicious deceptions plotted by Frenchwomen while suggesting how contemporary women can flirt like a coquette, charm like a courtesan and emit sensuality with cool confidence by merely adjusting one's attitude and garter belt. Her latest book, The Merits of Middle-Age Men and Where to Find Them. Books to enjoy at a sidewalk café with a bottle of wine and a French omelette.
French Impressions: Isabelle Burdel on the very complex and marvelous alchemy of perfumes. Isabelle Burdel, founder and master perfumer at Salon Privé, Canne, offers her rare expertise of making very complex perfumes available to private individuals. She also shares her inspirations that allow her to create such perfumes that infuse the emotions and uniqueness of a person into a single perfume.
Perfume: discovering the perfect luxury experience, by Andrea Johnson who shares tips on finding the right fragrance, which is not always easy. A biochemist and former fragrance sales associate, Andrea writes about choosing a fragrance that reflects your personality and drawing people in with a scent.
Beauty Confessions from a Globe-trotting Parisienne. Parisienne Bénédicte Mahé shares a French woman's approach to beauty and makeup; and how the relationship Americans have with beauty is very different from that of the French. Including her list of Beauty Resources in Paris and a vocabulary of French to English translations. (French)
French Lingerie: Mysterious and flirty, by Barbara Redmond who shares her experience searching for the perfect lingerie in Paris boutiques and her "fitting" with the shop keeper, Madame, in a curtained room stripped to bare at Sabbia Rosa. Including a French to English vocabulary lesson for buying lingerie and a directory of Barbara's favorite lingerie shops in Paris. (French)
Text copyright ©2013 Katie Vergosen. All rights reserved.
Illustrations copyright ©Barbara Redmond. All rights reserved.
barbara@awomansparis.com