My Imaginary Paris
27 Thursday Aug 2015
Tags
Canal Saint Martin Paris, Devendra Bahnhart songs, France, French cafes, Marais Paris, ObLaDi Café Paris, Paris, Paris cafes, Paris travel, Picnic in Paris, Sacré-Cœur Paris
Share it
By Elyse Rozina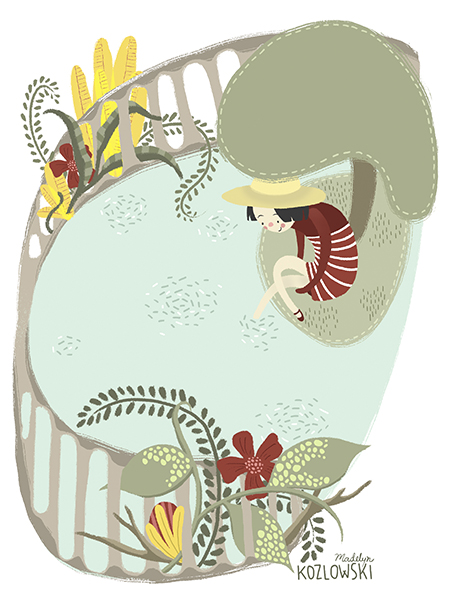 If I could be anywhere in the world right now, I would be slowly walking through the Marais on my way to ObLaDi Café. I would be peeking in the windows at the perfect clothes that I can't afford and admiring the beautiful architecture, the old buildings and the small winding streets. I would walk in the door, greet the happy, over-caffeinated man behind the counter and slowly sip my café crème as I alternated between reading my latest book and listening to him belt out Devendra Banhart songs, filling the beautiful space with silly energetic joy.
As the hours went by, the ever-growing rumbling in my stomach would remind me that I didn't yet have dinner plans. Still happily glued to my spot at ObLaDi, I would send out multiple texts, recruiting people for a dinner picnic in the 10th arrondissement along the Canal Saint Martin. I would watch the gorgeous people pass by the window as I waited for responses of "I'll bring the brie and goat cheese," "I have tomatoes and raspberries," "I've got the chocolate!" Dinner plans in place, I would say au revoir to the barista, wish him a bonne soiree as he continued happily singing along to his perfectly crafted playlist. I would walk to my favorite boulangerie to pick up some bread to go with that brie that has been promised for our picnic, then stop in the store for a bottle of wine or two to complete the delicious hodgepodge that will come together later along the canal. I would finally make my way up the hill back to my apartment to change and freshen up, admiring the view of Sacre Coeur as I hum that Devendra Bahnhart song that has been stuck in my head since I heard it in the café. As I punch in the code to open the huge wooden door that leads into my courtyard, I would scan the crowd outside the bar underneath my house, checking to see if any other friends happen to be there who might be ready to abandon happy hour and join us for wine and dinner in the 10th. After all, on a warm end of summer evening, there really is no other place to be than along the Canal.
Acknowledgements: Lee Murphy, student of new media communications at the University of Minnesota-Twin Cities and copy editor for A Woman's Paris.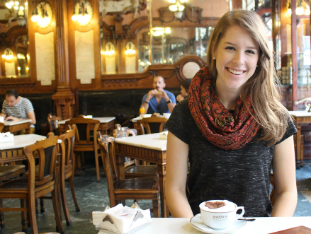 Elyse Rozina is a graduate of the University of Minnesota-Twin Cities, where she received her B.A. in French studies with minors in Italian and Business Management. In 2014 Elyse was an English Language teaching assistant in Paris. She is currently based in Minneapolis, where she enjoys yoga, photography, and seeking out the newest coffee shops in the area.
You may also enjoy A Woman's Paris® post Whistle Stop Coffees: Flore der Agopian on Cafés in Train Stations in Paris. "When I walk inside a train station in Paris," writes Parisianne Flore, I always feel like I'm taking a journey back in time; an out-of-reality experience immortalized in countless French and American films: Nikita, Les Poupées Russes, Mr. Bean's Holiday, and Ocean's Twelve, to name a few." Flore writes about Gare Montparnasse, Gare de Lyon and Gar du Nord and the cafés and restaurants you will find there – from the famous Le Train Bleu and Terminus Nord to Paul, the boulangerie café founded in the late 19th century, and now a worldwide success.
Picnics by the Seine: A return to warmer days. Parisienne, Bénédicte Mahé takes us on her first spring picnic in Paris where she celebrates with friends the joy of being back in the sun. Musicians nearby played the saxophone and the guitar – it was as if they were suddenly in a Woody Allen movie: on the docks with Notre Dame and the Hôtel de Ville in the background. (French)
Brunch in Paris: a not-so-French affair by Parisienne Bénédicte Mahé. Served only on weekends, brunch is mostly a Parisian thing, (traditionally French people like to have three separate meals a day), but the Parisians have put a French twist on this American import. Bénédicte shares what we can expect of brunch in Paris – where brunch is clearly not for little appetites, even if the Parisians serve smaller portions than in America.
Hotspots and Hot Chocolate: Student Cafés in Paris by Parisian Flore der Agopian. The Left Bank has always been "the place to be" for intellectuals, artists and students. By strolling through the famous Latin Quarter, which attracts many students from the whole of France, you can feel the lively, bustling atmosphere created by the presence of the famous universities, such as La Sorbonne. Follow Flore as she visits the seven most famous student cafés in Paris.
Café Culture in Paris, by Parisienne Flore der Agopian. The café, writes Flore, is a pleasurable way of sitting unbothered for hours on end with a book, with friends, or jut watching all sorts of people coming and going. Le Café de Flore, one of the oldest and most prestigious in Paris, where you can meet or observe its famous clientele among the Parisians, tourists and waiters dressed in their black and white uniforms as if they were still in the 1920s. To Flore, Café de Flore is almost mythical, legendary – a real institution. (French)
A dinner party: what makes the French so French. On a recent trip to France, Jacqueline Bucar, French teacher and immigration attorney, shares the dinner party conversation at the home of some of her friends – a conversation that was like no other she could ever imagine in the States…
Museum tearooms in Paris. Parisienne Flore der Agopian invites us to visit some of the most enchanting tearooms in Paris: Café du Musée de la Vie Romantique, its courtyard garden a step back into the 19th-century; Café Jacquemart-André, decorated and furnished in late 19th-century style; and La Flottille, in the garden of the Château de Versailles in front of the Grand Canal. Including a list of Museum tearooms, cafés and restaurants in Paris.
Text copyright ©2015 Elyse Rozina. All rights reserved.
Illustration copyright ©2014 Barbara Redmond. All rights reserved.
barbara@awomansparis.com