Isabelle Thomas & Frédérique Veysset's "Paris Street Style: Shoes" – Ballet Flats, the LBD of Footwear (excerpt)
19 Tuesday May 2015
Tags
Abrams Image Paris Street Style Shoes, Audrey Hepburn Roman Holiday film, Ballet flats Repetto, Chanel `957 two-toned ballet flat shoe, Christian Louboutin, Esther Bonté scarf designer France, Ferragamo shoemaker, footwear, footwear purchase and upkeep, footwear selection, France, Fred Marzo shoe designer, French fashion, French shoe designers, French shoes, Geox ballet flats, Heidi Slimane Yves Saint Laurent ballerina shoe Dance, Ines de la Fressange, Jacob Bloch ballerina slipper, Jean Seberg Ballerina flats, Paris, Paris fashion, Paris shoe shopping guide, Paris Street Style Shoes Isabelle Thomas Frédérique Veysset, Parisian women, Queen Marie Antoinette ballerina slippers, Repetto Cinderella ballet flat, Roger Vadim And God Created Woman Brigitte Bardot ballet flats, Roger Vivier ballerina flat pilgrim buckle Catherine Deneuve Belle de Jour movie luis Bunuel, shoe selection, shoes and outfit pairings, shoes for every occasion, women's shoes
Share it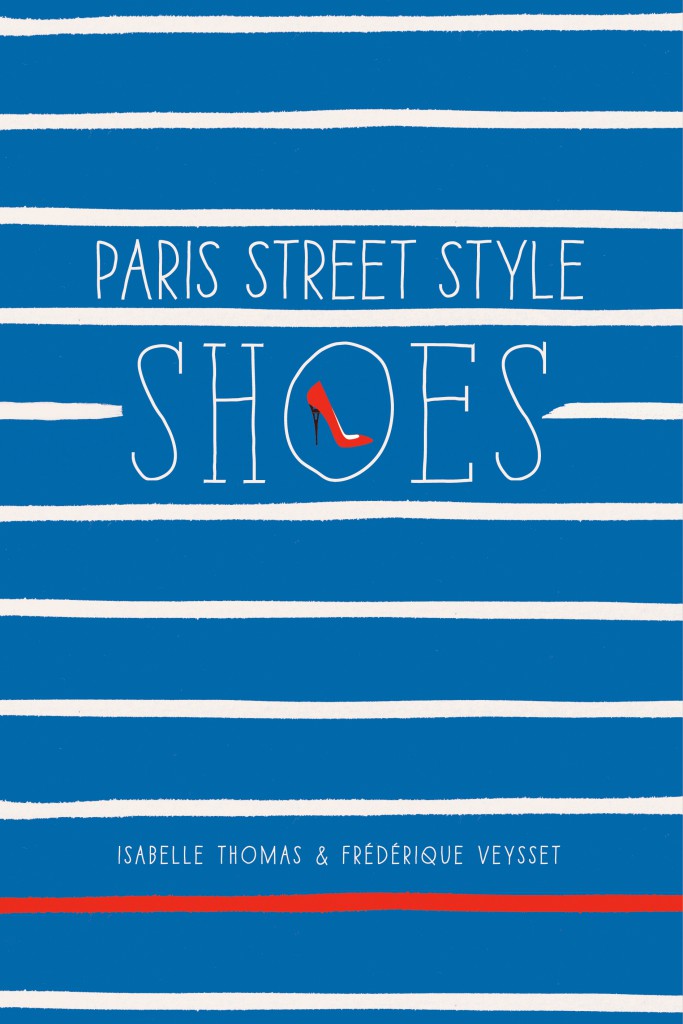 Excerpt from Paris Street Style: Shoes ©2011, Isabelle Thomas and Frédérique Veysset. Published by Abrams Image an imprint of Harry N. Abrams, Inc., New York. All rights reserved. (Reproduced by permission of Abrams Image.)
Shoes are the ultimate accessories. They can add a fundamental touch of elegance and personality to any ensemble—or do just the opposite. With their signature opinionated sense of style, Isabelle and Frédérique provide expert advice on the selection and upkeep of footwear as well as perfect outfit pairings. In addition to anecdotes on the history of shoes, they incorporate the commentary of Inès de la Fressange, Christian Louboutin, and other important French models, collectors, designers and more.
Paris Street Style: Shoes offers inspiration on every kind of shoe for every occasion. In addition, more than 150 vibrant street-style photographs and 25 fun illustrations reveal how Parisian women use shoes as the most powerful weapon in their style arsenal. Concluding with a Paris shopping guide, this book is the ultimate tribute to shoes in the city where they are worn the best. (March 2015; Abrams Image) (Purchase)
Free Subscription: Join our thousands of followers to receive your copy of our Readers' Choice: 253 Books About France (2014), including books about Architecture, Interiors and Gardens; Arts; Biography; Children; Culture; Fashion; Food and Wine; Memoir; Mystery; Novel; Science; Travel; and War, along with email notifications of new posts on the website.
Once subscribed, you will be eligible to win—no matter where you live worldwide—no matter how long you've been a subscriber. You can unsubscribe at anytime. We never sell or share member information.
Praise for Paris Street Style: Shoes
"In this fun new book, a pair of fashion bloggers promise to reveal the secrets of their compatriots' mysterious and seemingly innate ability to look sophisticated under any circumstances. With the help of hand-drawn illustrations and photos of models, fashionistas and anonymous women met in the street, they dissect the essential elements of les Parisiennes' deceptively casual, highly individualistic brand of urban chic and offer readers tips galore on creating their own personal style." —France Magazine
Ballet Flats: The LBD of Footwear
by Isabelle Thomas and Frédérique Veysset
They are the little black dress of footwear—the shoe that every woman should own because it adapts to every item in her wardrobe. The truth is that high heels don't always define sex appeal.
Ballet flats, which are now everywhere, were once worn only by dancers. They came into their own thanks to two actresses who aban­doned the popular style embodied by the other Hollywood stars of the 1950s.
In 1953, Audrey Hepburn was shooting Roman Holiday. She asked Ferragamo, shoe­maker to the stars, to make her a pair of light ballerinas, mounted on low heels, so as to high­light her dancer's silhouette. This William Wyler film was a success, Hepburn won an Oscar, and ballet flats were on their way to glory.
•••
"I bought these ballet flats on an impulse while wandering around Paris in late September. It was mild, sunny weather, and I was wearing shoes that made my feet hot." —Esther Bonté, scarf designer, in Geox ballet flats
•••
In 1956, Roger Vadim made . . . and God Created Woman, and the same year Brigitte Bardot spurred on the popularity of ballet flats by asking Repetto to make her a light and ele­gant style. And so the Cinderella was born, deeply scooped, making the foot highly sen­sual. It has never since lost its popularity and is still manufactured today, largely in Repetto's workshops in the Périgord region, to the tune of six thousand pairs a day!
With these two pairs of flat, girlish shoes, a new way of being sexy came into being!
All the designers were soon offering their ver­sion of this shoe: In 1962, Roger Vivier designed a ballerina flat with a square buckle for Yves Saint Laurent, which Catherine Deneuve made famous in Belle de Jour, directed by Luis Buñuel.
Another famous ballet flat, launched by Chanel in 1957 as a two-toned shoe (because beige lengthens the leg and a black tip shortens the foot), still appears in Chanel's collections.
Who Put the Ballet in the Flat?
The ballet flat as we know it today made its first appearance in London in 1932, when Jacob Bloch, a ballet aficionado, developed a com­fortable slipper for ballerinas. His shoe, inspired by the flat-heeled pumps of the day, quickly caught the fancy of all the best dancers. This type of flat, open-topped pump had existed for several centuries and was worn by both men and women of high society.
In the beginning of the nineteenth cen­tury, women often wore them laced with rib­bons around their ankles. They were made of silk so fine that they wore out after a single ball. European women wore them throughout the nineteenth century—sometimes embroidered, swathed in ribbons, or decorated with lace and precious stones—when proper women did not yet wear heels, which were considered too vulgar.
How Do You Choose a Pair of Ballet Flats?
Be careful, because not all ballerinas are the real thing. True ballerinas, entirely chic and so French, are the ones modeled on dance slip­pers, with a little bow in front for tightening the lace around the whole shoe. The ones with rein­forced rubber edges, decorative stitching, and straps on top are not!
We like them made of fabric, leather, pat­ent leather, or kidskin. Forget the ones that are shoddily manufactured or made of cheap materials, because they will look ratty in no time. Go for colors and animal prints; a leopard bal­lerina can revamp even the most classic look.
While fashionistas may not be promoting them right now, ballerinas continue to make their way out the door of the Repetto boutique on the rue Royale, next to the Paris Opera. You see them in all brands at the gates to high schools and the entrances to office buildings. The ballet flat has become a timeless staple; it's practical, and it goes with everything.
Sometimes It Can Go Too Far . . . Be Careful!
In the eyes of Fred Marzo, the shoe designer, ballerinas are shoes. Which is to say that they're not slippers. "They must have a minimum amount of structure to be chic. If they lose their shape too quickly, the foot takes over, and it's rarely pretty."
They can be worn with practically everything, from denim shorts to chinos to a flared skirt. Unless you have long legs, avoid wearing them with a wide or straight trouser, and always show some ankle to lengthen your legs.
Needless to say, the ballerina's thin, flat sole makes it a shoe for dressing up, not for wearing on a forced march!
•••
Proof that ballet flats still have mystique?
Hedi Slimane, artistic director of Yves Saint Laurent since March 2012, is offering a new ballerina named Dance, which is an adaptation of ballet slippers for civilian use, following in the tradition of one of the great couturier's classics.
•••
How Low-Cut Should a Ballerina Be?
Whether it's flat as a pancake or incorporates a low heel, we like it very low-cut, to the point where it shows the base of the toes, which lengthens your foot. "But you have to make sure that they stay on your feet well," says Marzo.
Even though the low cut is one of the obvi­ous features of a ballet flat, it isn't to everyone's taste. Some women hate to show toe cleavage: "It's indecent." "I have a prominent bone there, and it looks ugly." If that's true, you need to know your little anatomical flaws and work with them.
In any case, be sure that the sole is extremely thin, "with a tiny little heel for comfort!" says Marzo. And avoid rubber soles that extend beyond the upper (the part of the shoe that covers the toes, the top of the foot, the sides of the foot, and the back of the heel).
As very flat shoes have a tendency to flatten the foot, stay away from crossed elastic straps that make you look as if you're wearing little girl's shoes in a size eleven and a half.
Can They Be Unflattering?
Yes, if you wear them with a wide trouser or a long skirt. Less so if they are low-cut and worn with skinny jeans or cropped pants that show your ankle.
Ballerinas also work well with a knee-length dress, a miniskirt, or shorts.
If you're in any doubt, think of Brigitte Bardot in . . . and God Created Woman, think of Audrey Hepburn, think of Jean Seberg. Their way of wearing ballerinas will never go out of fashion.
•••
A Few Numbers
It's claimed that Queen Marie Antoinette had more than five hundred pairs of these slippers, which a servant was responsible for main­taining and arranging by color and style. A pair of these delicate silk shoes once belong­ing to Marie Antoinette was sold at auction in October 2012 at the Hôtel Drouot in Paris for €62,460, or $84,567.
•••
Photo credit: Frédérique Veysset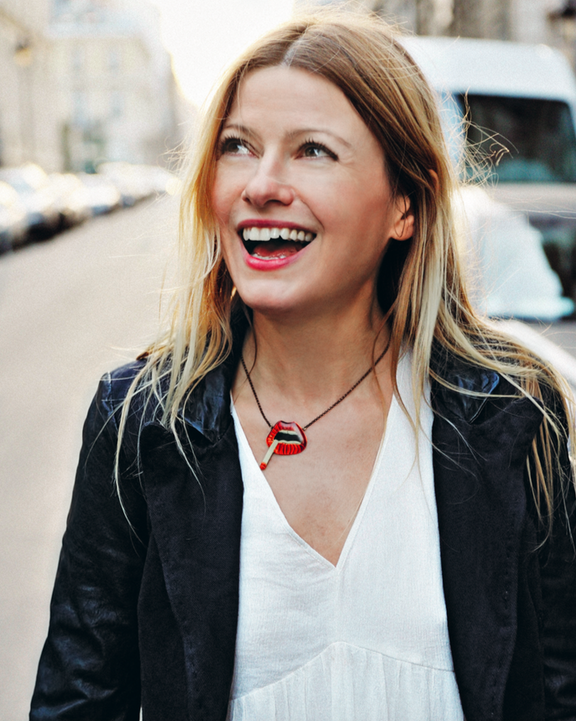 Isabelle Thomas is a personal coach and stylist. She writes the blog Mode personnel(le) for L'Express Styles. She is also a journalist, an editor, and the author of the book Bébé rentre à la maison.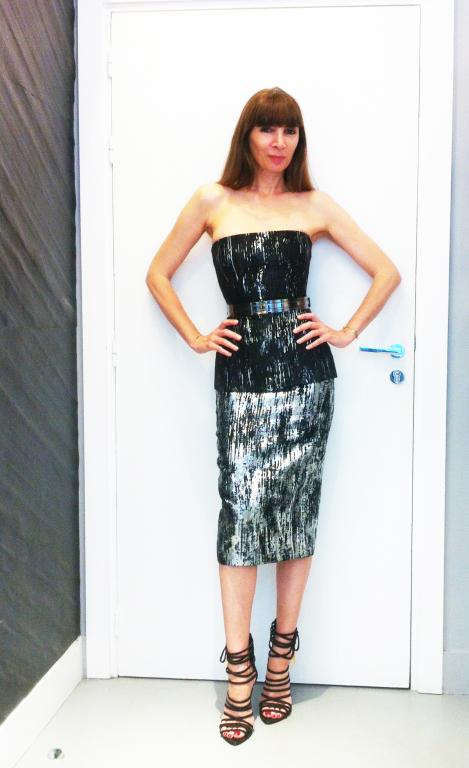 Frédérique Veyssset is a fashion and portrait photographer. Her photographs have been published by a wide array of international women's magazines, including Allure, Vanity Fair, Grazia, Marie Claire, and Glamour. She also writes the urban fashion blog Dandy Blog.
You may also enjoy A Woman's Paris® post, Ballet Flats in Paris: And God made Repetto, by Barbara Redmond who shares what she got from a pair of flats purchased in a ballet store in Paris; a feline, natural style from the toes up, a simple pair of shoes that transformed her whole look. Including the vimeos "Pas de Deux Coda," by Opening Ceremony and "Repetto," by Repetto, Paris. (French)
Photo-ready in Paris: not what you might expect. Barbara Redmond takes you from Café de Flore to rue Bonaparte to Place de Furstenberg in Paris as fashion photographer and author Frédérique Veysset's Nikon clicked frame after frame, shooting faster and a lot, in the action without posing. Fixing on a place and time that was Paris. (French)
The French Finesse and the Hermès Scarf by Christine Graf who asks, "What is it about the French? She'll put on a scarf and twist it carelessly and she comes out looking elegant. Or she wraps a belt around and voilà—instant chic." Including John Jannuzzi's video I Love My Scarf by Hermès and a book review of The Hermès Scarf: History & Mystique by Nadine Colendo.  
Roger Vivier shoes: of debutants and princesses, by Barbara Redmond who purchased in Paris a pair of flats, elegant and sleek, with a clean geometrical adornment as beautifully rendered as a Brancusi sculpture fashioned in greaming silver. Shoes, with that iconic Pilgrim buckle, she had seen before, but where and on whom? Could it have been Catherine Deneuve in the film "Belle de Jour," or not?
"Fatale: How French Women Do It" – Perfume that rocks the room, peeks at the mysterious ways Frenchwomen manage to appear sexy, smart and recklessly chic from the book Fatale: How French Women Do It by Edith Kunz (used by permission). Includes are tips for applying fragrance and a list of 18 key pulse points to consider.
French Lingerie: Mysterious and flirty, by Barbara Redmond who shares her experience searching for the perfect lingerie in Paris boutiques and her "fitting" with the shop keeper, Madame, in a curtained room stripped to bare at Sabbia Rosa. Including a French to English vocabulary lesson for buying lingerie and a directory of Barbara's favorite lingerie shops in Paris. (French)
The old bourgeois reflex: mixing new stuff with old. "It seems most French women know instinctively how to mix new stuff with old. It's in our genes," recalls Barbara Redmond from a conversation she had with Parisienne Frédérique. "We keep our wardrobe. It's an old bourgeois reflex." Barbara's search in Paris for that one little gesture that makes a look is found in a legendary French handbag, the Cabas tote, made by French designer Vanessa Bruno.
Text copyright ©2015 Isabelle Thomas and Frédérique Veysset. All rights reserved.
Illustrations copyright ©Barbara Redmond. All rights reserved.
barbara@awomansparis.com