Janet Hubbard's "Bordeaux: The Bitter Finish" greed, suspense, murder – lust for the best vintages (excerpt) – part two
07 Wednesday Jan 2015
Tags
1855 A History of the Bordeaux Classification Dewey Markham Jr., Bordeaux France, Bordeaux wines, Bordeaux: The Bitter Finish: A Vengeance in the Vineyard Mystery Janet Hubbard Poisoned Pen Press, Champagne: The Farewell Janet Hubbard Poisoned Pen Press, Château Coutet Aline Baly, Château Coutet Sauternes, Château Haut-Bailly Véronique Sanders, CHâteau Smith Haut-Lafitte Florence Cathiard, France, French crime novels, French wine, Hungry for France Alexander Lobrano, Mastering the Art of French Eating Ann Mah, Max Maguire Bordeaux: A Bitter Finish, Max Maguire Champagne: The Farewell, Meet Paris Oyster Mireille Guiliano, Murder in Pigalle Cara Black, My Paris Kitchen David Lebovitz, Paris, The Food Lover's Guide to Paris Patricia Wells, The Hotel on Place Vendome Tilar J Mazzeo, wine and food pairings
Share it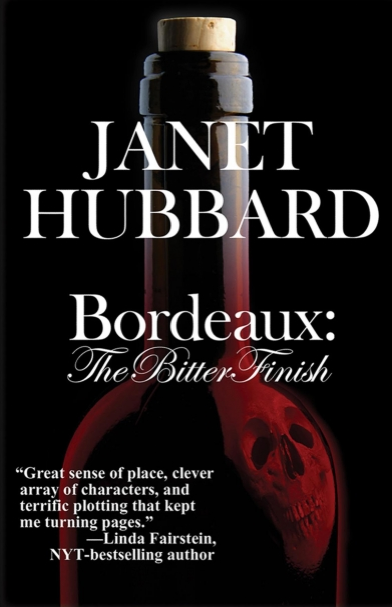 Excerpted from Bordeaux: The Bitter Finish, © 2014 by Janet Hubbard. Reproduced by permission of Poisoned Pen Press. All rights reserved.
In Bordeaux: The Bitter Finish: A Vengeance in the Vineyard Mystery, thirty-year-old NYPD detective Max Maguire returns to France as bodyguard to a famous American wine critic. But when her client turns up dead in her hotel room, and a precious bottle of wine goes missing, Max has no choice but to team up with examining magistrate and former lover, Olivier Claumont.
Max, using aggressive tactics learned from her homicide detective father, stays one step ahead of Olivier in the investigation. Olivier's more elegant approach takes them into the heart of Bordeaux society where he is sure the murderer and some fine dining lurks. Is a counterfeit wine operation with ties to New York somehow connected to the critic's murder?
Bordeaux: The Bitter Finish is book two in the Vengeance in the Vineyard series and follows Champagne: The Farewell. Readers are introduced to the fascinating world of fine wine, and to a cast of characters (and suspects) sure to keep even the most discerning critic on the edge of their seats. To purchase Bordeaux: The Bitter Finish (2014, Poisoned Pen Press), visit: (Amazon) (Indiebound) (Poisoned Pen Press).
Free Subscription: Join our thousands of followers to receive your copy of our Readers' Choice: 253 Books About France (2014), including books about Architecture, Interiors and Gardens; Arts; Biography; Children; Culture; Fashion; Food and Wine; Memoir; Mystery; Novel; Science; Travel; and War, along with email notifications of new posts on the website.
Once subscribed, you will be eligible to win—no matter where you live worldwide—no matter how long you've been a subscriber. You can unsubscribe at anytime. We never sell or share member information.
Interview: Janet Hubbard's "Bordeaux: Bitter Finish" on mystery writing – digging below the surface, behind the façade, lurks story, rumor, and competition on A Woman's Paris®.
BORDEAUX: The Bitter Finish: A Vengeance in the Vineyard Mystery
Chapter Two: Bordeaux, France: April 2012 (Chapter one)
April 1
Olivier Chaumont scanned the headlines in Sud Ouest, Bordeaux's daily paper, while waiting for his assistant to show up. It was the start of the en primeur, when retailers and importers from places like the U.S., Hong Kong, Singapore, and Russia arrived to purchase "futures" after the first wine-tasting, then waited three years for the vintage to arrive in bottles. After the tasting, a courtier, or broker, connected with a négociant, or trader, who then sold it to an importer in another country. A distributor finally sold the wine to a retail store and other outlets.
Spring 2011 had been extremely hot, with drought conditions. Summer had been like autumn, then autumn like summer again. Olivier knew what that meant. The wines would not be as round and voluptuous as they were in 2009 and 2010. Already critics were up in arms because the négociants were quoting the same prices for the inferior 2011 wine. It smacked of greed, which came as no surprise when Olivier considered the vast sums of money involved in the fine wine trade.
Bordeaux had over centuries produced the most sought-after wines in the world, and in the global community the more established vineyards were selling at higher prices than ever before. Olivier had read about the rich Chinese who arrived with fistfuls of cash with the intention of purchasing the most precious vintages, which they were rumored to mix with soft drinks. Some had gone on to purchase châteaux. Before the Chinese arrived, the Americans exhibited their lust for the best vintages, driving prices up, and making the wines unaffordable for all but the most elite collectors.
To add to these concerns, a new ratings system on the Right Bank demoted some winegrowers in the area while promoting others. The slightest changes in ratings could either raise profits significantly or bring a vineyard to ruin. A couple of vintners had sued over their loss of status, the most vocal being François Laussac. At the same time as Laussac's vineyard was ranked lower by the appellation committee, Ellen Jordan had lowered his 2010 tasting score, and he had taken to publicly blaming her for all his woes. Olivier found him insufferable, but he had a lot of clout in Bordeaux.
A light knock on the kitchen door, and Commissaire Abdel Zeroual entered, wearing the traditional blue Police Nationale uniform. Now thirty, Abdel had been involved in a bad crowd back in Paris as a teen. Olivier had taken him under his wing, shaped him up and gotten him a job out of the city. They had been together in Champagne, where Abdel's grandmother, Zohra, housemaid to the Chaumont family, lived. Both had decided to move to Bordeaux when Olivier was assigned there.
"Bonjour, Abdel, I was just reading about the en primeur event starting this evening. I predict there might be an arrest or two due to excessive drinking."
"To a teetotaler it sounds like a lot of fuss over nothing. Something smells delicious, by the way."
"It's a joint effort of your grandmother's and mine, using a recipe from an old friend named Bruno, the local police chief over in Saint-Denis."
Abdel sniffed the air. "Gigot?"
"Oui. Lamb shanks cooked for hours in a bed of red onions and red wine. I have guests coming for dinner." Olivier handed Abdel the newspaper. Page three contained an article on the American wine critic, Ellen Jordan. "She called me to say she had something to discuss that couldn't wait. Of course the Laussac dinner is this evening, but she declined his invitation, a blasphemous act. I invited her here for dinner instead, an even more blasphemous act."
Abdel glanced up from the paper. "I saw on the news that her nose, like the critic Robert Parker's, is insured for a million. She also said publicly that Monsieur Laussac's wine was not much better than…piss."
Olivier winced. "No wonder she wasn't interested in his posh gathering this evening. I'm curious what's so urgent." He got up and headed to the oven to check the lamb.
Abdel stuck his head into the dining room. "She must be pretty special for you to go to all this trouble."
Olivier smiled at the sight of the table, covered with an ancient white linen tablecloth, fine Sevres porcelain, silver, and crystal. The centre de table, the yellow tulips that he had bought to display in the silver jardinière, an eighteenth-century relic he had found in a secondhand market, was perfect. He took a moment to admire the tapestried raspberry-colored walls that created intimacy, blending beautifully with the room-size Persian rug. He held up the bottle of wine he planned to serve at his dinner, and examined the label. A 1982 Cos Estournel. "I was wise to have purchased a case of this fifteen years ago," he said.
"At twenty-two you were buying cases of wine?" Abdel chuckled.
"Wine is a living organism. When you taste, you are inhaling terroir, where you get a sense of the land that grew the grape, the rain that fed the roots, the wind that rustled the leaves, the sun that warmed the ripening fruit. It ends up on your tongue and finds a permanent place in your mind…"
Abdel interjected, "Sorry for interrupting, Monsieur, but you wanted to talk about a plan of action for this evening?"
"Oh…right. I want you to keep an eye on things in Saint- Émilion. Check for drunk drivers. Stop in at the Hôtel- lerie Renaissance and make sure the Laussac evening is going smoothly. At 7:30, escort Madame Jordan and her assistant out the back door of the hotel and bring them here."
"Why such secrecy?"
"The press knows Ellen Jordan is in town. I'd prefer that they, and Laussac, not know her dinner plans, especially since my other guests are Pascal and Sylvie Boulin."
Abdel said, "It's a rumor that Madame Jordan and Monsieur Boulin are in bed together with the promotion of his wine."
"She is the reason for his success, after all."
"And in bed together, literally. I read it on a local blog that pretends to be about the wine industry."
"That's absurd," Olivier said. "From what I understand about this style of writing, and it is very little, anyone can write what- ever they want, true or not."
Abdel, accustomed to Olivier's prejudice against bloggers, and the Internet in general, steered the conversation back to the dinner. "And the assistant Madame Jordan is bringing with her? A calm presence among all the renegades?"
"You're putting me in the renegade category?"
"Compared to your peers, yes. I'll bet you five francs the assistant's a woman."
Olivier laughed. They had been making wagers since Abdel was a teenager, ever since Olivier had taught him to play poker. It wasn't in Olivier's nature to be silly, but somehow he felt at ease enough to be so with Abdel. "I don't see her as the type to travel with a doughy little secretary. A young man who has just awakened to his senses would be perfect for Madame Jordan."
Abdel gave a toothy grin. "So you think she's a couguar, eh? I have to go. But don't expect me to fit in with the people at the Laussac dinner."
"Meaning you'll be the only sober one?"
"The only Arab is more like it. I might get sent to the kitchen to wash dishes."
"I hope that's a joke."
"I wish I could say it is. Don't worry, I'm used to it."
"That makes it worse." Olivier walked outside with Abdel.
"This weekend is the perfect opportunity for us to launch Opération Merlot. Is everything in place?"
Abdel came to attention. "Our agents have infiltrated all the export offices and are marking any suspicious cases with the letters OM on the bottom of the crate. A global alert has gone out to customs offices and importers where the wine is shipped."
"Not that any of them will read it, but let's see if we get a bite," Olivier said. "Our biggest deterrent is our revered, and I'm being sarcastic, Minister of Justice Philippe Douvier, along with Minister of the Interior Katia Alban. Both claim that my request to pursue an international counterfeit wine ring smacks of self-aggrandizement and will cost the government too much. Of course, they are trying to make my job obsolete."
Olivier liked being a juge d'instruction, or investigative magistrate. He had dealt with a lot of political corruption, but only occasionally took on major murder cases like the Champagne murders of the previous year. Appointed by a procureur to those cases, he was one of the few judges who relished solving a crime. One of Philippe Douvier's jobs was to oversee the major cases, and Madame Alban was in charge of the police and gendarmes.
"The people believe in the judges," Abdel said. "Without them, who would keep an eye on the elected officials?"
"But it's our president who will determine the next three years for me. No worries if Hollande wins the election, but I'm not in Sarkozy's good graces, as you know. I have to walk gingerly these next few weeks." Recently Olivier had gone after Douvier for protecting a German suspect during the Champagne murder investigation. The German had brought such a large sum of cash into France that Olivier was sure he was intent on buying land on the periphery of Champagne that would quadruple in value once it was officially designated as a part of that region. It was a difficult accusation to prove, but Olivier fervently believed that people like this needed to be brought to justice.
Abdel pointed to a small headline in the paper, "How about this article on the scam invented by that investment company, Bordeaux Advisory? Perhaps we should send it to the ministers."
"Are you referring to the company that bought wine for 4.75 euros a bottle and sold it to unsuspecting buyers for 1,100 a case?"
Olivier felt this had paved the way for an even bolder move: a counterfeit operation in Bordeaux. Counterfeit wine was now a global scam costing up to thirty million dollars. The wine world had become more sensitive about counterfeiting since the arrest in California on mail and wire-fraud charges of an Indonesian named Rudy Kurniawan. There was more to it than met the eye. Back in 2008 Kurniawan allegedly consigned for auction eighty-four bottles of counterfeit wine, which he expected to sell for $600,000; since then, many had issued complaints that they had been ripped off by him. Olivier put some of the blame on the collectors, who wanted bragging rights for owning the most expensive bottles which they then hid away in their cellars, behaving more like hoarders than true oenophiles.
Since moving to Bordeaux, Olivier had compiled a list of châteaux that had been robbed. The thieves no doubt thought that a simple way to make money would be to steal cases of the rare wine and sell it on the black market or through private sources. Or better yet, drink it, and fill it with cheaper wine and sell it for a fortune. What was also frustrating was that vineyard owners didn't want the negative publicity surrounding an investigation, which thwarted authorities' efforts to find and punish the culprits.
Olivier's thoughts were interrupted by an Etta James tune on the radio, reminding him of the last night he and Max McGuire spent together in Champagne. They were at the home of mutual friends when Etta James singing, "I Want to Make Love to You," began playing. Olivier had spontaneously taken Max in his arms and led her out to the balcony to dance. He had been completely smitten with the American detective, who was his opposite in every way. All they shared, aside from their strong attraction to each other, was a mutual passion for solving crimes.
Abdel said, "That song sounds familiar. I know. It was the night we closed the de Saint-Pern case…"
"You have a good memory," Olivier said, walking across the room to turn the radio off.
"You never hear from Detective Maguire?"
"Oh, you know, New York is a great…distance." Olivier wondered if he looked a bit chagrined. When Max hadn't responded to the email he had sent in February, he assumed she had moved on with her life.
"I'm surprised," Abdel said. "I received two postcards from her. She invited me to visit New York. She knows that's my dream."
"Did you write back?"
"Sure. I sent her a postcard of Bordeaux." Olivier realized he must have been scowling, because Abdel said, "I won't write to her anymore if you think it unprofessional."
"I don't know why we're discussing postcards. I'll see you at eight."
Abdel waved, and left the house. Olivier picked up his cat, Mouchette, and absently stroked her head while watching Abdel climb into his car and drive away.
Visit Chapter One: Bordeaux: The Bitter Finish: A Vengeance in the Vineyard Mystery – New York: March 2012.
Praise for Bordeaux: The Bitter Finish
"BORDEAUX: The Bitter Finish will appeal to foodies, Francophiles, oenophiles, and fans of whodunits. It is a delicious and intoxicating read." —Sheila M. Merrit, Mystery Scene Magazine
"What a delicious mix of fine wine and murder in Janet Hubbard's Bordeaux: The Bitter Finish. Great sense of place, clever array of characters, and terrific plotting that kept me turning pages, thirsty for another glass of vintage writing that the author serves up in her series." —Linda Fairstein, New York Times bestselling author of the Alex Cooper Crime Novels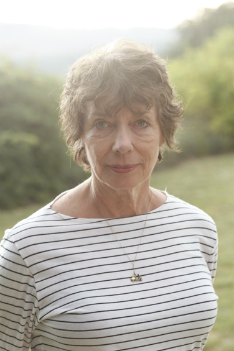 Janet Hubbard divides her time between Vermont, Virginia, and France. This series is a result of annual trips to France over a twenty year span to visit French friends, and a love of wine and the wine culture that let extensive stays in some of the wine districts, including Champagne and Bordeaux.
A Virginian by birth, Janet Hubbard is a graduate of New York University and a former employee of Time-Life Books. She wrote over twenty non-fiction books for Chelsea House Publishers, a school and library publisher, under the name Janet Hubbard-Brown, and has an active editing and teaching business in Vermont. For more information about Janet Hubbard visit: (Website)
You may also enjoy A Woman's Paris® post Wine in France: Exceptional food pairings with Château Coutet Sauternes and dry white wines (recipes). The regions of Barsac and Sauternes have plenty of traditions, but there are no rules. There is no need to be a Michelin star chef—a grilled lobster or a roasted turkey will do the job. Also, pairing wines with cheese—Sauternes is the best hostess trick. When offering guests a diverse cheese tray, Coutet's wines are the safest to serve; they go with most cheeses. Including French chef recipes for appetizer, main dish, and dessert. 
Mireille Guiliano's "Meet Paris Oyster" on the Parisians' love for them (excerpt) – part one. Mireille Guiliano, a former chief executive at LVMH (Veuve Clicquot), is "the high priestess of French lady wisdom" (USA Today) and "ambassador of France and its art of living" (Le Figaro). She is the author of the #1 New York Times bestseller French Women Don't Get Fat: The Secret of Eating for Pleasure, as well as French Women Don't Get Facelifts. With her characteristic wit, wisdom, and storytelling flair, Mireille will soon have you wanting to eat oysters at least every week. Including a recipe for Oyster Vichyssoise.
Patricia Wells' "The Food Lover's Guide to Paris" on Restaurants, Bistros, and Brasseries (excerpt). Patricia Wells, author of the award-winning Bistro Cooking, and for more than two decades the restaurant critic for The International Herald Tribune, takes readers, travelers and diners to the best restaurants, bistros, cafés, patisseries, charcuteries, and boulangeries that the City of Light has to offer. Including the recipe for Willi's Wine Bar's Bittersweet Chocolate Terrine—the irresistible chocolate dessert that is one of Patricia's Paris favorites.
David Lebovitz's "My Paris Kitchen" — quirks, trials, beauty, and joys of life in Paris (excerpt). Ten years ago, David Lebovitz packed up his most treasured cookbooks, a well-worn cast-iron skillet, and his laptop and moved to Paris. In My Paris Kitchen, David remasters the classics, and introduces lesser-known fare. Through his recipes and stories we get insight into his delicious and extraordinary world. Including David's recipe for Salted butter caramel-chocolate mouse.
Ann Mah's "Mastering the Art of French Eating" on the perfect steak frites the French way (excerpt) part one. Ann Mah, a food and travel writer whose articles have appeared in the New York Times, Condé Nast Traveler, the International Herald Tribune, South China Morning Post, Fodor's guides, and other publications, shares her gastronomic adventures in France during a yearlong post in Paris. She discovers the true stories behind the country's signature regional dishes, exploring the history and taste of everything from boeuf Bourguignon to buckwheat crêpes. Including a recipe for Bavette aux Échalotes (Skirt Steak with Shallots).
Alexander Lobrano's "Hungry for France" – My appetite for France (excerpt). Hungry for France: Adventures for the Cook & Food Lover by acclaimed food writer and Paris-based author Alexander Lobrano. Every food lover's ultimate dream is to tour the countryside of France, stopping off at luxurious inns with world-class restaurants and sampling fresh produce and regional specialties from local markets. Hungry for France offers just that with Lobrano sharing his thirty-plus years of exploring every corner of this gastronomically rich country with readers. Including a recipe for Layered Ratatouille Gratin.
Text copyright ©2014 Janet Hubbard. All rights reserved.
Illustrations copyright ©Barbara Redmond. All rights reserved.
barbara@awomansparis.com