Hotspots and Hot Chocolates: Student Cafés in Paris
18 Tuesday Feb 2014
Tags
Bars in Paris, Boulevard Saint Michel Paris, Boulevard Saint-Germain-des-Près Paris, Cafes in Paris, Chocolat Viennois, France, French food, Gibert Jeune Paris, Happy Hour in Paris, Hot Chocolate in Paris, La Sorbonne Paris, Latin Quarter, Le Basile Paris, Le Bizuth Paris, Le Départ Saint Michel Paris, Le Jardin du Luxembourg, Le Reflet rue Champollion Paris, Le Saint Séverin Paris, Left Bank Paris, Pantheon Paris, Paris, Paris food, Paris nightlife, Parisians, Place de la Contrescarpe Paris, Place Saint Michel, Royer-Collard Paris Le Pantalon bar, rue de la Huchette Paris, Seine River Paris, Starbucks Paris, Student Cafés in Paris, Students in Paris
Share it
By Flore der Agopian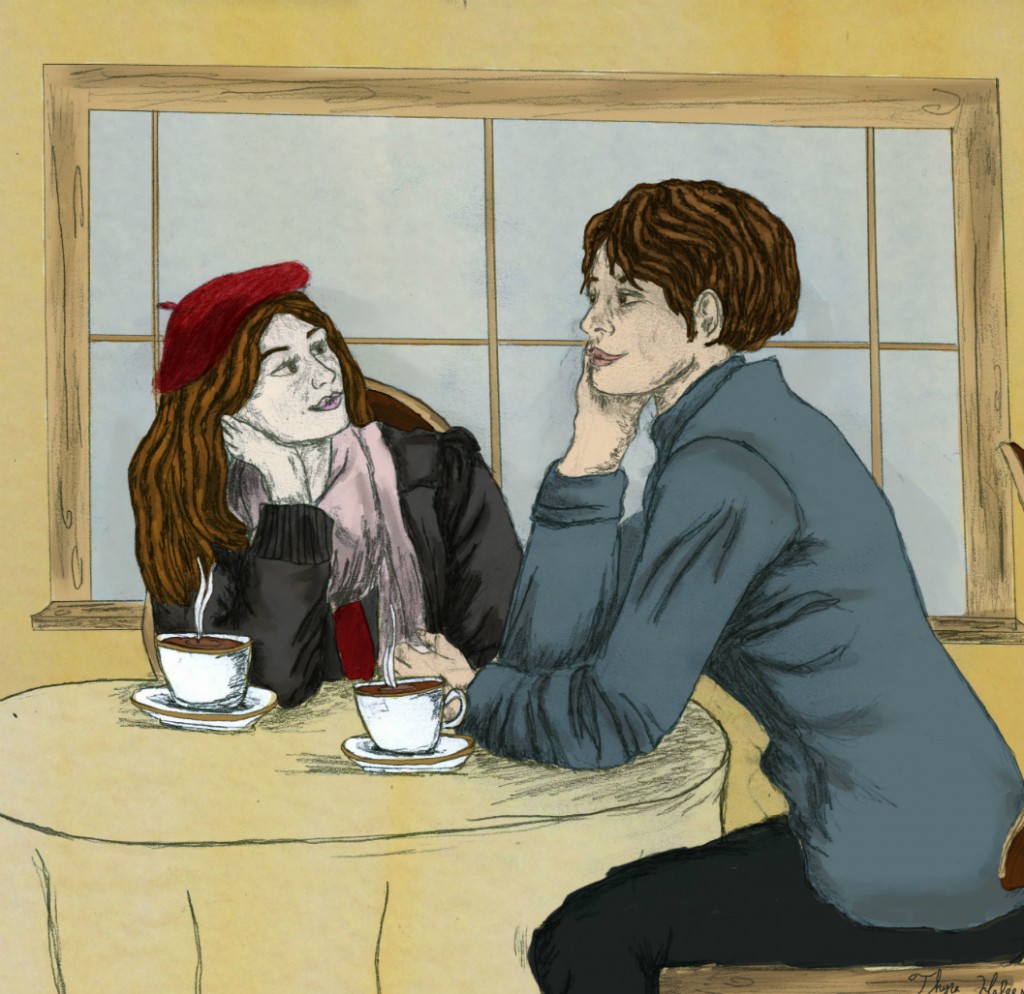 During the weekend or the holidays I love sitting down in a café, drinking a chocolat viennois. I always find a table near the windows in order to watch the life outside. I love the feeling of sitting in a café on the street, seeing the passers-by rushing to catch the metro or the bus, or wandering past shop-windows. I try out new cafés all the time. Nothing is better than sitting down in a café after a day of shopping, or a museum visit. At times like these, I need to relax and nothing is better for that than being in a café drinking a hot chocolate.
The Left Bank has always been "the place to be" for the intellectuals, artists and students. It is made up of six arrondissements to the south of the Seine, including the V and the VI, home to the largest number of students in Paris. Some quarters are full of young people, who spend their days sitting and reading on benches; these include the famous Latin Quarter, the heart of the Parisian student world. By strolling through this quarter, which attracts many students from the whole of France, you can feel the lively, bustling atmosphere created by the presence of famous universities, such as La Sorbonne. The nearby bookshops reinforce the feeling of a place teeming with intellectual minds—both students and professors. The area seems to be planned out just for them, and a crucial part of this is the café culture—the numerous cafés that fill the streets of the fifth arrondissement.
When they have time, students go to the brasseries for lunch or just drink a coffee whilst revising for their exams. During winter, they love to sit in the warmth, sipping a hot chocolate to stay cozy. In summer, however, they love sitting on café terraces, drinking a fresh juice and enjoying the last few days in Paris before they leave for the summer holidays. When it is sunny, they also like to relax on the grass in Le Jardin du Luxembourg and other picturesque parks. However, whatever the weather or the time, they always enjoy meeting each other in a café after a long day of class, before returning home. This is like a ritual for the students. They talk with their friends over a cup of coffee or hot chocolate, gossiping about university. They take advantage of Happy Hour discounts—usually, students have tight budgets, and they are the first to find good little cafés. They look for good prices, and therefore congregate in the same places. Some of them are regulars, whereas some do a circuit of various cafés throughout the week.
In front of Le Jardin du Luxembourg, the street Royer-Collard hosts "Le Pantalon", a bar where the students can drink cheap beer. The ambiance is particularly suited to students. There is also "Le Reflet", rue Champollion, which is the perfect place to eat and drink something while talking with friends after going to the cinema. Indeed, the street is famous for hosting a large number of theaters where the students can go when they have time. The "Place de la Contrescarpe" is very popular especially because there are a big number of cafés and bars, and especially because it is close to the Pantheon and all the major universities. A little further along, when you go down the Boulevard Saint Michel with all its quirky shops, is the famous Place Saint Michel. Here we find one of the most famous bookshops, Gibert Jeune where the students buy books cheaply. And in order to satisfy the significant number of tourists and students, there are of course many restaurants and cafés. The rue de la Huchette is famous for its nightlife. It attracts young people both day and night. In the afternoon, they go to "Le Saint Séverin" and "Le Départ Saint Michel", which are located right in the Place Saint Michel, in front of the fountain, the area's most famous landmark and meeting point. In these cafés, students can sit on the terraces that look out onto the Seine. In the seventh arrondissement, the students of Sciences Po Paris and of Paris Descartes, among others, are lucky enough to study next to the Boulevard Saint-Germain-des-Près and therefore have a big choice of cafés, like Le Bizuth, where they can choose between eating a snack or a more substantial meal. However, the students of Sciences Po have their headquarter in "Le Basile" where they meet between classes.
I could not write an article about the habits of the students without mentioning Starbucks. In the last three years, more and more Starbucks branches have sprung up in Paris. The students love sitting there, drinking a coffee and using the WiFi to prepare for their exams. When they are in a hurry in the mornings, they often buy a takeaway cup of coffee before going to class. Coffee and café culture—even in this less traditionally Parisian form!—is a vital part of every day. This is the life of Parisians. This is the life of students in Paris.
Acknowledgement: Iona Davidson, student of French and Italian at the University of Oxford and editor for A Woman's Paris. 
Student Cafés in Paris
Le Pantalon, 7 rue Royer-Collard, 5e
Le Reflet, 6 rue Champollion, 5e
Le Saint Séverin, 5 rue Saint-Séverin, 5e
Le Départ Saint Michel, 1 Place Saint-Michel, 5e
Le Bizuth, 202 Boulevard Saint-Germain, 7e
Café Le Basile, 34 rue de Grenelle, 7e
Starbucks, 13 Boulevard Saint-Michel, 5e
(Serveral locations throughout Paris)
Flore der Agopian was born in Clamart, a southwest suburb of Paris, where she grew up and lives today. She is in the final years of terminale, which is equivalent to the senior year of high school in the U.S., where she is preparing for her Baccalauréat at the Lycée Françoise Rabelais de Meudon. If accepted into the language program, Flore will study history, literature, and the culture of anglophone societies and will hopefully study abroad in the U.S. or Germany.
You may also enjoy A Woman's Paris® post, Café Culture in Paris, by Parisienne Flore der Agopian. The café, writes Flore, is a pleasurable way of sitting unbothered for hours on end with a book, with friends, or jut watching all sorts of people coming and going. Le Café de Flore, one of the oldest and most prestigious in Paris, where you can meet or observe its famous clientele among the Parisians, tourists and waiters dressed in their black and white uniforms as if they were still in the 1920s. To Flore, Café de Flore is almost mythical, legendary—a real institution. (French)
A literary feast – Cafés and culture in Paris' 9th arrondissement by Parisian Flore der Agopian. Paris has always been an inspiration for writers and painters, both from France and all over the world. Flore explores how cafés in nineteenth century Paris inspired literary figures Emile Zola, Alexandre Dumas, George Sand, Guy de Maupassant, Marcel Proust and French painters Edgar Degas, Eugène Delacroix, Camille Pissaro, and Edouard Manet. Including a list of current cafés in Paris' 9th arrondissement. 
French Impressions: W. Scott Haine on the origins of Simone de Beauvoir's café life and the entry of France into WWII (Part one). One of Simone de Beauvoir's biographers, Deirdre Bair, records that de Beauvoir's first moment of "true liberty" came in a café, the Rotonde, when she and her sister Helene played hooky and drank a café-crème. At ages nineteen and seventeen respectively, they felt "incredibly grown-up," and enjoyed themselves so much that before long they stopped going to art classes and spent the hours between eight and ten-thirty entirely in bars and cafes. (Part two)
French Hot Chocolate: sensuous, elusive and whimsical by Barbara Redmond as she tells about a dazzling early 19th century French service placed on a table at the far end of a dark, yet luxurious, reception room in Boston's Isabella Stewart Gardner Museum exhibited as though prepared and waiting for guests. Which French woman should we invite?  Including a recipe for Parisian Hot Chocolate by David Lebovitz.
Museum tearooms in Paris. Parisienne Flore der Agopian invites us to visit some of the most enchanting tearooms in Paris: Café du Musée de la Vie Romantique, its courtyard garden a step back into the 19th-century; Café Jacquemart-André, decorated and furnished in late 19th-century style; and La Flottille, in the garden of the Château de Versailles in front of the Grand Canal. Including a list of Museum tearooms, cafés and restaurants in Paris. 
Stars, Stripes and Seine: Americans in occupied Paris 1940-1944, by Alan Davidge. 5,000 Americans refused to leave Paris after war broke out in September 1939. Who were they? Read the stories of how Josephine Baker, Sylvia Beach, Arthur Briggs, Drue Leyton, and others lived and breathed Paris during the war. 
Text copyright ©2014 Flore der Agopian. All rights reserved.
Illustrations copyright ©Barbara Redmond. All rights reserved.
barbara@awomansparis.com