French Impressions: Clotilde Toussaint's attraction to hat-making and the femininity of fashion
21 Thursday Nov 2013
Tags
Ateliers de Paris, Chambre Syndicale de le Couture Parisienne, Christian Dior, Clotilde Toussaint, Développement Économique, fashion, France, French fashion, Grand Prix de la Création de la Ville de Paris, Jean-Paul Gaultier, Le Moulin Rouge, Meilleur Ouvrier de France, Paris
Share it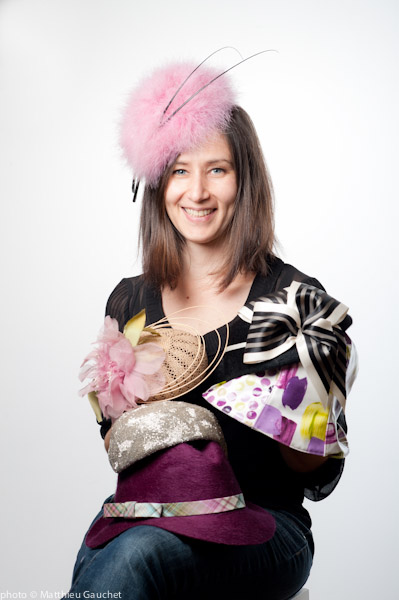 (French) Clotilde Toussaint is a milliner who lives and works in Paris where she designs and creates hats, headdresses, and other accessories. She studied at the Chambre Syndicale de la Couture Parisienne, a well-recognized French fashion school, and completed her apprenticeship with Christian Dior. Clotilde has worked for several Paris fashion houses, including Jean-Paul Gaultier: runway shows; and entertainment venues, like the Moulin Rouge and Holiday on Ice.
She values excellence and traditional know-how, which are evident in her couture creations that are born from an intimate dialogue with materials and craftsmanship. Whether creating from vintage or contemporary supplies or materials diverted and re-imagined from their original use, it is through the artist's touch and direct feeling with form and texture that her work as a milliner has taken shape.
In 2011, Clotilde received the title of Un des Meilleurs Ouvriers de France (MOF), a unique award in France based on the category of trades in a contest of professionals. The award for special abilities, created in 1924, is unique in the world and signifies "One of the Best Craftsmen in France."
Clotilde founded her own brand and is creating hats on demand, as well as for fashion shows and exhibitions. She is a resident artist at Les Ateliers de Paris, which is a part of the Department of Economic Development, Employment and Higher Education of the city of Paris. In 2012, the endowment fund Paris Création was created to gain further support for the development of young brands in the field of craft, design, and fashion.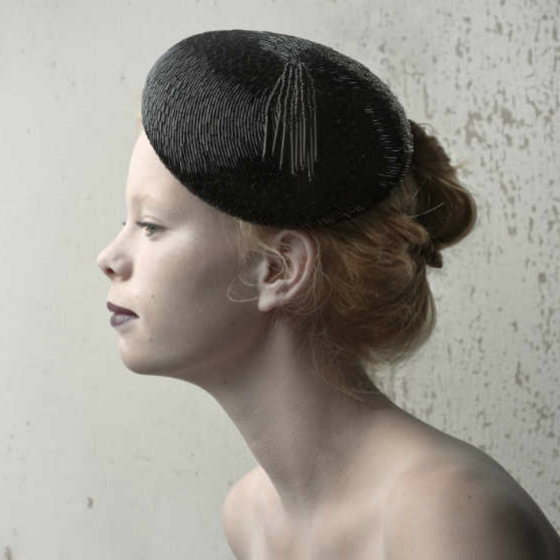 In charge of the Grands Prix de la Création de la Ville de Paris (Great Creation Awards), Les Ateliers stimulate and support young creators through the organization of on-site exhibitions for residents, former residents, or other creators/entrepreneurs whose work matches the goals of Les Ateliers. Throughout the years, Les Ateliers have been partner, and even organizer, of off-site events like pop-up stores, tradeshows, and open house projects. Visit: (Website)
In September 2013, Clotilde's work was exhibited in Révélations, a fine craft and creation fair, organized at the Grande Palais in Paris. Visit Clotilde Toussaint at: (Website)
Photo credits: Portrait of Clotilde Toussaint by Matthieu Gauchet (Website); woman with black pearls bibi by Cerise Doucede/Alice Baronio; all others by Clotilde Toussaint
FASHION
AWP: What was your first exposure to fashion? What inspired you to a life and career in this industry?
CT: My first contacts with hats come from childhood memories. When I was 8 or 9 years old, I was at the department store Printemps and a little girl my age was wearing a white top hat with a light blue ribbon. I was instantly fascinated by this hat and, if I remember correctly, almost jealous of it! A second memory of hats was when I was at La Samaritaine, another Parisian department store, where I was having fun trying on women's hats when the clerk suddenly came out and reprimanded me by telling me it was forbidden to touch the hats.
Later, after my baccalaureate, I had to choose a study path. I was not made for a regular college education, and I wanted to practice a manual job where my interests could turn towards fashion and entertainment. The idea of making hats was a little bit of a coincidence, and when I discovered there was specific training for milliners I told myself that this is what I wanted to do.
I've been a bit of a fan of Cindy Lauper since childhood, and when I saw her album cover of the Twelve Deadly Cyns during my studies, I found again this fascination I once had for the white top hat.
AWP: What do you think it is about your designs that make women connect with them in such a powerful way?
CT: I do not consider women to be sorted into socio-professional categories, age, or marketing points of view. I welcome clients whoever they are. I get to know them: we discuss, we share, I listen.
My creations are generally not exuberant; I do not try to disguise women. The goal is for them to feel good and true to their character, and very often these women want to feel discreet. Of course, it can happen that a woman looks for eccentricity and in this case I am more than ready to listen to her because that is very fun too.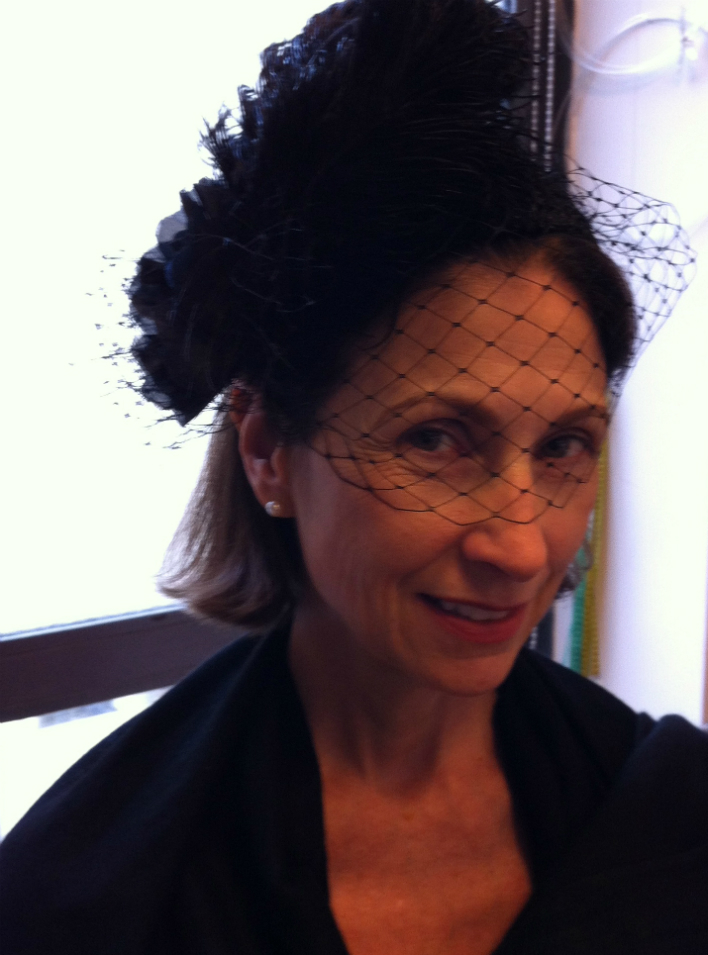 AWP: What design is specifically appealing to women at this time?
CT: It all depends on the occasion for which a woman will decide to wear a hat. For their everyday life, what is appealing right now is wide-brimmed felt hats or the fedora style borrowed for a more masculine wardrobe. For a ceremony, such as a wedding, women tend to prefer little hats, pretending they do not have a "head made for hats!"
AWP: What do you think is a woman's greatest asset? What is the second?
CT: I would say the greatest asset of a woman is her femininity, as well as her power to use and play with it. And if I had to give a second asset, I would say her charm – each woman has her charm, may it refer to her looks, her mind, her attitude, or even her flaws. The most important is being and staying herself.
AWP: How do you define style? How do you express your own style?
CT: My own style does not necessarily follow fashion, which never ceases to change, and is not subjected to marketing analysis. My creations style strives to be elegant, refined, and to bring forward femininity.
AWP: Why do women love fashion so strongly?
CT: I think women love fashion so much because it changes and renews itself constantly, and that mass production allows every new trend to be accessible.
More simply, I think women love to feel pretty and good, they want to be appealing!
AWP: Describe your own "Paris."
CT: My Paris is the 11th arrondissement, where I live. It is an ethnically and culturally mixed Paris, where one can taste, meet and enjoy diverse cultures, where different religions live together.
AWP: What modern trend do you love most?
CT: I think the trend I like most is the growing interest for traditional know-how, like a sort of return to the values and acknowledgement of arts and crafts.
AWP: Napoléon Bonaparte (1769-1821), reactionary pragmatist regarding women, said in a letter written in 1795: A woman, in order to know what is due her and what her power is, must live in Paris for six months. In what way does Napoléon's statement hold true with your experiences? How is Napoléon's statement understood by women of today?
CT: Paris is one of the fashion capitals. The offers so much in fashion and also, more generally, in the domain of beauty. Everything is accessible there for women of every socio-professional category. They have the ability to showcase their seductive power, while not being entitled to everything, except respect of course!
ART OF LIVING
AWP: If you were at a dinner party, what question would you be asked?
CT: The question I would like to be asked is, "What celebrities would you like to 'hat'?"
AWP: Tell us something we don't know about Paris, about France – its style, food, or culture.
CT: Paris does not represent France. Each region offers a culture and traditions, specificities, and culinary specialties. It also offers a great variety of landscapes. France is a country that has a very long and rich history at the crossroads of Europe since prehistory.
AWP: Your passion for life is extraordinary. What's next?
CT: Always more passion!
Acknowledgements: Bénédicte Mahé, Chargée de Communications à Ateliers de Paris; and Allison Haberstroh, editor and translator for A Woman's Paris, student of French at the University of Minnesota Twin Cities.
You may also enjoy A Woman's Paris® post The Autumn Issue by Bénédicte Mahé who finds herself in a quandary and asks, "What can I wear at that time of year? The weather in Paris is particularly unstable: the day can start beautifully, then turn to rain, and vise versa. The matter of clothes… what to choose.
A day at the Races: A formal French affair. Parisienne Bénédicte Mahé shares a whole new world that opened to her when she was invited to the Gras Savoye Grand Steeple-Chase of Paris and a very VIP affair. "The wearing of a hat is customary for women," said the inscription on the invitation. Bénédicte was more thrilled by choosing her outfit than she was to actually watch the horses run. But what to wear to this very chic event and posh environment?
The French Finesse and the Hermès Scarf by Christine Graf who asks, "What is it about the French? She'll put on a scarf and twist it carelessly and she comes out looking elegant. Or she wraps a belt around and voilà—instant chic." Including John Jannuzzi's video I Love My Scarf by Hermès and a book review of  The Hermès Scarf: History & Mystique by Nadine Colendo.
"Fatale: How French Women Do It" – Perfume that rocks the room, peeks at the mysterious ways Frenchwomen manage to appear sexy, smart and recklessly chic from the book Fatale: How French Women Do It by Edith Kunz (used by permission). Includes are tips for applying fragrance and a list of 18 key pulse points to consider.
Photo-ready in Paris: not what you might expect. Barbara Redmond takes you from Café de Flore to rue Bonaparte to Place de Furstenberg in Paris as fashion photographer and author Frédérique Veysset's Nikon clicked frame after frame, shooting faster and a lot, in the action without posing. Fixing on a place and time that was Paris.
A Woman's Paris — Elegance, Culture and Joie de Vivre
We are captivated by women and men, like you, who use their discipline, wit and resourcefulness to make their own way and who excel at what the French call joie de vivre or "the art of living." We stand in awe of what you fill into your lives. Free spirits who inspire both admiration and confidence.
Fashion is not something that exists in dresses only. Fashion is in the sky, in the street, fashion has to do with ideas, the way we live, what is happening. — Coco Chanel (1883 – 1971)
Text copyright ©2013 Clotilde Toussaint. All rights reserved.
Illustrations copyright ©Barbara Redmond. All rights reserved.
barbara@awomansparis.com