French Impressions: The Angels of Paris: an artistic tour with Rosemary Flannery (part one)
08 Tuesday Oct 2013
Tags
1889 Universal Exposition Paris, 1900 World's Fair Paris, Angels of Paris: an Architectural Tour through the History of Paris by Rosemary Flannery, Archives de Paris, Archives Nationales Paris, Art Deco, Art Nouveau, Baron Haussmann Paris, BBC World, Belle Epoque, Carnavalet Museum Paris, Claude Mignot Méthodologie de l'Architecture Sorbonne Paris, Cluny Museum Paris, Columbia University, Eglise des Saint-Archanges Paris, Eglise Val de Grace Paris, France, France Today, French Revolutionaries, Grand Palais Paris, Hotel de Soubise Paris, Hotel de Ville Paris, Ile de la Cité Paris, Joan of Arc France, Louis XIV, Madeleine Church Paris, Marais Paris, Michael at St. Jean des Batignolles Paris, Michael the archangel, Middle Ages France, Mont St. Michel, Napoleon Bonaparte, Nicolas Flamel Paris, Notre Dame Cathedral Paris, Notre-Dame-des-Hotages Church Paris, Paris, Parisian architecture, Passion of Christ, Rococo angels France, Rosemary Flannery, St. Jean de Montmartre Church Paris, St. Jean-Baptiste de Belleville Paris, St. Laurent's Church Paris, St. Merry Presbytery Paris, St. Nicolas-du-Chardonnet Church, The Little Bookroom publishers, Theatre du Chatelet Paris, UK Times
Share it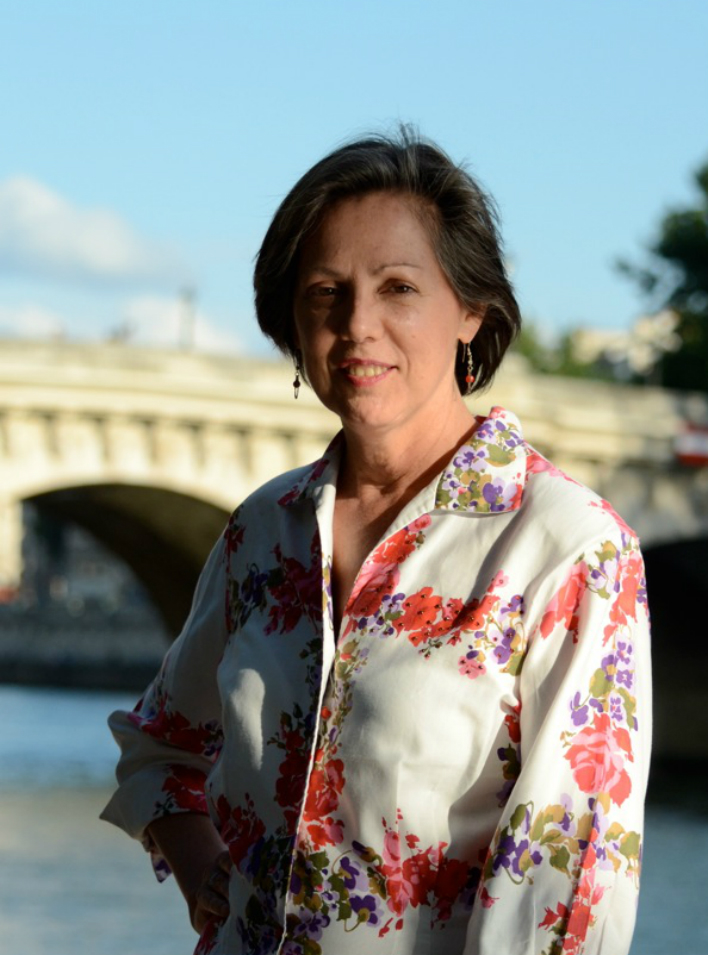 (Part two) Rosemary Flannery was born in New Jersey. She is an author, artist, lecturer, media host, and longtime resident of France. She graduated with honors from Columbia University in 1985 with a degree in French language and literature. While at Columbia, she co-produced and hosted French Encounters, a public-access television program on French culture produced in conjunction with the French Embassy. Rosemary also studied Méthodologie de l'Architecture at the Sorbonne.
In 2005 Rosemary created and produced The Art Beat, a weekly cultural magazine for the Internet radio station Paris Live Radio: some of her programs have been picked up by BBC World. Her articles on the angels of Parisian architecture have been published in France Today. Rosemary regularly speaks about French architecture to cultural associations, schools, and other groups, and she is a member of the Paris Historique and SOS Paris, non-profit organizations dedicated to preserving historical buildings and areas of Paris. She gives tours of Paris, especially of museums and architecture.
Rosemary has lived in France since 1989 and enjoys dual French-American nationality. After graduation from Columbia University, she worked in NYC with the creative director of Chanel on the launch of Antaeus, Chanel's first men's fragrance; for Yves Saint Laurent in licensing administration; and as Director of Licensing and Boutiques for Guy Laroche North America. Her final position before moving to France was as Director of Promotion, Advertising, and Public Relations for Louis Féraud. Previously, she worked for Showtime/The Movie Channel.
Her book Angels of Paris: an Architectural Tour through the History of Paris delves into the artistic trends and historic movements that the angels reflect and the stories of the artists who created them and of those who commissioned them. Readers will learn about Paris' history, buildings, and monuments through the abundant, beautiful, and surprising depictions of angels from the Middle Ages to the twentieth century that are a part of the fanciful and romantic spirit of Paris.
Angels of Paris: An Architectural Tour through the History of Paris, Rosemary Flannery's first book, was published by The Little Bookroom, NYC and distributed by Random House in 2012. For more information on Rosemary Flannery, visit: (Website) (Events) (Tours) (Purchase)
"Think you know Paris? Look up and discover a new city. Angels of Paris: An Architectural Tour through the History of Paris is a divine book that points you to such unexpected sights as the roof of the Theatre du Chatelet and a sundial at the Sorbonne.  Beautiful photos accompany the story of each angel." — Jane Knight, UK Times
"While it is true that most of the architectural grandeur of Paris is exemplified by monumental structures with heroic proportions, such as Notre Dame, Place de la Concorde, the Louvre and the Eiffel Tower, Rosemary Flannery encourages us to… delight in the modest details of angelic architectural ornaments—large and small—found throughout the city… Exploring the history of the city synonymous with art and enlightenment through an artist's lens aimed at angels expressed in a myriad of artistic media will delight all kinds of Traditional Building readers." —Judy L. Hayward, Traditional Buildings
INTERVIEW
"Be not forgetful to entertain strangers: for thereby some have entertained angels unawares." —Hebrews 13:2
Angels of Paris: an Architectural Tour through the History of Paris
AWP: You are the author of Angels of Paris: an Architectural Tour through the History of Paris. You have an engaging style. What inspired you to write this book?
RF: Seeing angels in architecture all through out the city. In all honesty, I was surprised that no one had written this book before me; I saw angels in architecture wherever I went.
My first inspiration was a grandiose angel posed atop a very tall column at the entrance to the Parc Montsouris, where I used to go jogging. It seemed to be watching over the garden and its visitors. I was relatively new to Paris at the time, and finding angels sculpted in stone or molded in bronze that were depicted on sundials, buildings, theaters, churches, and in other unexpected places gave me the somewhat mystical idea that Paris is a protected city.
AWP: Angels of Paris is the first book to explore this intriguing and extraordinary subject. What do you think it is about your book that makes readers connect in such a powerful way?
RF: Angels are beloved by virtually everyone, believers and non-believers alike. I am very touched when people relate to me their personal experiences with angels. Angels are seen as special emissaries between heaven and earth, as protective, benevolent, friendly, caring creatures. So I think that that is the first connection for readers.
And Paris is such a special city, a place with a certain mystique, that people fall in love with everything about it. For those who have visited Paris, the book is a way of re-visiting it from afar, as Angels of Paris takes the reader through each of the arrondissements.  There is the element of discovery and of learning about the city's history.
AWP: Because restoration is so scrupulously executed in France, its buildings, monuments and private mansions seem to be frozen in the period in which they were built, which makes for an enchanting tour through time. How has the depiction of angels of Parisian architecture and monuments reflected the spirit of the times? What stories do they tell?
RF: This was what I found particularly fascinating. Artists tend to create in the style and mindset of his or her times. Angels from the Middle Ages, such as those on the facade of Notre Dame, are dressed in the costume of the day and have a particular poignancy because they reflect the fervor of medieval Christianity. Angels depicted during powerful times, such as during the cult of personality, glory and luxury of Louis XIV, incarnate those tendencies—like the gorgeous male angels flanking the entrance of the king's first school for surgery established in 1710.
One of the most curious stories is of angels re-worked to become participants in the French Revolution. Two cherubs portrayed over the side doorway of St. Nicolas-du-Chardonnet Church used to hold a cross and a bishop's staff; these were carved out and replaced by pikes, weapons used by Revolutionaries to carry the heads of murdered aristocrats through the streets—an odd marriage of innocence and terror!
AWP What was it about this architectural tour through the history of Paris that beckoned you to see behind the veil of ordinary tourism?
RF: My love of the French aesthetic and of French architecture in particular. Paris is an outdoor museum, a feast for the eyes. The wealth of beauty in the details, the fine workmanship, and the inherent symmetry and harmony especially seen in the 17th and 18th century buildings is breathtaking.
AWP: Is there one particular storied angel that weaves throughout the history of Paris?
RF: No, each angel and each location has its own particular tale to tell. However, the one angel, which is illustrated the most in Paris in examples from the 14th, 19th and 20th centuries, is Michael the archangel. He dominates the Place St. Michel, his namesake; he is depicted in the Last Judgement frieze above the central portal of Notre Dame Cathedral: then he lands on the back roof of Sacre Coeur waving his banner. Michael also anchors the southwest niche of the Madeleine Church exterior. He inspired Joan of Arc to fight for France and made an 8th century apparition in the island today known as Mont St. Michel. Michael is not so much connected to the history of Paris, as he is to the very history of France itself. He appears four times in Angels of Paris, in the 5th, 8th, 17th, and 18th arrondissements.
AWP: What key symbols do we look for that would aid our intellectual, spiritual, or sublime experience, and what do they mean?
RF: The laurel wreath crowned athletic, poetic and martial heroes in ancient Greece. After Constantine's conversion to Christianity in 325, it transformed into the halo, reflecting the mystical aura emanating from saints and angels. Images of laurel branches and wreaths signifying honor were renewed during the reigns of Louis XIV and Napoleon Bonaparte when art took on a mythological and military cast.
Above the doorway of the magnificent Institut de France, designed by Louis Le Vau under Louis XIV, chubby Baroque-style angels hold both laurel wreathes and branches to honor Cardinal Mazarin. His bust was destroyed during the Revolution under Napoleon Bonaparte and replaced with the head of Minerva, goddess of military strategy and wisdom.
Likewise, palm fronds—originally awarded to victorious athletes—took on new meaning when waved at Jesus during his triumphal entry into Jerusalem (celebrated today as Palm Sunday by Christians). The notion of being associated with triumph remained. In Paris, palm fronds held by angels in the tympanum of St. Laurent's Church, in the 10th arrondissement, signify the victory of martyrs over death.
The scallop shell appears often in early French decorative art. We see it on the facade of the Renaissance townhouse of the Clunisien abbots—today the Cluny Museum—near the rue St. Jacques. Here it evokes the pilgrims who wore scallop shells around their neck en route to the burial site of St. Jacques de Compostela in northern Spain, marching down the rue St. Jacques. They used the scallop shell for practical purposes: to ward off highway robbers by announcing their mission and for scooping up drinking water from rivers. Its serrated edges served as a knife for cutting food.
Later the beauty of the shell inspired its inclusion with ribbons and acanthus leaves embellishing the St. Nicolas du Chardonnet Church, also located off the rue St. Jacques.
By the 18th century, the scallop shell integrated Rococo art with its predilection for curvy shapes of rocks and lichen; the shell was used often on frames and in architectural details. Beneath the Rococo angels of the St. Merry Presbytery in the 3rd arrondissement, a heart evoking the saint's relic lies on a large shell.
Keys are associated with St. Peter—holding the keys to the heavenly kingdom at the pearly gates. In Paris, again at St. Merry's, one of the most charming Rococo angels of the presbytery clutches keys. More prosaically, we speak of the keys to knowledge; an angel in the Latin Quarter, the 6th arrondissement, mysteriously holds a large key as his companion holds a book. A massive key held by the Peace figure on the facade of the Carnavalet Museum in the 3rd arrondissement refers to the keys to the city.
AWP: Are there fundamental characteristics we can look for to identify different styles, such as Art Nouveau, Belle Époque, Art Déco, or modern, among others?
RF: Absolutely. Art Nouveau, meaning new art, is inspired by flora and fauna; it is characterized by swirling forms and organic shapes—the French nicknamed it 'art nouille' or noodle art! It flourished from the late 1800s until about 1910. A beautiful example of this style is found in Montmartre on the rue des Abbesses: sublime girl angels swoon in prayer in niches on the facade of St. Jean de Montmartre Church where their undulating wings devolve into a mass of stylized waves.
After World War I, we see a visible straightening of lines in Art Deco with its geometric shapes, bold use of patterns, and Aztec and Egyptian influences. The style followed the demise of the Art Nouveau trend and reigned until the 1930s. Two striking examples of this style are Roger de Villier's mourning angels sculpted in block-like forms with exotic linear wings and beaded halos, on the Notre-Dame-des-Hotages Church (Our Lady of the Hostages) in the 20th arrondissement, and Anne-Marie Roux-Colas's musician angels on the outsized tympanum of the St. Odile Church in the 17th arrondissement.
The Belle Epoque's lush, luxurious, fanciful style overlaps with the Art Nouveau period. The staircase of the Grand Palais, a showcase for the 1900 World's Fair, features frolicking angels taming lions with flower garlands—at once whimsical and extravagant. 
AWP: Are there cultural or traditional rituals that belong to certain angels in Paris?
RF: The burning of incense, which dates back to Chinese and Egyptian cultures, is very important to the Judeo-Christian tradition. We see Zacharias preparing incense at the temple—a sacred task—when the angel Gabriel appears to him, to announce that he will be the father of John the Baptist, on the tympanum of St. Jean-Baptiste de Belleville, in the 19th arrondissement.
The exterior of Notre Dame Cathedral is awash with angels burning incense, in particular on the tympanum of the St. Anne portal on the west side and in spandrels of the beautiful panels on the northern facade.
AWP: What motifs are particularly Parisian and not found throughout France or the rest of the Judeo-Christian and Islamic world, and in other religions where angels are part of a cultural or religious tradition?
RF: Many of Paris' monuments and buildings are decorated with angels and cherubs of all varieties, including the Institut de France, the Palais Royal, the Theatre du Chatelet, the Opera Garnier, the Sorbonne sundial, and monuments to composers and playwrights who lived and died in Paris, such as Cesar Franck and Moliere… There's a vestige of a plaque honoring Ingres, which was featured in a pavilion of the 1889 Universal Exposition in Paris and is now decorating a garden wall. A couple of adorable cherubs in a painted advertisement pour Bourbonneaux's macarons out of a cornucopia above a boulangerie: this is very Parisian. In France these angels are called 'génies' or 'angelots'; they are 'civic angels' rather than 'sacred angels.'
It is a little hard for me to answer this without having studied the question in other French cities, but I would imagine the abundance of angels such as mentioned above are not found elsewhere.
In terms of particularly Parisian motifs, the sacred angels tend to carry out the same tasks as those elsewhere; these are eternal themes on Catholic churches. The angels swing incense, play music, blow trumpets, grieve at the death of Mary, and hold symbols of the Passion of Christ.
The Eglise Val de Grace, founded by Anne of Austria, has an elegant frieze of floating angels surrounding her seal, topped by baby dolphins. I believe this would only be found in Paris and is a charming visual reference to her son, the young crown prince—the dauphin—who would become Louis XIV.
A mosaic decorating the tympanum of a small chapel, today the Eglise des Saint-Archanges (the church of the holy arch angels) of the Romanian Orthodox Church features archangels Raphael, Gabriel and Michael in the iconic Byzantine style. I am not aware if there is anything like this elsewhere in France.
Across from the Hotel de Ville, there is an administrative building that bears the seal of Paris, a three-masted vessel sailing upstream on the Seine. Baby angels glide around it, holding it in place. This of course is a motif found only in Paris.
AWP: Among the allegorical, metaphorical, religious, and civic angels of Paris, can we find any risqué, naughty or mischievous angels?
RF: The angels holding the seal of Paris in the 4th arrondissement have the most cunning little grins: very mischievous-looking indeed!  Risqué and naughty: those would be the naked Cabaret angels in the 10th arrondissement, decorating the oculus of a 19th-century music hall.
AWP: Which arrondissement in Paris has retained its angels from the Middle Ages to modern times that have not been lost to Haussmann's renovation of Paris between 1853 and 1870?
RF: Sadly most of the beautiful medieval and Renaissance buildings of Paris met with the wrecking ball of Baron Haussmann. There is not one particular arrondissement that retains examples of angels from each century from the Middle Ages to the 19th century.
That said, the 3rd and 4th arrondissements—the Marais and Ile de la Cité—host most of the angels from earlier times, including those of Notre Dame Cathedral and the wonderful musician angels adorning the auberge opened by Nicolas Flamel in 1407. The Marais is also home to the 17th-century mansion of royal architect Liberal Bruand and the splendid 18th-century townhouse of Princess Anne de Rohan-Chabot, today the Hotel de Soubise. There is also a rare find of an 18th-century sundial fresco dominated by an angel of death.
WRITING
AWP: Your career has taken you from media and the fashion industry into the world of writing books. What inspired you toward a life and career so dependent on words and the ability to communicate?
RF: Words and communication have always been an important part of my life. But it was the love of Parisian architecture and my fascination with angel symbology and art history that compelled me to want to write a book in which I could bring it all together, through research, writing and photography.
AWP: You are an authority on angels of Paris in architecture and monuments and studied Méthodologie de l'Architecture with Professor Claude Mignot, an authority of Parisian building façades, at the Sorbonne. What was that experience like?
RF: It was a great experience. I love learning, I love going to school, and I wish I could do more of it! Studying with Claude Mignot was a thrilling experience for so many reasons. I love the building for l'Histoire de l'Art et de l'Archeologie at the Sorbonne: its library and its amphitheaters, especially the smaller ones. It was truly fascinating to study the evolution of architecture (with other classes as well) from the Middle Ages onward. There is always so much more to learn.
AWP: Tell us about the research for this book. What were the challenges and how did you unfold the stories you wanted to share?
RF: I loved doing the research: I felt like a detective! I loved the dilemmas and the discoveries. Sleuthing, seeking out the answers to questions, learning about symbology through the ages, learning more about the history of Paris and of France: it was all exhilarating. I visited the Archives de Paris, the Archives Nationales, and about seven different libraries, each with a different and specific focus on religious buildings, art, architecture, or the history of Paris.
One of my goals was to give credit to the persons behind the creation of each angel.  This was not always possible, as medieval sculptors were not typically named in whatever documents exist. And even in the 17th and 18th centuries, the 'ornamentalist sculptors' are not noted in records. But when I did uncover the names of many of the later 19th-sculptors, I found their life stories quite fascinating and always included them in the chapters.
I was frustrated however in my quest to uncover the name of the sculptor of the fine neo-Renaissance angels holding a lightening rod atop the Theatre du Chatelet. Still, I believe one day I may find it.
I also adore the Railroad angels in a frieze over a former headquarters at 88 rue St. Lazare in the 9th arrondissement. Such a magical scene of angels and cherubs working on the railroad! And so beautifully executed! Regrettably, there are no documents attributing the talented artist who designed and sculpted it. So at times stories unfolded depending on what I could find and what was the most salient and interesting information.
Occasionally I also met with other writers who had written about Parisian sculpture and history, who were very kind in helping me get to the bottom of things.
While studying the Armed Peace Angel of the Parc Montsouris, I was mystified to see that she is standing next to a pile of pineapples and pomegranates! I could not find any details anywhere on this. But luckily a friend, a retired brigadier general, told me that these fruits are military slang for grenades! I am eternally grateful for that!
AWP: What was the most surprising thing you learned about angels of Paris and the intertwined culture and tradition of religious, civic, and private architectural adornment in France?
RF: The abundance of angels, the fact that they are omnipresent in all types of architecture, is what was the most surprising of all. I could easily write a second volume. It's to be expected that angels would be depicted on churches, but finding them on theaters, opera steps, sundials, above doors, and on door-knockers—all of that was astonishing to me. I love the way the French manage to interweave figures of angels on secular buildings, to bring a note of fantasy, and to beautify, an otherwise serious structure.
I also learned that the tradition of using angelots—baby angels—in decoration derived mainly from the Italians' use of 'putti' adorning first religious artwork and then profane. The French artists and sculptors often studied in Italy, and brought back with them this trend, dating to the Renaissance.
AWP: Do you keep a journal? Is there the temptation to keep a journal just to preserve what you've experienced?
RF: No, but I do write notes about ideas I have for projects and then try to incorporate them right away in my work. All is preserved in the final manifestation of the work.
AWP: Do you feel that you have brought an artist's point of view to a territory that had, for the most part, been a historian's territory in the accounts of Paris architecture and monuments?
RF: Yes. Naturally, there are many great compendia and histories of architectural evolution in France, with some information as to the sculptors and architects behind the works. As an artist myself, passionate about art history, I was particularly interested in the lives of the artists who created the angels.
I have a great sympathy for their struggles and doubts. For instance, it was very moving to learn that Emmanuel Fremiet, who gave us the wonderful Joan of Arc statue near the Tuileries and the gilded archangel Michael at St. Jean des Batignolles, had at one point abandoned his work due to a depression. Yet he recovered his confidence and belief in his work and went on to do some very dramatic and even humorous work, such as his famous gorilla carrying off a woman: a predecessor to King Kong!
Doing the photography, I tried to capture the work of each sculptor in its best possible light. I think the details of angels in architecture completely change the feeling and spirit of a building.
AWP: Are there things that you feel haven't been said about Paris architecture and monuments that you are trying to explore in your work now?
RF: I think a lot has been said, but not in English. Not all of the great books on Parisian architecture and monuments have been translated. There may be an untapped interest in this by a large anglophone readership.
I also think there is a great opportunity today to share the history of French architecture through YouTube and webinars, and these are projects I am beginning to explore.
AWP: In general, what opportunities or challenges do you experience as an American expatriate writer in France?
RF: In terms of opportunities, that would be the privilege of working in such a beautiful city. As for challenges, I can't think of any in particular as an American ex-pat writer. I was very touched by the kindness and helpfulness of the French librarians. They are welcoming, encouraging and very professional and would recommend exactly where to find things even if unavailable at their own libraries, pointing me in the right direction.
You may also enjoy A Woman's Paris® post, French Impressions: Harriet Welty Rochefort's "Joie de Vivre" taking pleasure in the small things (part one). Harriet's latest book, Joie de Vivre: Secrets of Wining, Dining, and Romancing Like the French, investigates the French way of enjoying life. It is preceded by two light-hearted but informative books, French Toast, and French Fried, and completes a trilogy about her adopted country's charms and foibles in a breezy, exuberant style, and with genuine affection for the inhabitants of her adopted country. (Part two)
French Décor: Mirrors and Versailles, by Philippa Campsie who takes us on a journey of mirrors, from those made on the island of Murano, part of the city of Venice, to the Versailles mirrors which were among the first mirrors to be manufactured in France. A story of secrets, high-stakes, and intrigue. 
French Crown Jewels: Empress Eugénie, by Barbara Redmond who writes about pieces from Empress Eugénie's private collection and the French Crown Jewels that were split up by the national assembly and sold at public auction. Stories of Empress Eugénie's famous Bow Brooch, Pearl and Diamond Tiara, and private jewels. Including Barbara's favorite book about the jewels in the Louvre, Paris. 
French Empress Eugénie and her diamonds, by Barbara Redmond who shares the story of Empress Eugénie, the wife of Napoleon III, who lusted after diamonds—the most bejeweled clotheshorse and stylish woman of her day. Stories of Empress Eugénie's famous Eugénie Diamond, Great Diamond Cluster, Consort Crown, and "Regent" Diamonds. Including Barbara's favorite book about the jewels in the Louvre, Paris.
Marianne: National emblem of France, by Canadian writer Philippa Campsie who tells about Marianne, the feminine symbol of liberty and republicanism in France. Originally, images of Marianne were created using anonymous models, but modern depictions have featured famous French beauties, such as Brigitte Bardot, Mireille Mathieu, Catherine Deneuve, fashion designer Inès de la Fressange, among others.
Stars, Stripes and Seine: Americans in occupied Paris 1940-1944, by Alan Davidge. 5,000 Americans refused to leave Paris after war broke out in September 1939. Who were they? Read the stories of how Josephine Baker, Sylvia Beach, Arthur Briggs, Drue Leyton, and others lived and breathed Paris during the war. 
A Woman's Paris — Elegance, Culture and Joie de Vivre
We are captivated by women and men, like you, who use their discipline, wit and resourcefulness to make their own way and who excel at what the French call joie de vivre or "the art of living." We stand in awe of what you fill into your lives. Free spirits who inspire both admiration and confidence.
Fashion is not something that exists in dresses only. Fashion is in the sky, in the street, fashion has to do with ideas, the way we live, what is happening. — Coco Chanel (1883 – 1971)
Text copyright ©2013 Rosemary Flannery. All rights reserved.
Illustrations copyright ©Barbara Redmond. All rights reserved.
barbara@awomansparis.com