The Autumn Issue
03 Thursday Oct 2013
A Woman's Paris™ in Style
By Bénédicte Mahé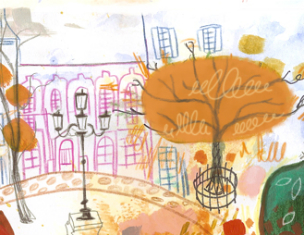 Come September and October in Paris, I never really know what to wear. It is a time I particularly like: the back to school atmosphere (even though I am working now), the return of my favorite TV shows and new ones, the leaves beginning to turn their beautiful colors, and the weather getting colder so I can start drinking tea again. However, the summer is over, which means I cannot really wear light dresses and sandals anymore (my go-to summer outfit, suitable for work, casual and dressier occasions). But, unlike in Westeros, winter has not come yet, meaning I cannot wear thicker dresses with tights and boots (my go-to winter outfit—I am a creature of habit). I find myself in a quandary: what can I wear at that time of the year?
The weather in Paris is particularly unstable: the day can start beautifully, then turn to rain, and vise versa. So what shoes do I choose in the morning? I bought black ankle-high rain boots, but do I have to carry them every day with me just in case? This is a real issue in France because we most often walk to work or take public transport, more so than in America. Not only do we French women have to think about the weather, but we have to envision our walking comfort before selecting footwear for the day. Or we can take the New Yorker's approach and carry our shoes in a bag while walking to work in sneakers…
Then comes the matter of clothes: first of all, do I wear a coat? If I do, should I wear a waterproof one with a hood? If not, do I wear a heavy cardigan sweater taken from my winter wardrobe? Secondly, if I decide to wear a skirt or a dress what kind of tights do I wear? I love black tights but they feel too wintery. And, as much as the Duchess of Cambridge is a model of elegance to me, I hate sheer tights (but know my life would be so much easier if I liked them). So I wear pants. Tops are easier (thank God!)—the possibilities are endless. You can wear light blouses, or T-shirts with a cotton cardigan, or tops with three-quarter length sleeves. Mornings can be a bit chillier so a light scarf in cotton or silk (un foulard) is a nice and welcome touch. My coat rack brims with scarves for spring and autumn. I even use a peshtemal (a Turkish term for a hammam towel) that I brought back from Istanbul to wear as a scarf on the plane, because it is big, soft and surprisingly warm for a cotton fabric. To be honest, I do not travel by plane that often, but when I do, I have the perfect scarf for that occasion!
I've noticed how my mind has shifted from casual dressing to professional now that I work. Whenever I am shopping, I find myself wondering if what I see on the clothes racks will be suitable for the office. When I worked for a bank during my student internship, my office wear had to be very smart and professional, but the dress code where I work now is a bit more casual. But I still like to dress more professionally than I do at the weekend.
Clothes and shoes are not the only areas in which we have to deal with this "autumn issue." To me, food is just as complicated. In summer, you prepare salads, you grill, and everything is easier, more laidback. Winter food means more preparation: soups, heavier and warm dishes (I mean, who doesn't love a good raclette?!). But autumn? It is not cold enough to eat a plat en sauce or to rejoice at the idea of a warm soup. Of course, it is the time for pears, figs and grapes, but woman cannot live on fruits alone. Obviously, I have no answer to this culinary dilemma, but here is a little meal you can try at home: mushroom risotto as a main dish and figs roasted with maple syrup for dessert (recipes below).
Risotto with mushrooms:
– peel a little onion then cut it thin and brown it with some olive oil (3 to 4 tablespoons) in a large pan
– add the rice (generally 1 glass for 2 people) and mix until the rice becomes translucent
– add some broth, little by little so the rice has time to absorb it, until the rice is cooked
– add the mushrooms (you can use dry ones or fresh ones)
– add some pepper (maybe not salt since the broth is already salted)
– serve in plates with grated Parmesan on top
(Note: for more creaminess you can add a big spoon of Philadelphia cheese.)
Warm figs:
– rinse some figs
– tail them, then slice them open on 3/4 of their length (like a cross)
– put them in a oven-safe dish and pour some maple syrup on top of them
– cook until you see the figs opening by themselves
– serve them immediately (be careful, they are warm!)
(Note: for a richer desert you can serve them on top of a slice of French bread (pain perdu))
Bon appétit!
Bénédicte Mahé has studied abroad many times, speaks four languages and earned a Master of Management of cultural goods and activities, as well as a Master's degree in intercultural communications and cooperation. She works in communication and international projects management. Among her interests are drinking tea, cooking (with or without success), reading, traveling, and—of course—shopping. She started her blog Tribulations Bretonnes in 2010 and has been updating it (more or less regularly) since then.
You may also enjoy A Woman's Paris® post, Beauty Confessions from a Globe-trotting Parisienne. Parisienne Bénédicte Mahé shares a French woman's approach to beauty and makeup; and how the relationship Americans have with beauty is very different from that of the French. Including her list of Beauty Resources in Paris and a vocabulary of French to English translations. (French)
The challenge of business casual, by French woman Bénédicte Mahé who shares suggestions for business casual with those beginning their work careers in Paris. Included are fashion brands and stores that are favorites of Bénédicte and her friends. 
Scarves à la Françoise: The lingua Franca for stylish women, by Barbara Redmond who shares her experience trying on scarves and tying them at the home of her French friend in Lyon. Arriving at the famous silk manufacture in Lyon, André Claude Canova, Barbara and her friend gently tapped on the window even though the shop was closed. The shop girl let them and they all enjoyed hours of playfully draping, twisting and knotting scarves and shawls. An experience spurred by the ubiquitous nature of women and scarves: our common language.
Roger Vivier shoes: of debutants and princesses, by Barbara Redmond who purchased in Paris a pair of flats, elegant and sleek, with a clean geometrical adornment as beautifully rendered as a Brancusi sculpture fashioned in greaming silver. Shoes, with that iconic Pilgrim buckle, she had seen before, but where and on whom? Could it have been Catherine Deneuve in the film "Belle de Jour," or not?
Text copyright ©2013 Bénédicte Mahé. All rights reserved.
Illustration copyright ©2013 Michelle Schwartzbauer. All rights reserved.
Illustration copyright ©2013 Barbara Redmond. All rights reserved.
barbara@awomansparis.com