French Impressions: Jamie Cat Callan on romanticism, unabashed femininity and red lipstick (part two)
17 Tuesday Sep 2013
Tags
Bill Cunningham the New York Times, Bonjour Happiness!: Pleasurable Secrets to Finding your Joie de Vivre Jamie Cat Callan, Cadolle, Café Fumoir Paris, Chanel, Citadel publishing, Eiffel Tower Paris, Estée Lauder, France, French fashion, French style, French women, French Women Don't Sleep Alone: Pleasurable Secrets to Finding Love Jamie Cat Callan, Harriet Welty Rochefort Joie de Vivre, Jamie Cat Callan, La La!: French Women's Secrets to Feeling Beautiful Every Day Jamie Cat Callan, Laduree Paris, Louvre Paris, Ooh, Paris, Paris Street Style: A Guide to Effortless Chic Isabelle Thomas Frederique Veysset, Pont des Arts, Prince Charles, Princess Di, Publishers Weekley, Ralph Lauren, red lipstick, Revlon fragrance Charlie, Scot Schuman The Sartorialist, Sensuous Nude Estée Lauder, Studio 54, The American Library in Paris, Tuileries Paris, W.H. Smith Paris, women of a certain age, Yves St. Laurent Opium
Share it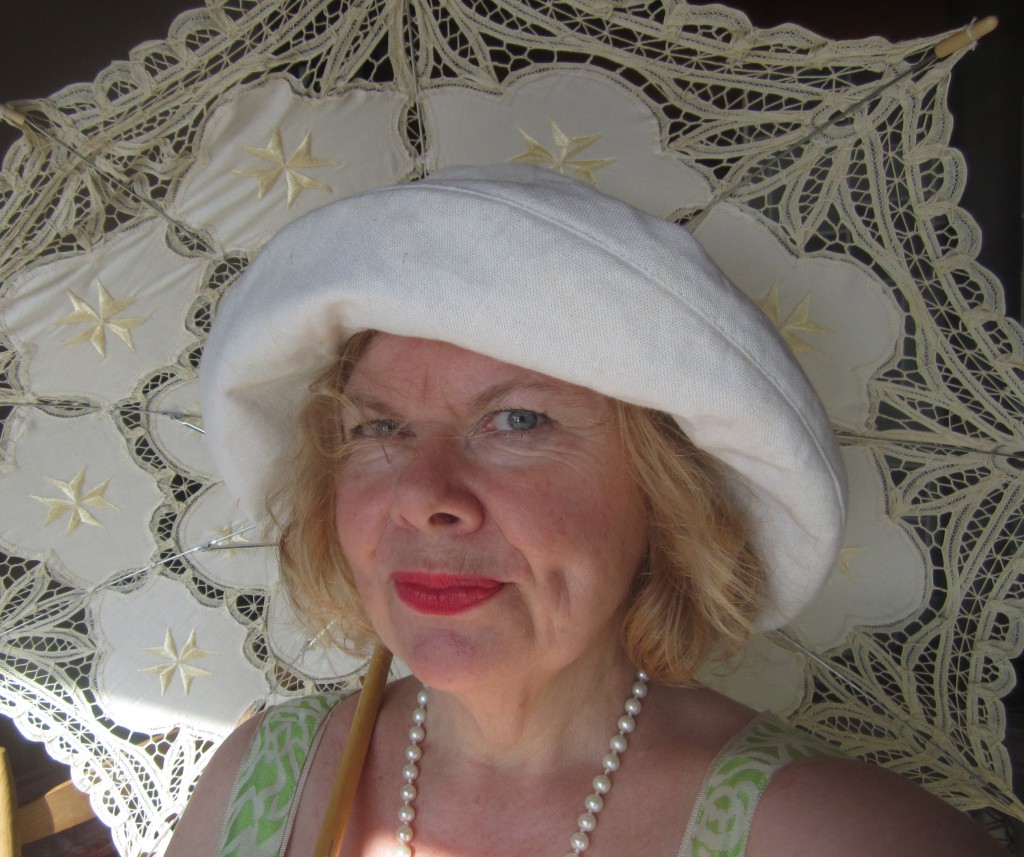 (Part one) Jamie Cat Callan's latest book Ooh, La La!: French Women's Secrets to Feeling Beautiful Every Day, considers French femininity and another side of us, a side that celebrates age. It is preceded by two charming and informative books, Bonjour Happiness!: Pleasurable Secrets to Finding your Joie de Vivre, and French Women Don't Sleep Alone: Pleasurable Secrets to Finding Love.
French Impressions: Jamie Cat Callan's insight and experience into the French women's lifestyle (part one), shares what inspires her writing and explores the French woman's love of life. It's all about understanding who you are in this world and then finding a look that best suits your individuality. French women have a great sense of style and confidence. A French woman knows who she is, and this makes her beautiful.
Romanticism, unabashed femininity and red lipstick—Jamie Cat Callan's Ooh, La La! (French Impressions series, part two) brings us on an intimate journey of how to feel beautiful, confident, and sexy, inside and out, which she shares with humor and charm. "French women are not born more attractive than anyone else," writes Jamie, "they simply learn at a very young age how to feel beautiful, confident, and sexy, inside and out. It's an allure that outlasts youth; experience only makes them more beautiful."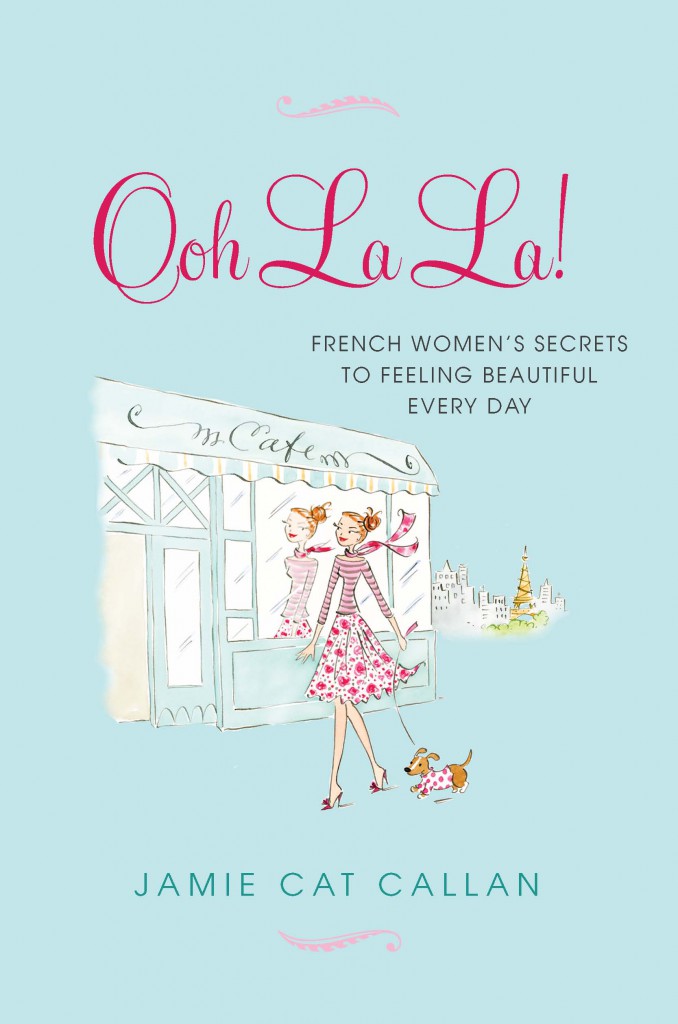 Ooh, La La!: French Women's Secrets to Feeling Beautiful Every Day, was published by Citadel and released in June 2013. It is preceded by two delightful books, Bonjour Happiness!: Pleasurable Secrets to Finding your Joie de Vivre, (2011), and French Women Don't Sleep Alone: Pleasurable Secrets to Finding Love, (2009), also published by Citadel.
For more information on Jamie Cat Callan, visit JamieCatCallan.com  (Facebook)(jamie@jamiecatcallan.com)(Events)(Ooh, La La!)
Ooh, La La!: French Women's Secrets to Feeling Beautiful Every Day
"This charming foray into French femininity will make a perfect cadeau for any Francophile lady." — Publisher's Weekly
PERSONAL STYLE
AWP: In your former marketing career, you helped launch the iconic fragrance Beautiful by Estée Lauder. What was that experience like?
JCC: It was one of the most amazing times of my life! The romanticism and unabashed femininity of Beautiful was revolutionary for the time. Think about it. Revlon's fragrance Charlie, featuring Shelly Hack wearing menswear-inspired Ralph Lauren ensemble, had held sway over the popular imagination since the seventies. There was also Yves St. Laurent's Opium—featuring models in the throes of ecstasy—, which caused quite a bit of controversy but still seemed right in step with an era that featured lots of drug use and wild nights at Studio 54.
And then suddenly in 1985, Mrs. Lauder came out with the model Willow wearing a big billowy white wedding gown. There was something so retro and wonderful about it. I do think that Princess Di's wedding to Prince Charles influenced the zeitgeist. But still, Mrs. Lauder was incredibly prescient to come up with something that was not in tune with what other fragrance companies were doing and yet spoke to the secret imaginings of women at the time and even today.
AWP: Do you wear a signature fragrance? Or do you choose from several favorites?
JCC: I currently wear Sensuous Nude from Estée Lauder. I do believe it's my signature scent. But don't hold me to that!
AWP: What French cultural nuances, attitudes, ideas, or habits have you adopted? In what areas have you embraced a similar aesthetic?
JCC: I take my time. I never snack. I'm a little more mysterious than I used to be. I have a Secret Garden.  I forgive myself. In other words, I am more in alignment with who I truly am.
AWP: What do you think is a woman's greatest asset? What is the second?
JCC: A woman's greatest asset is her imagination.
Her second greatest asset is her strength and her spirit. This is especially true for French women. I've been told that French women are beautiful, not because they have more, but because they do more with less.
AWP: You write about the "looking" game. How do you describe the understated elegance of the Parisienne?
JCC: A French woman embraces her individuality. Still, there is a special something each French Parisienne possesses. Their understated elegance begins with the life of the minds. Women in Paris have lots of culture at their doorstep. So they will go to art galleries and films and concerts, and they will bring all they learn about art and history and culture into their own individual looks. Each woman tells a story. You don't need a lot of money to look elegant and intriguing. By starting with some simple basics—such as a little black dress, a pretty scarf, and some high heels, a beautiful purse (that she may have owned for years and years)—and then adding one little thing that's her signature, perhaps a quirky necklace or crimson red lipstick or a leopard-print belt, the French woman tells her story. It's this one little gesture that makes the look. And of course, less is always more.
AWP: How do you define style? What's your own style?
JCC: 1920s Vaudeville. A French dance hall. I like to reference my French grandmother's past. In a very subtle way, of course.
AWP: What modern trend do you love the most?
JCC: Mixing high and low fashion. Also, I love the popularity of "street style." I do believe that Bill Cunningham's photographs in the New York Times and Scott Schuman's wonderful blog "The Sartorialist" has expanded our vision of what it means to be stylish.
AWP: We all feel less spending power from the recent downturn in the world economy. What do French women do differently? What do you do differently? What wouldn't you give up?
JCC: French women have always been frugal, so this downturn in the economy is actually a delicious challenge for them to be more creative, shop the flea markets, and re-construct clothes from season's past. For me, it's meant that I have to look more closely at what I buy; choosing quality over quantity and asking myself if a particular item is in alignment with my true self. Still, I could never give up my addiction to scarves and red lipstick!
AWP: What is the latest book you read? Would you recommend it? Why?
JCC: Paris Street Style: A Guide to Effortless Chic by Isabelle Thomas and Frederique Veysset. I adore it for the photographs, of course, but the interviews are fascinating. It's a fabulous book! (Read Isabelle Thomas' interview in A Woman's Paris: French Impressions: Isabelle Thomas and spirit of French fashion and personal style.)
AWP: Describe your own "Paris."
JCC: I adore taking afternoon tea at Ladurée on the Right Bank, then walking down rue Cambon, past Chanel and Cadolle and W.H. Smith, through the Tuileries and past the Louvre, then across Pont des Arts, to the Left Bank where I will stop at Café Fumoir and watch the theater of life go by. This is pure inspiration.
AWP: Tell us something we don't know about Paris—its style, food, culture, or travel.
JCC: When I visit Paris, I often stay with French friends. I sleep on their couches in their tiny studios, or maybe a guest bedroom in an apartment, or once I had an entire suite of my own with a view of the Eiffel Tower. What I've learned is that French women come in a variety, and they are all unique. It's this uniqueness that makes them so amazing and inspiring. And here's something that may or may not be surprising—most of the Parisiennes I've met love sushi!
AWP: Your passion for life is extraordinary. What's next?
JCC: I'm returning to France for much of September and October. I'll be researching my novel and looking for more secrets to French women.
You may also enjoy A Woman's Paris® post, French Impressions: Harriet Welty Rochefort's "Joie de Vivre" taking pleasure in the small things (part one). Harriet's latest book, Joie de Vivre: Secrets of Wining, Dining, and Romancing Like the French, investigates the French way of enjoying life. It is preceded by two light-hearted but informative books, French Toast, and French Fried, and completes a trilogy about her adopted country's charms and foibles in a breezy, exuberant style, and with genuine affection for the inhabitants of her adopted country. (Part two)
Beauty Confessions from a Globe-trotting Parisienne. Parisienne Bénédicte Mahé shares a French woman's approach to beauty and makeup; and how the relationship Americans have with beauty is very different from that of the French. Including her list of Beauty Resources in Paris and a vocabulary of French to English translations. (French)
"Fatale: How French Women Do It" – Perfume that rocks the room, peeks at the mysterious ways Frenchwomen manage to appear sexy, smart and recklessly chic from the book Fatale: How French Women Do It by Edith Kunz (used by permission). Includes are tips for applying fragrance and a list of 18 key pulse points to consider. 
Children fashionistas: Why French children dress better than you do. French au pair Alyssa Glawe tells that a child's clothes in France are more than just something to cover the body. "It's safe to say that, French parents would never put an item of clothing on their child that they would not wear themselves," she writes "Comfort is important, but in all truth, it's really about the fashion." Including a list of children's labels and websites. 
Ballet Flats in Paris: And God made Repetto, by Barbara Redmond who shares what she got from a pair of flats purchased in a ballet store in Paris; a feline, natural style from the toes up, a simple pair of shoes that transformed her whole look. Including the vimeos "Pas de Deux Coda," by Opening Ceremony and "Repetto," by Repetto, Paris. (French)
French Lingerie: Mysterious and flirty, by Barbara Redmond who shares her experience searching for the perfect lingerie in Paris boutiques and her "fitting" with the shop keeper, Madame, in a curtained room stripped to bare at Sabbia Rosa. Including a French to English vocabulary lesson for buying lingerie and a directory of Barbara's favorite lingerie shops in Paris. (French)
A Woman's Paris — Elegance, Culture and Joie de Vivre
We are captivated by women and men, like you, who use their discipline, wit and resourcefulness to make their own way and who excel at what the French call joie de vivre or "the art of living." We stand in awe of what you fill into your lives. Free spirits who inspire both admiration and confidence.
Fashion is not something that exists in dresses only. Fashion is in the sky, in the street, fashion has to do with ideas, the way we live, what is happening. — Coco Chanel (1883 – 1971)
Text copyright ©2013 Jamie Cat Callan. All rights reserved.
Illustrations copyright ©Barbara Redmond. All rights reserved.
barbara@awomansparis.com