Shirley's jewels: how my grandmother influenced my French style
09 Tuesday Jul 2013
A Woman's Paris™ in Style
Tags
Accessories, bijoux, costume jewelry, Edith Kunz, Fatale: How French Women Do It, France, French fashion, French lingerie, French style, Isabelle Thomas, Paris, Paris Street Style: A Guide to Effortless Chic Isabelle Thomas, vintage bracelets, vintage broach, vintage clip-on earrings, Vintage jewelry, vintage pearls
Share it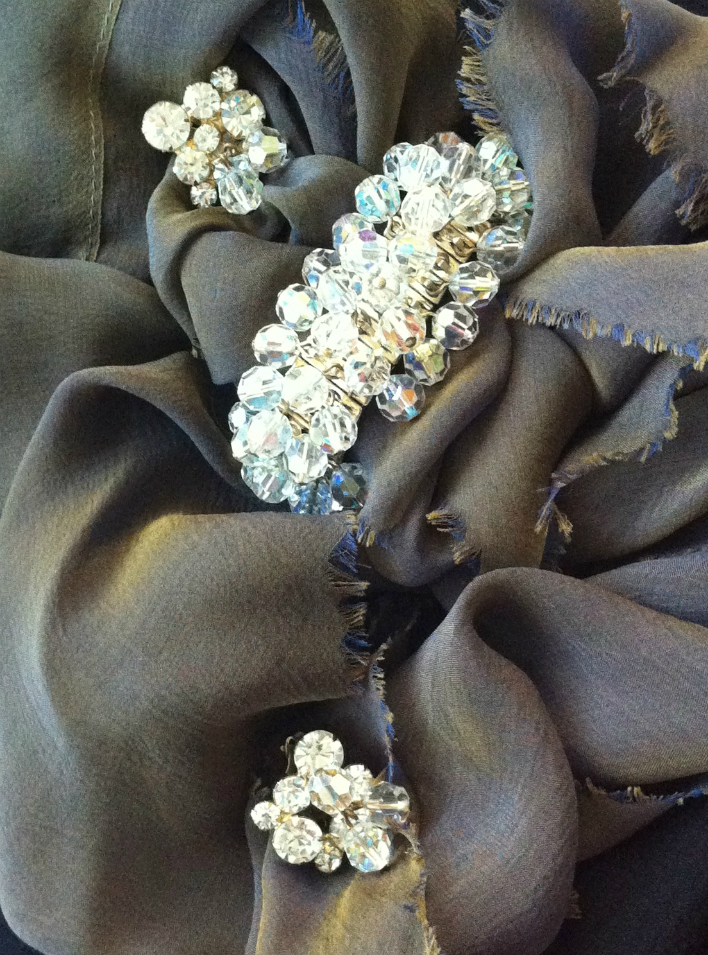 By Katie Vergosen
Every week when I was a child, my mother and I went to my grandmother's house to keep her company. Like many young girls, playing dress-up was my favorite activity, especially at my grandmother's house. She had kept everything as souvenirs from her earlier years, including her jewelry. As I played dress-up, I fawned over how special the jewelry was and how my grandmother, even in her eighties, could take the fashion world by storm with her vintage and memorable collection.
When my grandmother passed away, I was tasked with packing up the boxes in her closet. I couldn't help but admire and become fascinated with the jewelry she had kept all those years. Jewelry that was in prime condition from the 1940s and other decades was just sitting in my grandmother's drawer. Having cousins who only want the "modern, new, never used accessories," I have made it my mission to represent my grandmother by wearing and presenting myself through her jewelry. My grandmother's style was elegant and sophisticated. She knew how to add a feminine touch to any outfit, and inspired me to pursue my own sense of style.
My grandmother taught me that class, elegance, sophistication, and confidence, along with a bit of fun, make any outfit complete.
Broach
When I was a young girl, I used to laugh at my grandmother for having these. She would pair these broaches with everything; from scarves and hats to cardigans and belts. Even with the plainest outfit possible, she would wear these broaches as a statement, a form of expression. What I did not know at the time was that these broaches were symbolic of a past era of fashion. The broach was designed as a piece to hold garments together. The broach served my grandmother as a piece that "held together" a look all of its own. The versatile broach can be seen by women everywhere, in its all-encompassing function as a piece that holds up clothing, and acts as an accessory.
Clip-On Earrings
There is one thing I didn't know about my grandmother until many years later: she never had pierced ears. I was baffled when I heard this. How did a woman pull off such an assortment of earrings and have a pair for every occasion, yet, not actually have pierced ears? Her earring collection far outnumbered her other pieces of jewelry. From simple clip-ons, to chandeliers, my grandmother's earring collection of vintage stones, diamonds, and pearls came in every color of the rainbow, and every style of her era. Being an earring lover myself, I am always searching for new designs, colors, and styles to add to my collection. On one of my recent shopping explorations, I couldn't help but notice the number of clip-ons that have surfaced in jewelry collections at stores. It is evident that earrings are now being made accessible for all women, with and without pierced ears. My grandmother's earrings, as many French women wear them, add color and a sense of put-togetherness.
Bracelets
Some of my grandmother's pieces were simple and elegant, others, a bit more avant-garde. The bracelets my grandmother owned were her most unique and fun pieces. I have vivid memories of her wearing those bracelets to dinners, celebrations, and fun nights out. The bracelet you see here was one of her favorites. The color itself, a mix of gold and bronze, was paired with a brown blazer, black dress, or even a cream top.
She often paired the other bracelet, with the clear chandelier elements to it, with a red jacket, navy sweater, or soft pastels. As collected and elegant as my grandmother was, her sassy edge and love of fun were what many times set her fashion apart; these bracelets echo my grandmother's inner-voice. She knew how to pick jewelry that would add just the right amount of glam, or jazz, to an outfit.
Pearls
Pearls—the first piece of jewelry I received from my grandmother. In rummaging through her closet one day, she came across numerous strands of pearls, many of which were worn and colored from over the years. The long strands of pearls, with their authentic cream color and heavy weighted shape, were perhaps before their time. There are signs everywhere today that vintage jewelry is coming back proud and strong, as more people add pearls to their accessories. Paired against a black top or cocktail dress, pearls add a touch of elegance to the simplest outfits. These pearls have traveled with me to college, study abroad, weddings, and my grandmother's funeral. Dated back to the time when grandma was my age, the strands have become a memory of her style, and proof of her influence on mine. The pearls are my most treasured piece. Every time I want to look chic, or very Parisian, I wear my grandmother's pearls and remember, with love, how she passed her sophisticated elegance on to today's generation of couture.
RECOMMENDATIONS FOR VINTAGE IN PARIS
Didier Ludot
20-24, galerie de Montpensier, Jardins du Palais-Royal, 1er  (vintage clothing)
Iglaïne
12, rue de la Grande-Truanderie, 1er (historic vintage shop in Paris)
Neila
28, rue du Mont-Thabor, 1er (vintage couture of the 1940s to the 1950s)
La Belle Époque
10, rue de Poitou, 3e (Victorian era to the swinging sixties)
La Jolie Garde-Robe
15, rue Commines, 3e (chic couture from sixties and seventies)
Les 3 Marches de Catherine B
1, rue Guisarde, 6r (legendary brands)
Aurélie Antiquaire
12, rue de l'Échaudé, 6r (strong on Art Déco jewelry)
Renaissance
14, rue de Beaune, 7r (true haute-couture vintage)
Scarlett
10, rue Clément-Marot, 8r (best selection of 20th century fashion)
Chezet
59, rue  Condorcet, 9r (mixes eras, a trendy place)
Mamie
73, rue de Rochechouart, 9r (vintage institution—1930s to the 1960s)
Mamie Blue
69, rue de Rochechouart, 9r (vintage dresses from the 1950s)
Zôa
55, rue de Lancry, 10r (old-fashioned children's items—rare and leftover stock from 1930s to 1970s)
Maison Brigitte Campagne-Ancienne Mode
17, rue Moret, 11r (antique clothing from the 1800s to the 1940s)
Vintage Clothing Paris
10, rue de Crussol, 11r (1930s bias-cut dresses to psychedelic prints from the 1970s)
Réciproque
88, 89, 92, 95 et 101, rue de la Pompe, 16r ( biggest and the most renowned second-hand shop in western Paris)
LES MARCHÉS AUX PUCES  (flea markets)
Artémise et Cunégonde
Marché Serpette
110, rue des Rosiers 93400 Saint-Ouen (furs and couture alongside designer jewelry)
La Bourse aux montres
Marché Vemaison, Allée 1, Stand 8
99, rue des Rosiers (20th century watches)
Chantal
Marché Paul-Bert, Allée 1, Stand 71
93400 Saint-Ouen (specialist in historical pieces)
Chris Fantaisie
154 bis, rue des Rosiers, 93400 Saint-Ouen (fashion from the 1920s and 1930s)
Denyse Vintage
Marché Vemaison, Allée 2, Stand 83
99, rue des Rosiers, 93400 Saint-Ouen (fashion from the Victorian era to the 1970s)
Falbalas
Marché Dauphine, Stands 284 et 285
140, rue des Rosiers, 93400 Saint-Ouen (vintage fashions from the 18th century to the 1970s)
Françoise Schuler-Antiquités textiles
Marché Vemaison, Allée 1, Stand 33
99, rue des Rosiers, 93400 Saint-Ouen (beyond vintage to historic)
Sarah
Marché Lecuyer-Vallès
18, rue Jules-Vallès, 93400 Saint-Ouen (high-quality 20th century vintage)
AUCTIONS
Hôtel Drouot
9, rue Drouot, 9r (check website for current schedule (www.gazette-drouot.com)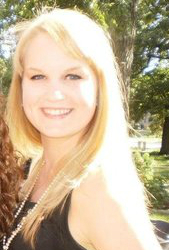 Katie Vergosen graduated from Drake University in 2012 with degrees in International Relations and Music, and a Global Ambassador Certificate. At age 4 she began studying French and has been in love with the French language and culture ever since. A Minnesota native, Katie has traveled extensively throughout the U.S. and Europe; and studied abroad in Vienna, Austria, during college. She is working toward a career in International Marketing and Management. In her spare time, Katie enjoys cooking, fitness, traveling, reading, and playing oboe. Katie, visit: (Twitter)(LinkedIn)
You may also enjoy A Woman's Paris® post,  "À la Mode:" Adding a Touch of French Style to your Everyday Look. "How do they do it," asks Katie Vergosen. How can French women look effortless, glamourous, and above all—trendy—even on their worst days? Katie, a French speaker at age 4 and French admirer, provides a few lessons that can brighten up your appearance, especially on days when you may not be feeling the most chic. 
Pack White Pants, by Bridget Mulheran who was ready for adventure, to find her grove. Study abroad would provide the perfect backdrop to discover an individual style. "Pack white pants," advised Aunt Mollie, stylish and fashionably up-to-date, on what to bring on her first trip to Europe. A weekend trip to Paris gave her the perfect opportunity to find a pair. 
French Impressions: Edith Kunz on the mystique of the Frenchwoman (sexy, smart, and chic). Edith Kunz, author of  Fatale: How French Women Do It, shares clues that unmask the delicious deceptions plotted by Frenchwomen while suggesting how contemporary women can flirt like a coquette, charm like a courtesan and emit sensuality with cool confidence by merely adjusting one's attitude and garter belt. Her latest book, The Merits of Middle-Age Men and Where to Find Them. Books to enjoy at a sidewalk café with a bottle of wine and a French omelette.
French Impressions: Isabelle Thomas and spirit of French fashion and personal style. Isabelle Thomas, personal stylist and personal shopper, is the author of  Paris Street Style: A Guide to Effortless Chic and a volume dedicated to men—You're So French Men, Secrets d'élegance masculine. Isabelle helps people who want to present a good image of themselves and cultivate a personal style, to learn how to show themselves off, and to take the best of trends. (French)
Beauty Confessions from a Globe-trotting Parisienne. Parisienne Bénédicte Mahé shares a French woman's approach to beauty and makeup; and how the relationship Americans have with beauty is very different from that of the French. Including her list of Beauty Resources in Paris and a vocabulary of French to English translations. (French)
French Lingerie: Mysterious and flirty, by Barbara Redmond who shares her experience searching for the perfect lingerie in Paris boutiques and her "fitting" with the shop keeper, Madame, in a curtained room stripped to bare at Sabbia Rosa. Including a French to English vocabulary lesson for buying lingerie and a directory of Barbara's favorite lingerie shops in Paris. (French)
Text copyright ©2013 Katie Vergosen. All rights reserved.
Illustrations copyright ©Barbara Redmond. All rights reserved.
barbara@awomansparis.com