Fashion Crashing: Paris Haute-Couture
25 Saturday Jun 2011
A Woman's Paris™ in Style
Tags
Adeline Andre, Champs-Élysées, Chanel, Christian Dior, Elie Saab, Federation Francaise de la Couture du Pret-a-poter des Couturiers et des Createurs de Mode, France, Franck Sorbier, French fashion, Hasselblads, Hermès, Hotel d'Ecquevilly, Hotel Salomon de Rothschild, Jean-Paul Gaultier, Le Petit Trianon, Maison Rabih Kayrouz, Mamiyas, Marie Antoinette, Maxime Simoëns, Musee Rodin, Paris Fashion Week, Paris haute-couture, Pavillon Cambon Capucines, Repetto, Roger Vivier, Tuileries, Valentino, Versailles, Yves Saint-Laurent
Share it
By Barbara Redmond
(French) I knew to beeline to the swarm of bodies draped in thousands of dollars worth of Hasselblads and Mamiyas, some bearing several, who jockeyed for position.
Don't think. Just maneuver toward the cameras. Dodge the celebrities and reporters, I told myself. Don't stop!
The press photographers, saddled with their cameras, had a private street entrance to this small warehouse space where the haute couture runway collection that I hoped to talk my way into was soon to take place. Most of the photographers in the room crowded together near the catwalk, less than 12 feet away, where they grabbed a place to get the finished looks.
Forty minutes before the show, I watched from the sidewalk at 17 rue Commines in Paris' third arrondissement as the Mercedes-Benz partenaire-officiel cars pulled up to the photographers' entrance, discharging them one by one with their aluminum cases packed with equipment—the cars shuttled from the last haute couture show to this one and so on to the next.
Two electric guitarists and a young female vocalist warmed up on stage in front of a stylized backdrop of Le Petit Trianon, Marie-Antoinette's private estate on the grounds of Versailles. In between the stage and us, the catwalk snaked through the crowd along a U-shaped row of dark wooden benches with folders for reporters and celebrities promoting Maxime Simoëns first haute couture collection, "This, Madame, is Versailles!" for Summer 2011.
Fashion crashing
My trip to France had been put together three weeks prior to the show and my itinerary allowed for two days in Paris. For the first time, my visit to Paris would be during the haute couture shows.
You'll be in Paris during Fashion Week, said Ron. I have a gift for you.
Ron is a couture designer living in Minneapolis. His gift was a long black, bias cut silk chiffon scarf with a single eight-inch dyed coque feather (rooster tail), long and slender at each corner. Over a glass of wine, we talked fashion, the scarf, and the Paris couture collections.
Try to get into a collection, he said as we toasted Paris.
Fashion Week was January 24 – 27, 2011 where the likes of Christian Dior would present at Musée Rodin, Chanel at Pavillon Cambon Capucines, and Adeline André at Hôtel d'Ecquevilly. I had January 26, but no invitation, to pull all sorts of strings and do whatever I could to get into a collection.
Like a college student during finals week, I had studied my booklet of fashion show schedules and locations which had been posted online only days before my departure by Fédération Française de la Couture du Prêt-à-Poter des Couturiers et des Créateurs de Mode. Franck Sorbier, Elie Saab, Jean-Paul Gaultier, Maxime Simoëns, Maison Rabih Kayrouz, and Valentino. Four o'clock in the afternoon for Maxime Simoëns in Le Marais only eight Paris-blocks from my apartment in Place de la Bastille and six-thirty that same evening for Valentino at Hôtel Salomon de Rothschild in the eighth arrondissement.
I've never even crashed a wedding, let alone an haute couture show. Go for it! Said my friend Sally.
Sally and I spent an afternoon looking at my wardrobe for Paris, which was strewn about her dressing room, calculating the right look to wheedle my way into a show. Italian black cowboy boots I bought in Rome in the mid-eighties, a tweed skirt of Chanel fabric purchased at Maupiou in Paris and designed together with my seamstress Oksanna, a black slim-fitting 1940s-styled cashmere coat with a wide, black mink collar, and the pièce de résistance—the black, bias cut silk chiffon scarf with feathers from Ron.
Sally and I both knew to avoid looking like an American dressed to the nines in labels. You'll be in the fashion capital of the world, said Sally. If you need anything to add to your wardrobe, you'll have all of Paris to shop!
Maxime Simoëns haute couture runway show
I knew rue Commines well. It's a narrow street off boulevard Beaumarchais lined with ateliers, boutiques and bistros, and a nice walk toward the famous shopping street in Le Marais, rue des Francs-Bourgeois. Several years before, I had scoured the street looking for my favorite Paris jeweler's atelier, which I never found.
I arrived at the warehouse, a clay-colored building with two small doors on either side of a large blue door marking the entrance to the four o'clock show. There were two photographers, a uniformed guard, a modish young woman, and now, me. Was this the location for the Maxime Simoëns collection, I asked? Oui, said the young woman, sporting a platinum pixie haircut, striped jersey top, skinny jeans and flats sharing a smoke with the photographers who leaned on a motorcycle parked against the building.
Bonjour, Mademoiselle, I said handing her my business card, I do not have a ticket to get into the show. How can you help me?
Oui, Madame, she said disappearing behind the door with my card only to return in an eternity to say, Madame, ce n'est pas possible. It is not possible.
Right then, four stylish Parisiennes, probably in their sixties, joined me on the sidewalk in the cold and damp. They wore the quintessential bags, belts, scarves, and shoes that put a finished touch of Yves Saint Laurent, Hermès, and Roger Vivier to their classic outfits. It was not long before a foursome of gentlemen, of the same age and dressed in kind, appeared to accompany the women to the show.
Soon there were several of us nestled among the two photographers, guard, girl with the pixie cut, and the large blue door, trying to generate a current of warmth from the bodies around us. The sounds of French, Italian, Spanish, and British English crackled through the air with the anticipation of Maxime Simoëns first haute couture show. Over the sparkle of voices, a gentleman quickly shifted from Spanish to English telling an acquaintance that he had just arrived hours before from Buenos Aires and asked the other if he was going on to Rome. Gesturing furtively with their invitations, tucked under an arm or clinched in hand, everybody seemed to be holding their passes to get in to the show. Undeterred, I begged a different uniformed guard who had recently joined the scene. He disappeared with my card in hand behind the big blue door as the pixie-haired girl only to return to say, Madame, ce n'est pas possible.
Slipping through a crack between the ancient blue doors came five willow-thin, lithe young women, their makeup the color of bisque figurines. Each had blond hair loosely pulled back and roughly coiled like a crown and ending in a loose, ragged chignon high above the nape of their necks. They huddled closely together with their backs to the gathering crowd. Wearing thin filmy slips under their vintage bomber jackets, old cloth coats and Repetto flats, and one girl wearing what appeared to be very old Frye boots, they all smoked one last cigarette. As quickly as they had come they were gone.
Mercedes-Benz's raced down the street, one following another to discharge their celebrity passengers and reporters who pranced from the car up the steps to the large blue door, to be greeted mid-way by a man with a shock of thick white hair and a long cashmere blue coat draped about his shoulders. He tenderly offered the French air kiss, first on one cheek and then the other, to the guests who where intimately coddled through the door.
This was my moment. There was a clear space between the first wave of celebrities and the rest of us. A new uniformed guard and chic Parisienne dressed in black bracing a clipboard between her hip and forearm appeared at the top of the steps. I bolted through the crowd, business card outstretched and said to the guard: Bonjour, Monsieur, and pleaded in English, not trusting my French at a moment like this, I am an American writer for A Woman's Paris®, I do not have an invitation to Maxime's show. I have just arrived.
The guard nodded to the woman who smiled and gestured me through the door. What I saw was not what I had expected—this was not a party, no champagne, no wine, no hors d'oeuvres. I negotiated my way through the milling guests to the horde of photographers, knowing that there I might get the best view of my very first haute couture collection in Paris!
"This, Madame, is Versailles!" was breathtaking! The precision of the pure lines revealed a sensual femininity and elegance. Transparent silk chiffon in incredible pinks, blues, greens and ecru, white gabardines and black satins. Dresses scattered with baroque flowers, structured gowns with mode dégradé chain straps of color shading off onto one another, feathers, organza millefeuilles, and a short chain dress reflecting Marie-Antoinette's love of nature and escape from the formalities of royal life to Le Petit Trianon.
But it was the final look, number 39, that brought spontaneous, shouts of "bravo," and deafening applause from the witnesses of Maxime's first show. The piece was a long dress in barcode chains in contrasting matte and shiny black and grey tones.
Maxime's show in Le Marais was held very near Carreau du Temple, a covered market situated on the former site of the Temple Prison, where the Royal family was held during the French Revolution. Marie-Antoinette was herself tried, convicted of treason and driven through Paris in an open cart, wearing a simple white dress. She was executed at the Place de la Révolution (present-day Place de la Concorde). I cannot fully imagine the effect the collection had on the French observers at the show, but I knew Maxime's reveal was poignant: the final elegant dress of chains released in close proximity to the sites of great revolutionary consequence.
The show was over in twenty minutes.
I departed with the crowd into the rain and hurried along boulevard Beaumarchais to the Bastille. There, I could take the Métro toward La Défense and exit at George V station near the Arc de Triomphe to try my luck at the Valentino show.
Was I able to talk my way into the Valentino show? Not a chance!
I attempted to endear myself to the three uniformed men guarding the gates to Hôtel Salomon de Rothschild on rue Berryer, but they just nodded me along from one guard to the next, and finally gestured me towards a fashionably dressed woman who held the indomitable clipboard. I offered my plea, greeting her in French, then slipping to English for my request. She scanned her clipboard for my name, which of course was not there. Madame, ce n'est pas possible.
I watched in the cold Paris rain as limousine after limousine stopped at the gate, releasing beautiful women and men; some turned and posed for the clamoring paparazzi, then drifted through the huge wrought-iron gates. This would be the party, I thought. But not so—the guests were out in twenty minutes. Satisfied with the day, I walked several blocks along the Champs-Élysées to the Tuileries Métro stop contemplating my next maneuver—this time for a real invitation.
VOCABULARY: French to English Translations
Atelier: Studio or workshop.
Bistro: Small restaurant.
Bisque: Light brown in color as in fired unglazed pottery.
Boutique: Shop or store.
Chignon: A knot or coil of hair arranged on the back of a woman's head.
Haute couture: High sewing or high dressmaking. Couture is a common abbreviation of haute couture and refers to the same thing in spirit.
Hors d'oeuvres: Small savory dish, typically one served as an appetizer at the beginning of a meal.
Millefeuilles: Thousand-leaf, layers of decorative details.
Mode dégradé: Gradation, colors shading off onto one another.
Oui: Yes.
Parisian: A native or inhabitant of Paris.
Parisiennes: A female native or resident of Paris.
P¡èce de résistance: An outstanding item or event.
Prêt-à-Porter: Ready-to-wear fashion.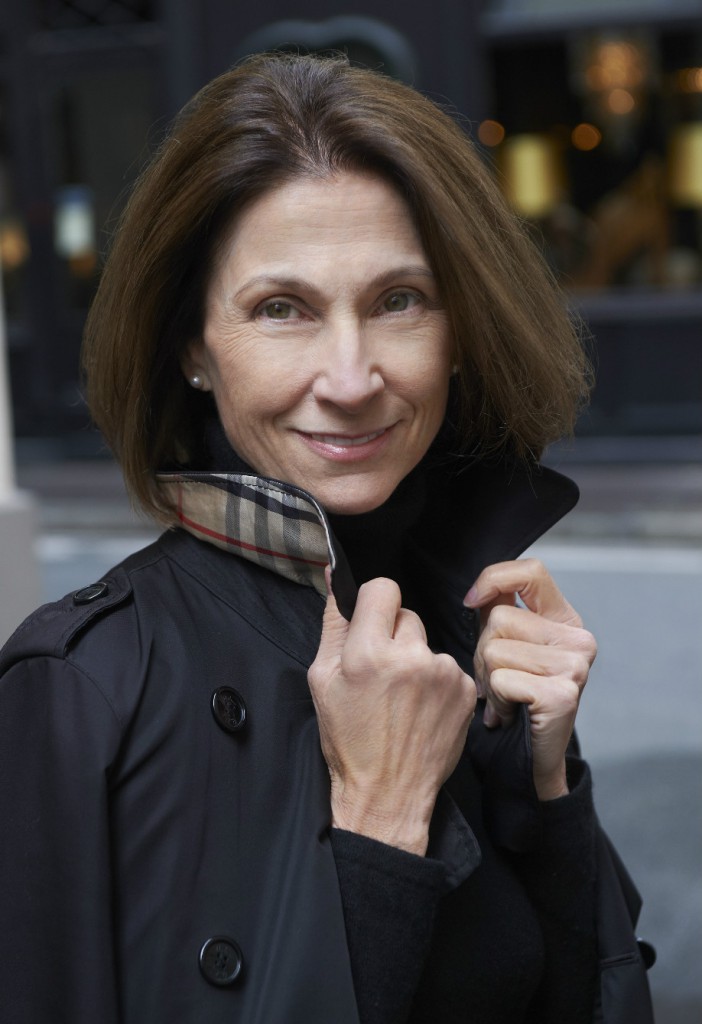 Barbara Redmond, publisher of A Woman's Paris®, is a long-time Francophile and travels to Paris every chance she gets. Her stories about Paris and France have been published in AWP® and republished, with permission, by other blogs and publications. Barbara has presented programs on French fashion and food, and has been a guest speaker for students planning their study abroad. She serves as an advisory board member at the University of Minnesota College of Design and is an active student mentor. Barbara has been recognized for excellence in art by international and national organizations and publications. Prints of her fine are paintings are in collections in Europe and North America and are available for purchase.
You may also enjoy A Woman's Paris® post, Diving into Paris Fashion: From famous to fresh, by Parisian Abby Rodgers, who asks the question, "…with veterans such as Lagerfeld making the move to the street-wear market, where is fashion headed in Paris and what influence does the newest generation have?" Included are fashion brands and stores that are favorites of Abby and her friends. 
Ballet Flats in Paris: And God made Repetto, by Barbara Redmond who shares what she got from a pair of flats purchased in a ballet store in Paris; a feline, natural style from the toes up, a simple pair of shoes that transformed her whole look. Including the vimeos "Pas de Deux Coda," by Opening Ceremony and "Repetto," by Repetto, Paris. (French)

Paris photo shoot in search of the perfect Moroccan slipper, by writer Lisa Rounds who tells of her adventures in the North African neighborhood of Barbès in Paris searching for the perfect slipper in red, of course, for a Cosmo photo shoot. Lisa shares her story of "living the dream," working for a publishing company in Paris. 
Imperfect Perfection: The new French woman, by writer Kristin Wood who reminds us of the words attributed to Henry David Thoreau, the famous American author and philosopher who eschewed material excess and extravagance… "Simplify, simplify, simplify." Kristin writes about the predicted trends of the "undone" makeup look, and the "de-blinging" of luxury items. What better place to introduce these two trends on a grand scale than in Paris? 
Fashion trends from the street and the Rule of Five, by Barbara Redmond who on extended stays in Paris has seen fashion trends take hold. Still, she notices, the Parisienne never tries to fit in. Daring, carrying herself confidently, with her own inbred style, she moves quickly through the city, hardly disturbing its surface. Barbara writes about her "Rule of Five" game for spotting fashion trends.
French Lingerie: Mysterious and flirty, by Barbara Redmond who shares her experience searching for the perfect lingerie in Paris boutiques and her "fitting" with the shop keeper, Madame, in a curtained room stripped to bare at Sabbia Rosa. Including a French to English vocabulary lesson for buying lingerie and a directory of Barbara's favorite lingerie shops in Paris. (French)

Text copyright ©2012 Barbara Redmond. All rights reserved.
Illustration copyright ©2012 Barbara Redmond. All rights reserved.
barbara@awomansparis.com