French Impressions: John Baxter's "Five Nights in Paris" – from the late-night haunts of the city's most legendary artists and writers, to the scenes of its most infamous crimes
16 Thursday Apr 2015
Tags
A Moveable Feast Ernest Hemingway, A Pound of Paper John Baxter, Belle Époque Paris, Bidding Thomas Atkins John Baxter, Boulevard St Germain Paris, Brassaï Paris la Nuit, Chronicles of Old Paris John Baxter, City of Light, Cole Porter, Crazy Horse Cabaret Paris, Ernest Hemingway, Federico Fellini, Five Nights in Paris John Baxter Harper Perennial, France, Fumée d'Opium Claude Farrère John Baxter translator, George Balanchine, George Lucas, Gertrude Stein, Grand Palais Paris, Henry Miller Paris, Hollins College in Virginia USA, Hotel George Cinq Paris, Immoveable Feast John Baxter, J.G. Ballard, jazz Paris, Josef von Sternberg, La Boheme, La Traviata, Lost Generation Paris, Luis Bunuel, Midnight in Paris Woody Allen, Morphine Jean-Louis Dubut de la Forest John Baxter translator, Moulin Rouge Paris, My Lady Opium Claude Farrère John Baxter translator, Naughty Paris Pigalle Paris, New York City Ballet Toni Bentley, Opera Bastille Paris, Paris, Paris at the End of the World John Baxter, Paris travel guide, Paris Writers Workshop, Philippe Soupault Last Nights of Paris, Place de l'Odéon Paris, Place de la Bastille Paris, Pont Alexandre III Paris, Quiet Days in Clichy Henry Miller, Robert De Niro, rue Mouffetard Paris, Salvador Dali, Scott Zelda Fitzgerald, Stanley Kubrick, Steven Spielberg, Surrealists, Sylvia Beach Shakespeare and Company Paris, The Golden Moments of Paris John Baxter, The Great Gatsby F Scott Fitzgerald, The hermes Fall Thomas Atkins John Baxter, The Making of the Americans, The Most Beautiful Walk in the World John Baxter, The Paris Men's Salon John Baxter, The Perfect Meal John Baxter, Thomas Atkins The Fire Came By, Ulysses, We'll Always Have Paris John Baxter, William Faulkner Sanctuary, Woody Allen
Share it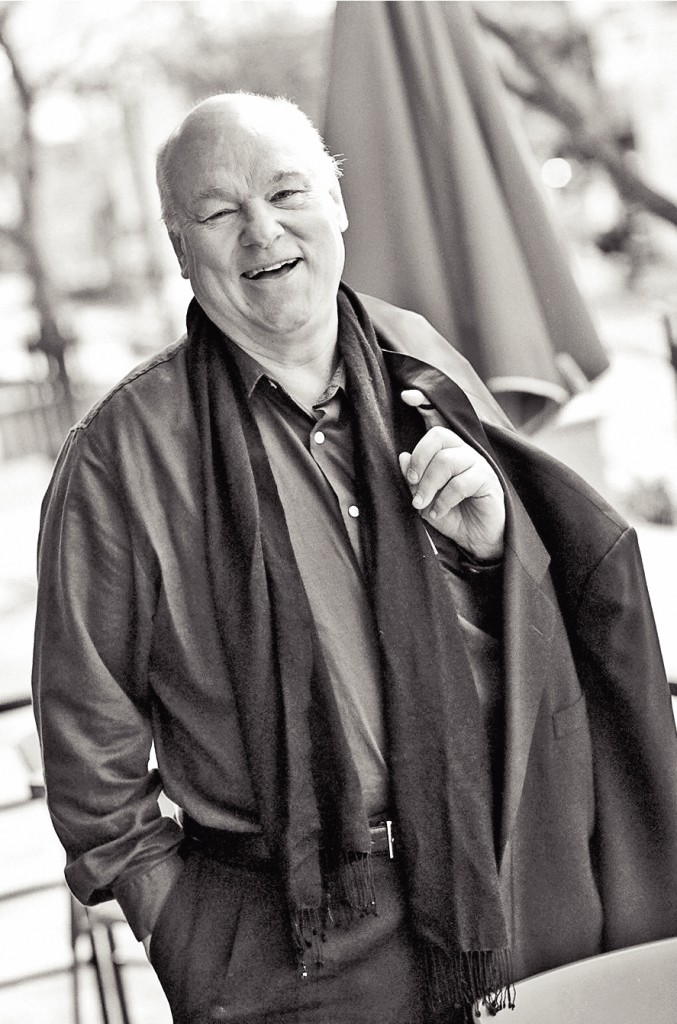 John Baxter is an acclaimed memoirist, film critic, and biographer. He is the author of the memoirs: The Most Beautiful Walk in the World, Immoveable Feast: A Paris Christmas, We'll Always Have Paris, The Perfect Meal: In Search of the Lost Tastes of France, The Golden Moments of Paris: A Guide to the Paris of the 1920s, and Paris at the End of the World: The City of Light During the Great War, 1914-1918. A native of Australia, he currently lives with his wife and daughter in Paris—in the same building Sylvia Beach once called home.
Since moving to France, John has published biographies of Federico Fellini, Luis Bunuel, Steven Spielberg, Woody Allen, Stanley Kubrick, George Lucas, Josef von Sternberg, Robert De Niro, and the author J.G. Ballard. He has also written five books of autobiographies, including A Pound of Paper: Confessions of a Book Addict. His most recent books are Chronicles of Old Paris and The Paris Men's Salon, a selection from his uncollected prose pieces. John's translations of Morphine, by Jean-Louis Dubut de la Forest and Fumée d'Opium, by Claude Farrère, have also been published by HarperCollins, the latter as My Lady Opium.
John has co-directed the annual Paris Writers Workshop and is a frequent lecturer and public speaker at universities and writers workshops. His hobbies are cooking and book collecting (he has a major collection of modern first editions). When not writing, he can be found prowling the bouquinistes along the Seine or cruising the Internet in search of new acquisitions.
In 1974, John was invited to become a visiting professor of film at Hollins College in Virginia, U.S.A. While in the United States, he collaborated with Thomas Atkins on The Fire Came By: The Great Siberian Explosion of 1908, a highly successful book of scientific speculation, and wrote a study of director King Vidor, as well as completing two novels, The Hermes Fall and Bidding. For more information about John Baxter, visit: (Facebook) (Website)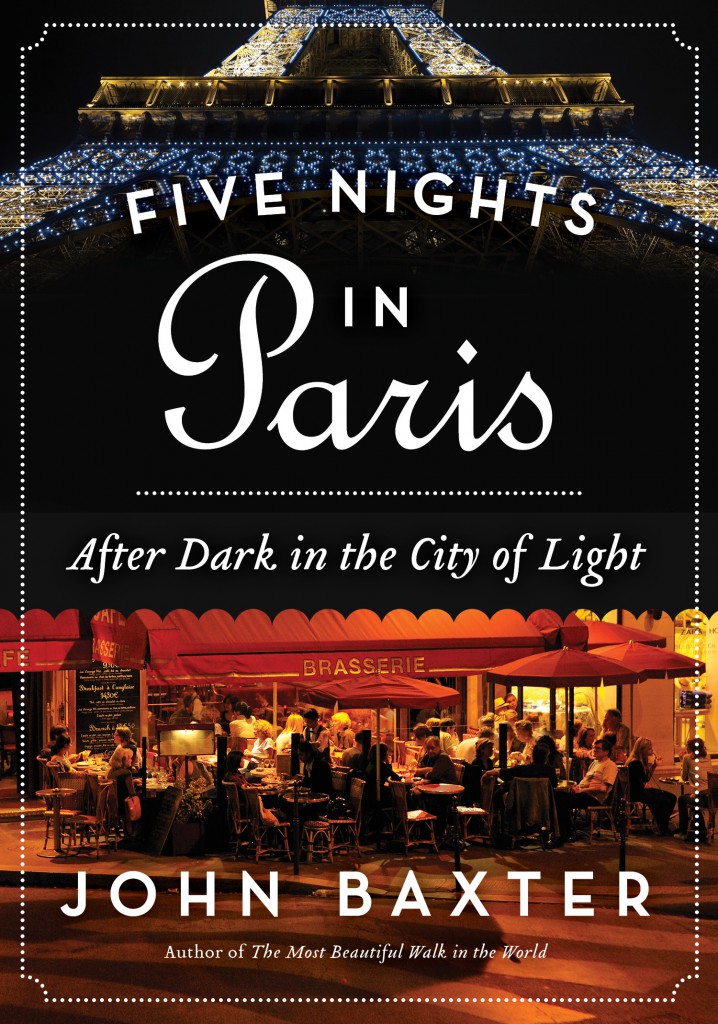 Any guidebook can tell you what to see and do in Paris during the day: Museums and monuments, cathedrals and croissants—the checklist of Parisian clichés is enough to keep any tourist busy until closing time. But what about when darkness falls on the City of Light? John Baxter wondered the same thing. Inspired by the literary tours he gave during the day, Baxter developed his dazzling sensory tour of Paris's greatest neighborhoods.
Five Nights in Paris is enriched by anecdotes from Baxter's own life in France and written with the alluring, authoritative voice only he can provide. From the late-night haunts of the city's most storied artists and writers, to the scenes of its most infamous crimes, this unique travel memoir whisks its readers off to places you won't find in your average guidebook.
For jetsetters and armchair travelers alike, Five Nights in Paris: After Dark in the City of Light is sure to become an instant classic and will make even the most dedicated home-bodies yearn for the land of cafés and literary greats. (April 14, 2015, Harper Perennial) (Purchase)
Praise for Five Nights in Paris
"The joy of his writing is to realize that, even after living there for two decades, Paris still provides him with new avenues to explore…No one can successfully write about Paris unless they truly love every nuance, oddity, and secret of her life; here, the author shines. Baxter's knowledge of those who have written about Paris—for years, he has collected such work—will lead readers to all sorts of corners that do not show up in any tourist guides."—Kirkus
"An entertaining mix of amusing autobiography and fluent expertise. … Baxter makes after-dark visits to the sites of once fashionable brothels and jazz clubs, follows the scent of perfume, and sumptuously indulges his passion for food, writing, at each turn, with wit and rapture." —Booklist
Photo: Rudy Gelenter
Excerpt: John Baxter's "Five Nights in Paris" – a dazzling sensory tour of Paris's greatest neighborhoods published on A Woman's Paris®.

INTERVIEW
Five Nights in Paris: After Dark in the City of Light
"Each of us must, in our own way, as with a new lover, seduce, or allow ourselves to be seduced by the Paris night." —John Baxter, Five Nights in Paris
AWP: You are author of Five Nights in Paris. What inspired you to write this book?
JB: Initially, a lady who took one of my literary walks asked if I also did walks by night. She mentioned Woody Allen's Midnight in Paris, which I hadn't then seen at the time. The film's main character has an exciting journey when he takes an evening stroll. A phantom vintage car whisks him back to the 1920s, where he meets Ernest Hemingway, Gertrude Stein, Scott and Zelda Fitzgerald, and other members of the Lost Generation. For most visitors to Paris, evenings are nearly as interesting. I decided to write a book that wasn't so much a guide to Paris by night, but an encouragement for each visitor to experience the city after dark in the same spirit of exploration that leads Woody's hero into such amusing adventures.
AWP: You entrench your work in a different Paris, taking stock in the night scene and mapping the transformation of Paris after dark. What challenges did you encounter, and how did you unfold the story you wanted to tell?
JB: Essentially, this is a book about embracing the unexpected – literally stepping into the dark. Since not everyone could hope for an antique automobile and a meeting with Cole Porter and Salvador Dali, I needed to retain the sense of anticipation while describing what the nightwalker might realistically encounter. I recruited some friends to help me, including an expert on the sense of smell, a fellow enthusiast for the Surrealists, and an Italian actress then living in Paris. Each of us set out into the night with no agenda, except to experience the very special and very different city Paris becomes after dark.
AWP: During your research for Five Nights in Paris, what aspects of Paris wouldn't you include?
JB: In encouraging people to leave their hotel rooms after dark, I avoided sending them to places where they might encounter danger, whether from muggers or a broken ankle from walking on cobblestones. I also steered them away from common tourist traps, such as the Pigalle area – which, in any event, is already well-served by "Naughty Paris" tours featuring trips to the Moulin Rouge and the International Museum of Eroticism.
At the same time, I didn't want to minimise the slightly daring quality of Paris by night. One chapter describes a visit to the mildly erotic Crazy Horse Cabaret, followed by cocktails at the Hotel George Cinq. By sharing this excursion with a female friend, describing her reaction and quoting her comments, I demonstrate that there was nothing particularly shocking about such a night out, and any couple might enjoy a similar evening. The Crazy Horse can even be seen as culturally significant. Salvador Dali sketched its dancers and designed routines for them. George Balanchine also visited the club a number of times. One of his prima ballerinas at the New York City Ballet, Toni Bentley, was so impressed she asked to perform there.
AWP: Five Nights in Paris doesn't show us exactly which streets to follow, but how to know Paris and feel the enjoyment of the flânerie. Why is this essential in forging the spirit of Paris?
JB: When Paris was rebuilt in the 19th century, wide sidewalks were one of its major innovations. Until then, the rich had gone from place to place on horseback or by coach, while the poor walked, generally on streets that were mud in the winter and dust in the summer. Once they had the opportunity to get about in comfort, Parisians were determined not to surrender it. Paris became a city where it is not only easy to walk, but obligatory to do so.
The French believe that the act of walking is a pleasure in itself, even if you don't go anywhere. One reason The Most Beautiful Walk in the World has been such a success lies in the fact that it isn't a guidebook. There are no itineraries. On the contrary, it urges visitors to step out and discover their Paris. I approached Five Nights in Paris in the same spirit.
AWP: Why did you divide the book into itineraries guided by the senses?
JB: I felt the book needed a structure on which to hang the various ways of experiencing Paris after dark. After choosing five districts, which are both interesting and safe to visit, I looked for ways to enhance the appreciation of each. The area around rue Mouffetard and its street market, for instance, lent itself to a walk based on food and taste, while Odéon and St Germain, with their tradition of jazz and street music, was the obvious locale for an evening stroll based on the sense of sound.
AWP: What is it about the five senses that make Paris nights so alluring and seductive? Why is nighttime the perfect canvas for the imagination? What is it about Paris nights that make it so pleasurable for the flâneur?
JB: Because sight is suppressed at night, other senses become more important. By talking about perfume and the odours of coffee, roasting chestnuts, or burned sugar from a creperie, the sound of jazz in the narrow streets of St Germain, the feel of the stone under your fingers in the medieval buildings of the Marais, the taste of certain typical but very common dishes, such as the toasted cheese of a croque monsieur, I hope the book will encourage people to open themselves up to a new perception of the city and of themselves.
AWP: Which writers or philosophers write best about the emotions of Paris at night?
JB: The French have always taken the night more seriously. Anglo Saxons tend to seek the sun; the French like shade. Their greatest poets, from Villon and Verlaine to Baudelaire and Prévert have praised the night for its capacity to refocus the mind on a different reality. Among expatriate writers, Henry Miller loved to prowl the night streets of Paris with the photographer Brassaï, whose images of after-hours bars and half-lit streets illustrate Miller's Quiet Days in Clichy. Brassaï himself created a classic photo essay of nighttime Paris in Paris la Nuit.
The Surrealists found the night particularly exciting. I've always been an enthusiast for their writing, and chose a Surrealist novel, Philippe Soupault's Last Nights of Paris, to focus the section on the sense of sight. Kevin Jackson, a writer friend from England who shares my interest, agreed to take a night walk with me, following the route of the novel's main character. Some surprising encounters made us feel we were almost re-living it.
At the same time, I had a well-known bookbinder, Paul Delrue, create a new decorative leather binding for my first edition of the book. He brought his own imagination to bear on the text, and came up with a superb new creation. I hope, in describing his work, to show readers that each of us can get something new from an experience, even if it's shared with others.
AWP: What was the most surprising thing you learned during your nighttime walks?
JB: In a city with so many restaurants, clubs and entertainment venues, a large number of people work at night. However I hadn't fully understood that entire sub-cultures emerged only when the sun went down. The clients of echangiste sex clubs, to which I refer briefly in the book, are an obvious example. One also encounters movie crews or fashion photographers who have taken over a whole neighbourhood and set it blazing with light for their shoot. Jazz and rock musicians work until the early hours and then stay on to jam. Of course, the homeless remain in doorways, bundled like cocoons, often with a dog snuggled with them in their sleeping bags.
AWP: Are there neighborhoods, boulevards, avenues or streets that have become essential in forging the spirit of Paris at night?
JB: The night emphasizes the special character of Paris's bridges. In the film Charade, a bateau mouche turns its spotlight on the stone abutments of the Seine's banks to show lovers embracing. Under the bridges, they are even more numerous. The performance artist Sophie Calle set up a flamboyant phone box in the middle of one bridge. From time to time, she'd call it, and chat with anyone who answered. Or on Paris's most extravagant bridge, the belle epoque Pont Alexandre III, one sometimes sees Japanese bridal couples being photographed at night in full wedding costume with the façades of the Invalides or the Grand Palais behind them. Bridges, it seems, are a magnet for fantasy.
AWP: Are there avenues for you still waiting to explore?
JB: I'm curious about the cluster of streets around Bastille, in particular rue de Lappe and rue de la Roquette. From the late 19th century right up the 1920s this area was notorious as a hangout for gangsters and a centre of wilder types of entertainment. It's much more subdued today, with the new Opera Bastille sitting in the middle of it. Some of the greatest of grand operas, including La Boheme and La Traviata, are set in the demi-monde of that era. It might be instructive to contrast their vision of that world with the modern reality.
AWP: You write about tourists and nighttime in Paris as a place of pilgrimage that one visits, sometimes like a museum. Do we have a secret hope of finding something there?
JB: It isn't a secret hope. By nature, I peer through half-open gates and into places that say "No entry." It has led me into all sorts of adventures. I'm sure it will again. In London, I used to go to a junk market called The Stones. It only operated in the early hours of the morning. By ancient tradition, any sale concluded during darkness was legal, even if one suspected the goods were stolen. It closed as the sun came up. I'm always hoping to stumble across such a market in Paris, but I keep being diverted by other side alleys that are even more intriguing.
AWP: Is there one statement that channels everything you have uncovered about Paris nights?
JB: We are each of us a sailor on the ocean of our own private darkness.
WRITING
AWP: What do you think it is about your books that make readers connect in such a powerful way?
JB: It's not so much my books as the city about which I write. Many people write about Paris, some more successfully than I. We are all fortunate in our subject. Were I writing about other cities in which I've lived – Los Angeles or Sydney or Dublin – I doubt that my readership would be anywhere near as large.
AWP: You have a shrewd grasp of how common culture works, often in strange ways. How did you come to it?   
JB: It's kind of you to say so. Two factors influenced my enthusiasm for popular culture: having almost no formal education, and coming from Australia. During my childhood and adolescence, culture of any type was scorned. The most common preoccupation in Australia was sport, which I detested.
One took intellectual stimulation where one found it, which in my case was in Hollywood movies and American popular fiction – particularly science fiction. My first book, written in my early twenties, was a science fiction novel, published in New York.
I enjoy the sort of films, books, and music the ordinary consumer enjoys because I'm one myself. Since I moved to France, that interest has widened into an appreciation of French popular music, design, and cinema, which I find much more poignant than that of Anglo Saxon countries. The French aren't afraid to put their hearts on their sleeve.
AWP: What is it about writers and Paris?
JB: The more I learn of Paris, the less its attraction to writers makes sense. In the expatriate society of the 1920s and 1930s, painters far outnumbered writers, yet it's the writers who are remembered. Nor is there much evidence that a writer's presence in Paris improved or encouraged his or her work. The ecstatic memoirs, on which the city's reputation as a literary inspiration rests, including A Moveable Feast, were written thirty years later. Major novels like The Great Gatsby, The Making of Americans, and Ulysses may have been partly written in France, but there's little evidence that Paris's presence outside the writer's window influenced what went onto the page.
Where France stimulated writers, and continues to do so, is in its life style. It offers a paradigm of the creative life. Great writers, painters and musicians of both the past and present are revered. The cultural heritage, in particular architecture, is respected and preserved. The arts, including the cinema, are robustly supported by the state – claims few other countries can make, even in part. Because of this, creative people arriving in France are plunged into a culture where art and the life of the mind are taken seriously. One can only compare the effect to the experience of tourists arriving in 1920 from Prohibition America and downing their first martinis.
AWP: Tell us something we don't know about Paris—at night—its style, food, culture or travel.
JB: France secretly reveres failure and loss. It's particularly apparent this year, the bicentenary of Napoleon's defeat at Waterloo. For this reason, they dislike the British, whom Napoleon dismissed as "a nation of shopkeepers" and are suspicious of Americans, who seem to them focused excessively on achieving success. However, they respect the Scots, whom they see as fallen kings and princes, noble in defeat.
Another oddity about Napoleon. After Waterloo, he planned to move to America and become a frontiersman. His brother Joseph had already set up a bank account for him there, created a library and a collection of instruments suitable to an explorer, and obtained a letter from President Madison inviting the ex-emperor to become an American resident. Napoleon expected the British to take him to England, where a writ of habeas corpus would have allowed him to escape captivity and leave for America. However, they never let him put foot on land, until he arrived on the remote island of Saint Helena, where he died.
AWP: What was the last book you read? Would you recommend it?
JB: William Faulkner's Sanctuary, most of which was written during his brief sojourn in Paris (which he loathed). The final scene is set in the Luxembourg Gardens. His style is almost exhilaratingly expressionist; far more experimental than I remembered. It was a very pleasant and exciting rediscovery.
AWP: Your life is extraordinary. What's next?
JB: Museyon is publishing The French Riviera and Its Artists in July, 2015. I've also recently signed a deal with HarperCollins for two new books about Paris.
Acknowledgements: Alyssa Heitfeld, English, Media and Cultural Studies major at Macalester College in St. Paul, Minnesota and Editing Intern with A Woman's Paris.
SELECTED BOOKS BY JOHN BAXTER
Five Nights in Paris: After Dark in the City of Light. Harper Perennial, April 14, 2015
Paris at the End of the World: The City of Light During the Great War, 1914-1918. Harper Perennial, 2014
The Golden Moments of Paris: A Guide to the Paris of the 1920s. Museyon Inc., 2014
The Perfect Meal: In Search of the Lost Tastes of France. Harper Perennial, 2013
The Most Beautiful Walk in the World: A Pedestrian in Paris. Harper Perennial, 2011
Chronicles of Old Paris: Exploring the Historic City of Light. Museyon Guides, 2011
Immoveable Feast: A Paris Christmas. Harper Perennial, 2008
We'll Always have Paris: Sex and Love in the City of Light. Harper Perennial, 2006
A Pound of Paper: Confessions of a Book Addict. St. Martin's Griffin, 2005
You may also enjoy A Woman's Paris® post John Baxter's "Paris at the End of the World" – Patriotism transforming fashion (excerpt). Preeminent writer on Paris, John Baxter brilliantly brings to life one of the most dramatic and fascinating periods in the city's history. Uncovering a thrilling chapter in Paris' history, John Baxter's revelatory new book, Paris at the End of the World: The City of Light During the Great War, 1914-1918, shows how this extraordinary period was essential in forging the spirit of the city we love today. 
French Impressions: John Baxter on the First World War: A reflection on Paris' history and transition during the war years. John Baxter, acclaimed memoirist, film critic, and biographer, is the author of The Most Beautiful Walk in the World, Immoveable Feast: A Paris Christmas, We'll Always Have Paris, The Perfect Meal, The Golden Moments of Paris, and his most recent book, Paris at the End of the World: The City of Light During the Great War, 1914-1918. For four years, Paris lived under constant threat of destruction. And yet in its darkest hour, the City of Light blazed more brightly than ever. 
French Impressions: Ronald C. Rosbottom's "When Paris Went Dark" – Marking the 70th anniversary of the Liberation of Paris (Part One). Marking the 70th anniversary of the Liberation of Paris, Rosbottom's When Paris Went Dark weaves a rich tapestry of stories to rediscover from the pavement up the texture of daily life in a city that looked the same but had lost much of its panache. This expansive narrative will fascinate readers who are interested in the history and continuing legacy of World War II. Including an excerpt from When Paris Went Dark (excerpt).
French Impressions: Joan DeJean on Paris through the Ages: 400 years of Parisian living. While Baron Haussmann is usually credited as being the architect of the Paris we know today, with his major redevelopment of the city in the 19th century, Joan DeJean reveals that the Parisian model for urban space was in fact invented two centuries earlier. In her new book, HOW PARIS BECAME PARIS: The Invention of the Modern City, DeJean uncovers that the first full design for the French capital was implemented in the 17th century, and with her characteristic verve and careful research fully brings to life a city in the midst of reinvention. Including an excerpt from How Paris Became Paris (excerpt).
French Impressions: Capital Fare: Patricia Wells on great French food in Paris. Patricia Wells, author of Food Lover's Guide to Paris, the award-winning Bistro Cooking, and for more than two decades the restaurant critic for The International Herald Tribune, takes readers, travelers and diners to the best restaurants, bistros, cafés, patisseries, charcuteries, and boulangeries that the City of Light has to offer. Including Willi's Wine Bar's Bittersweet Chocolate Terrine—the irresistible chocolate dessert that is one of Patricia's Paris favorites. Including an excerpt from The Food Lover's Guide to Paris (excerpt). 
French Impressions: Mireille Guiliano's "Meet Paris Oyster" in pursuit of the world's best oysters and wine pairings with them. With her characteristic wit, wisdom, and storytelling flair, Mireille will soon have you wanting to eat oysters at least every week. A former chief executive at LVMH (Veurve Clicquot), Mireille Guiliano is "the high priestess of French lady wisdom" (USA Today) and "ambassador of France and its art of living" (Le Figaro). She is the author of the #1 New York Times bestseller French Women Don't Get Fat, as well as French Women Don't Get Facelifts. Including an excerpt from Meet Paris Oyster (excerpt).
French Impressions: What's cooking in Paris: David Lebovitz on the secrets of French cuisine. Ten years ago, David Lebovitz packed up his most treasured cookbooks, a well-worn cast-iron skillet, and his laptop and moved to Paris. In My Paris Kitchen, David remasters the classics, and introduces lesser-known fare. Through his recipes and stories we get insight into his delicious and extraordinary world. Including David's recipe for Salted butter caramel-chocolate mouse. Including an excerpt from My Paris Kitchen (excerpt).
French Impressions: Marilyn Yalom's "How the French Invented Love" a tradition of courtly and romantic love that reaches back into the 12th century. Marilyn Yalom's latest book, How the French Invented Love: Nine Hundred Years of Passion and Romance, shares condensed readings from French literary works—from the Middle Ages to the present—and the memories of her experiences in France. The French have always assumed that love is embedded in the flesh and that women are no less passionate than men. 
French Impressions: W. Scott Haine on the origins of Simone de Beauvoir's café life and the entry of France into WWII. "Café archives" seldom exist in any archive or museum, and library subject catalogs skim the surface. Scott Haine, who is part of a generation that is the first to explore systematically the social life of cafés and drinking establishments, takes us from the study of 18th century Parisian working class taverns to modern day cafés. A rich field because the café has for so long been so integral to French life. 
French Impressions: Gerri Chanel's "Saving Mona Lisa" thus began the biggest evacuation of art and antiquities in history. In late summer 1939, just days befor France declared war against Germany, the Louvre staff conducted the largest museum evacuation in history in record time, then managed to keep its art and antiquities out of the hand of Nazi occupiers throughout the years of the occupation that followed. While in France Gerri Chanel, prize-winning freelance journalist, combed through various French archives and had access to the few remaining living witnesses of the events that began research for her book, Saving Mona Lisa. This engaging and suspenseful book describes the connections between the museum and its curators to other wartime developments in France providing new insights and narrative, images and new research. Including an excerpt from Saving Mona Lisa (excerpt).
Readers' Choice: 253 Good Books About France (2014). Your quest is to dig below the surface, peek behind the façade, where lurks a story, rumor, recipe or fossil. We have an eagerness to explore fresh ideas, to forge powerful relationships and build a community. Readers, we invite you to draw close this narrative, woven on A Woman's Paris, a narrative that has come to life, to discover secrets of the past and take part in shaping the future. Become a part of our conversation. We celebrate the art and ideas of people from every place and every heritage.
A Woman's Paris — Elegance, Culture and Joie de Vivre
We are captivated by women and men, like you, who use their discipline, wit and resourcefulness to make their own way and who excel at what the French call joie de vivre or "the art of living." We stand in awe of what you fill into your lives. Free spirits who inspire both admiration and confidence.
Fashion is not something that exists in dresses only. Fashion is in the sky, in the street, fashion has to do with ideas, the way we live, what is happening. — Coco Chanel (1883 – 1971)
Text copyright ©2015 John Baxter. All rights reserved.
Illustrations copyright ©Barbara Redmond. All rights reserved.
barbara@awomansparis.com