Finding your hairdresser in Paris, a quest for the tenacious ones
18 Thursday Sep 2014
A Woman's Paris™ in Style
By Bénédicte Mahé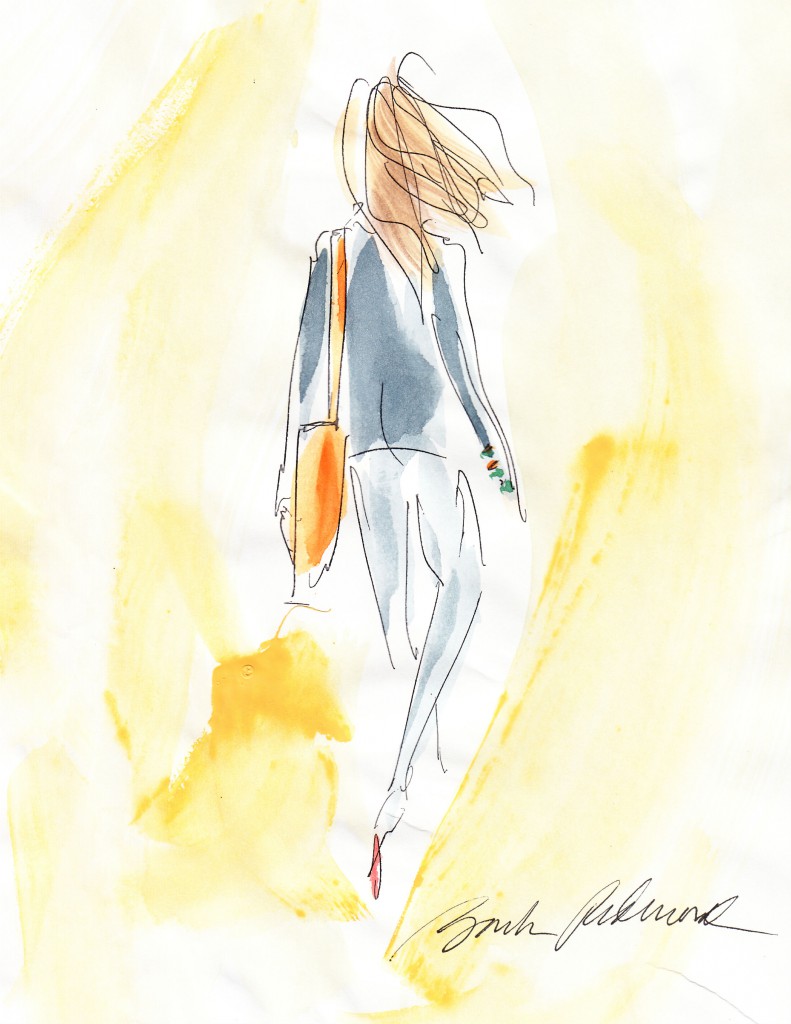 Before tapping into the subject, let me begin by telling you a sad—if subjective—fact: you will never find as good of a hairdresser in Paris as the one you go to in the United States. Hair in North America is a serious affair. I may have already told you in a previous article that for us (French people), Americans have perfect teeth, make up and hair. Therefore, finding your hairdresser in Paris will not be impossible, but it will be difficult to find one you are satisfied with.
Hair is important to a woman, wherever she is from (yes, I am stating the obvious here and not reinventing the wheel). Short or long, straight or curly, dyed or natural, hair is such a part of you that I could write and talk about it all day long. But I need to get to the point eventually so I will try not to digress right away.
My relationship with my hair has always been rocky. I have had a hate/love relationship with hairdressers, hence with my hair. When I was little I used to go to the hairdresser on my birthday, so I have always considered it as a bit of a reward and "me-moment". But since every two years I would exit the hairdresser crying, my mum decided it was time to cut this tradition short, if you'll excuse the metaphor, and since college I now go get a massage at a spa for my birthday. I know some parents cut their kids' hair themselves, but my mum tried twice to cut my hair and—obviously—both times I ended up in tears. Yes, it sounds dramatic, but how would you react when you discover you have to go to school with extremely short and diagonal bangs?!
As for color, we dyed it with henna (a natural powder) when I was in 8th grade. Thirty minutes after applying it to my hair, my mum saw her hand had turned a bright orange hue that would not get off, so we decided it was maybe in my best interest not to let it sit 2 hours like written on the pack. Lucky for us, my hair did not turn carrot-like but a bright auburn. However, once you start dying your hair, it is difficult not to want to do it over and over (I guess the same goes for tattoos?). In 9th grade, I decided I wanted to cut my hair in a bob and get the tips of it colored in a different hue. Not green or pink, I know better, but something subtle and darker or lighter (let us agree that I was a precocious trendsetter, 10 years before the ombré look). I went by myself to the hairdresser to explain it, and when my mum came to pick me up I thought she was going to lose it: the bottom inch of my hair was bright red. It was supposed to be subtler and obviously not red but since I had henna on my air, the color had reacted differently. Even if apprehensive because I knew my mum did not like it, the 14-year-old me thought it was pretty cool. Then my mum icily asked the hairdresser how we could get rid of it, to which the hairdresser answered that it had to be trimmed and I swear my mum almost said yes. I ended up paying all of it with my pocket money instead of half of it but I kept the hairstyle!
In 10th grade, I went for blond highlights. French hairdressers in Rennes had no idea what "California highlights" were, so it was not the perfect kind of blond I wanted but it was still progress and this blond phase lasted through high school. However, when I arrived for a year in Wisconsin as a foreign exchange student, I decided to become a brunette. What a change! I first did a home dye, and than a few months later went to the hairdresser to have it properly done. My natural hair color is more of a light brown (I call it "ugly brown"), so darker hues do not hold on very well. And then while in college, I went back to blond highlights. During one my Wisconsin vacations, a friend of mine who had become a hairdresser did my hair and I almost cried of happiness: she know exactly what I wanted and mixed light blond highlights with honey colored ones. I finally had the blond I wanted! But since she was not able to come to France to do my hair (life is harsh), I am now living on this memory (and a picture).
Sometimes I decide I want to remember what my actual hair color looks like and stop dying while progressively cutting the color out of it (I am in this phase right now). But generally, this phase does not last very long, and 2 years ago, after seeing a picture in a magazine, I decided to get my hair very very blond. I loved it very much but keeping it fresh was too much maintenance so I stopped dying it again, which was okay because ombré hair was raging (but mine was what I call a "lazy ombré" hair). I now have my natural hair in a bob of mid-neck length. But who knows for how long? I hear the blond calling again… [Also, I warned you I can talk for hours about hair—more precisely, my hair].
I studied in the US, in Italy and in different places in Germany and in France. Finding a new hairdresser has been regularly on my list of things to do everywhere I lived, but being satisfied was not always a given. It has actually become a running joke with some of my friends. Two and a half years ago, when it became clear that I was staying in Paris, I made it my mission to find my hairdresser. There are a lot of hairdressers in the City of (high) Lights and I first asked my friends if they had one to recommend but none of them was really satisfied with their experiences. So I chose 4 criteria to help with my search:
– not a hairdresser with its first name in it, like "Jean Coiffure" or "Coiffure Monique" (a very personal rule due to bad experiences)
– not a cheap one, not an expensive one (I care more about my hair than some people but I am not Jennifer Aniston either)((Jenn is my hair model))(((Connie Britton too)))
– not a franchise
– in my neighborhood
With this list, I spent an entire afternoon on the internet (and Yelp), and after much tergiversation I opted for Coiffeur Kut. I was ready to be disappointed. I was ready to cry. But I was not ready to love it, and this is what happened! The hairdresser there completely understood my hair, and my desire concerning it: she was more than willing to help me reach my "dream hair" while being also realistic when I showed her the bleached blond that I wanted. She did not want to bleach my hair (way too damaging considering its nature) but covered it entirely with super blond highlights and then did a patina. Now this hairdresser does not work in the salon anymore but I went there twice since her departure to just have a haircut and it was satisfying. I always recommend this place to my friends, and 3 of them have been there already and liked it!
Obviously we all want different things in a hairdresser and some of you might want to wait until you go back to the US. But if you are looking for a hairdresser: ask around, list the things you want, and search the internet. When you try a new one it is always a risk, of course, but you may be surprised! (Also don't hesitate to share in the comments below your pleasant/bad experiences of getting your hair done abroad)
My favorite hairdresser in Paris:

Coiffeur Kut, 23 rue Paul Bert, 75011 Paris
(Also, feel free to stay in the neighborhood rue Paul Bert/rue Faidherbe/rue de la Forge Royale/rue de Charonne to grab a bite or do some shopping in cute little shops!)
VOCABULARY: Hairdressing

– une coupe : a haircut
– un carré : a bob
– un carré plongeant : a plunging bob
– long : long
– court : short
– mi-long : medium hair
– aux épaules : shoulder length
– un dégradé : layers
– une frange : bangs
– une couleur / faire une couleur : a haircolor / to dye one's hair
– des mèches/un balayage : streaks/highlights-lowlights
– une mèche (de cheveux) : a strand (of hair)
– plus clair : lighter
– plus foncé : darker
– blond : blond
– brun : brown
– roux (fém .: rousse) : red
– naturel : natural
– subtil : subtle
– un soin : hair care (be careful they will ask you if you want a hair care product after your shampoo but it's never free)
– une queue de cheval : a ponytail
– une tresse : a braid
– un chignon : a bun
– devant : front
– derrière : back
– sur les côtés (du côté droit/gauche): on the sides (on the right/left side)
– une raie : a part (de quelle côté faites-vous votre raie ? => which side do you part your hair?)
Acknowledgements: Alyssa Noel, student of French and Italian, and Journalism at the University of Minnesota–Twin Cities and English editor for A Woman's Paris.
Bénédicte Mahé has studied abroad many times, speaks four languages and earned a Master of Management of cultural goods and activities, as well as a Master's degree in intercultural communications and cooperation. She works in communication and international projects management. Among her interests are drinking tea, cooking (with or without success), reading, traveling, and—of course—shopping. She started her blog Tribulations Bretonnes in 2010 and has been updating it (more or less regularly) since then.
You may also enjoy A Woman's Paris® post, Paris Makeover: coming home blond, by Barbara Redmond who declares, "Never question a Frenchwoman," and succumbed to the transformation of coming home blond. Barbara describes it all: the haute-coiffure, the pharamacie, and her new "French look!" Including Barbara's favorite book on spas, salons and beauty boutiques in Paris, and her personal directory of hair and makeup salons in Paris. Not to miss is her vocabulary of French to English words so "nothing" gets lost in translation!
French Lingerie: Mysterious and flirty, by Barbara Redmond who shares her experience searching for the perfect lingerie in Paris boutiques and her "fitting" with the shop keeper, Madame, in a curtained room stripped to bare at Sabbia Rosa. Including a French to English vocabulary lesson for buying lingerie and a directory of Barbara's favorite lingerie shops in Paris. (French)
"Fatale: How French Women Do It" – Perfume that rocks the room, peeks at the mysterious ways Frenchwomen manage to appear sexy, smart and recklessly chic from the book Fatale: How French Women Do It by Edith Kunz (used by permission). Includes are tips for applying fragrance and a list of 18 key pulse points to consider.
Fashion Crashing: Paris haute-couture, by Barbara Redmond who crashed Maxime Simoëns' haute-couture catwalk show during Paris Fashion Week with patience and persistence, but no invitation. The models, the show, the crème de la crème audience, and the style. (French)
Photo-ready in Paris: not what you might expect. Barbara Redmond takes you from Café de Flore to rue Bonaparte to Place de Furstenberg in Paris as fashion photographer and author Frédérique Veysset's Nikon clicked frame after frame, shooting faster and a lot, in the action without posing. Fixing on a place and time that was Paris. (French)
Readers' Choice: 146 Good Books for Summer About France (January to August 2014 resleases). Avid reader? Get a free reader's list. If you subscribe, you'll receive a free list as a welcome gift. Including: architecture, interiors and gardens, arts, biography, culture, fashion, food and wine, memoir, novel, science, travel, and war. Once subscribed, you'll receive the free list—no matter how long you've been a subscriber—and notifications of new posts by e-mail. You can unsubscribe at anytime. We never sell or share member information.
Text copyright ©2014 Bénédicte Mahé. All rights reserved.
Illustration copyright ©2014 Barbara Redmond. All rights reserved.
barbara@awomansparis.com