Saint Catherine's Day: Hats off – or on – to single women
21 Tuesday Jan 2014
A Woman's Paris™ in Style
Tags
Brittany, Catherinettes, Chanel, Christine Phung fashion designer Paris, Clotilde Toussaint milliner, France, Hermès, Les Ateliers de Paris, North Brittany, Paris, Saint Catherine's Day France
Share it
By Bénédicte Mahé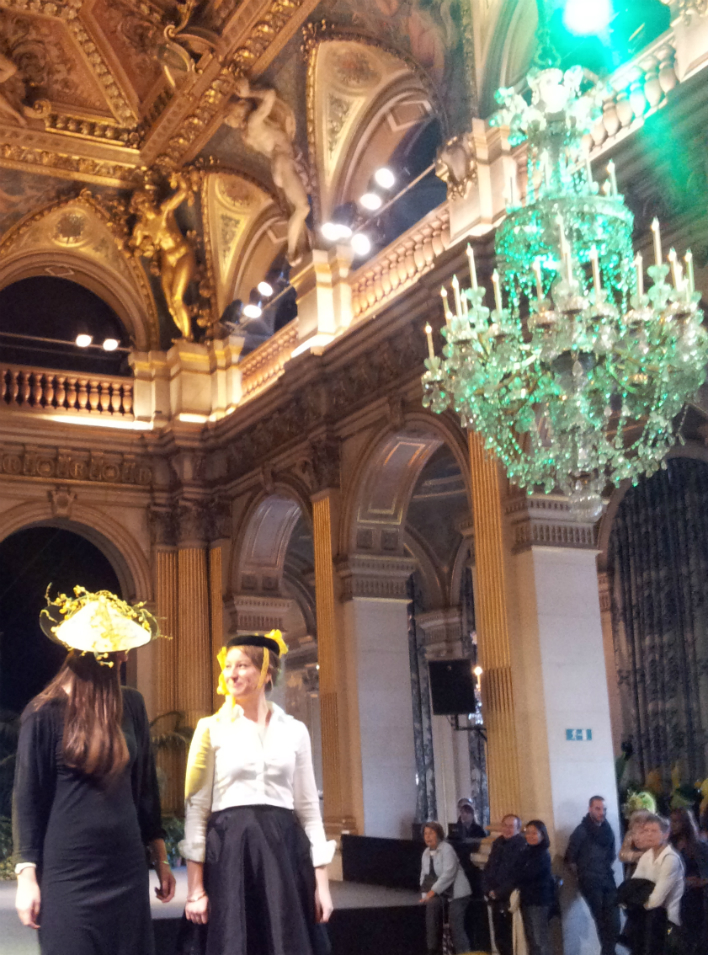 I am a woman. I am 25. I am single. These three little facts do not mean much in modern French society. However, there was an era in which it would have been quite awkward to be a single woman at this age – and, every year on Saint Catherine's Day, this awkwardness was "celebrated".
So what exactly is Saint Catherine's Day? I do not know precisely when the tradition began, but it has been around for a long time. Saint Catherine's Day is a festival held on the 25th November, meant for unmarried 25 year-old women; it is, essentially, a day for them to pray to find a husband. The Catherinettes, as we call them, are supposed to wear a green and yellow hat made by their friends or colleagues. This hat bears items representing their job, hobbies and origins etc. The green represents wisdom and the yellow represents hope. The choice of colors is not accidental – green and yellow do not "marry" well with one other. Although it is less of an event today (certainly none of my friends celebrated it!), this hat-wearing custom means that milliners still uphold the Saint Catherine's Day tradition, as well as the fashion world more generally.
For my own Saint Catherine, which happened this year, I could not have asked for a better place to celebrate it than Paris. I work at Les Ateliers de Paris, which supports new designers in the craft, fashion and design sectors and was launched by the City of Paris. Among the residents is Clotilde Toussaint, a milliner that A Woman's Paris readers may well be familiar with following her interview with Barbara Redmond [Clotilde Toussaint]. At lunch, we generally eat all together (the administration and design teams) and one day in early November we were talking about fashion houses – specifically, which ones were the most generous with their employees. The conversation led onto St Catherine's day and I said that I was going to be a Catherinette this year. Clotilde jumped at this, and said we HAD TO do something to mark the occasion. That same afternoon, she sent me a questionnaire about my origins, my hobbies, my job etc. I was already pretty excited to be a Catherinette but the idea that a milliner was going to make me a hat was even more special! But after that, I heard absolutely nothing about it… that is, until the week prior to the 25th of November. One evening, my boss asked me to come to her office. Clotilde was there too, and they said they needed to ask me something… Each year, the City of Paris organizes a runway show for the Catherinettes of all fashion houses and Les Ateliers de Paris had been invited to participate. They wanted to know if I'd be willing to join in… Did they really need to ask??? Of course I was up for it – I was born for this! (I must admit that the whole experience may have slightly boosted my ego…)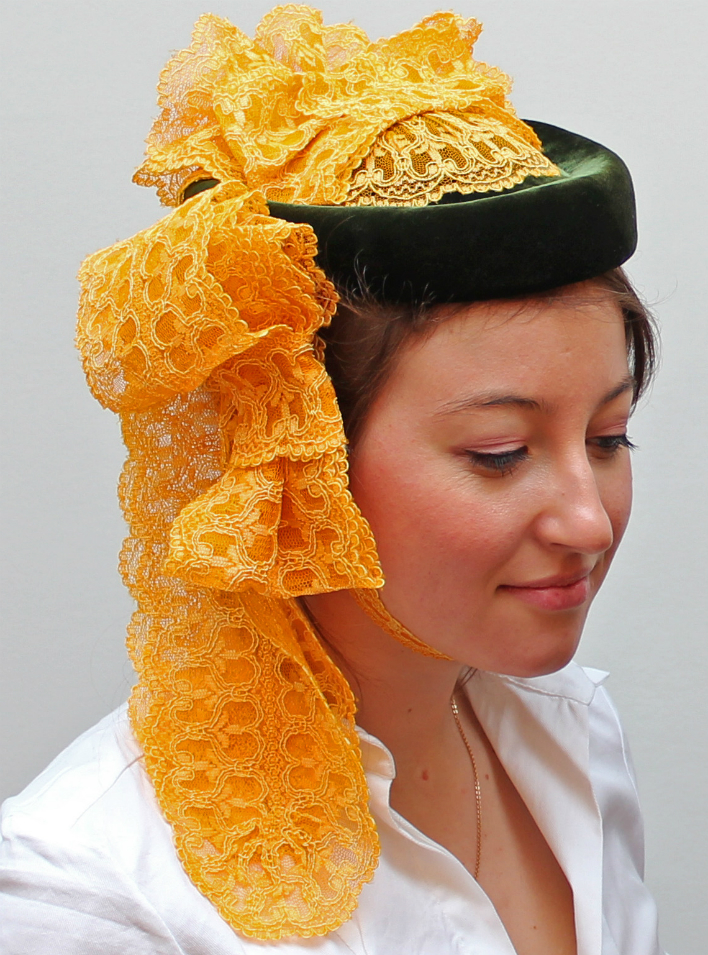 The day of the 25th,, I was incredibly excited! I had asked Christine Phung, a fashion designer at Les Ateliers de Paris, if she could lend me a black skirt, which she very kindly agreed to do. I was supposed to wear all black, but I decided to wear a white blouse with it. I arrived at work not knowing at all what I would my hat look like. Would it be something big and crazy? Something smaller and more classy? It was, in fact, far more than I had expected: Clotilde had created a little hat based on traditional headpieces from North Brittany, the region that I am from. After revealing it to me, we left Les Ateliers and headed to the City Hall. When we arrived, what a sight! We were in the main reception ballroom, where all the candelabras had been lit up in green and yellow. Green and yellow hats were simply everywhere; it was even difficult to make your way through the ballroom, since some of them were so large. Colleagues of the "models" were there too, including my own. Then the show began. It was very long because some Fashion houses, like Chanel and Hermès, had many Catherinettes (they had rented buses for them!). And it ended with a big photo with all of us in the City Hall main staircase (coincidentally, my white shirt helped me a lot when attempting to pick myself out from the crowd).
So what do people really think of the concept of Saint Catherine's Day? Having been to two weddings in America last summer, it feels like there is less pressure to find a husband here in France – perhaps because fewer people are getting married in France nowadays than in the US. Some people might think that Saint Catherine's Day doesn't exactly help to promote women's equality – especially since the masculine equivalent is Saint Nicolas, designed for 30-year-old men… Others think that it is a bit sad, an event where women feel obliged to feign being happy and proud of their single status, whilst perhaps feeling differently on the inside. Personally, I agree it is quite an old-fashioned, most probably outdated, celebration; and I will not lie, I would be happy to be in a steady relationship. But I'm not, so why not have fun and celebrate this day with a pinch of salt?! Destiny has not yet led me to find "the one", but to be honest, that's fine with me. However, if I had been feeling a little blue, I think that being surrounded by the Saint Catherine's Day buzz would have made it a lot easier for me, in an environment where my single status was widely celebrated – it was a special, not a sad occasion. However, Paris is a certainly a unique city; someone living in a small-town might not have felt the same way about it, so let us be cautious about generalizing my experience!
Before I conclude this article, I just want to reiterate that even though my Saint Catherine's Day turned out to be a big event, it is not so widely celebrated nowadays. But do you think it should be? Do you think the US should celebrate St Catherine's?
More information:
– St. Catherine's Day on Wikipedia: http://en.wikipedia.org/wiki/St._Catherine%27s_Day
– St. Catherine celebrated at the Paris City Hall (slideshow at the end): http://www.paris.fr/accueil/accueil-paris-fr/de-la-catherinette-a-la-celibattante/rub_1_actu_137868_port_24329
– Clotilde Toussaint: http://clotildetoussaint.fr/
Bénédicte Mahé has studied abroad many times, speaks four languages and earned a Master of Management of cultural goods and activities, as well as a Master's degree in intercultural communications and cooperation. She works in communication and international projects management. Among her interests are drinking tea, cooking (with or without success), reading, traveling, and—of course—shopping. She started her blog Tribulations Bretonnes in 2010 and has been updating it (more or less regularly) since then.
You may also enjoy A Woman's Paris® post French Impressions: Clotilde Toussaint's attraction to hat-making and the femininity of fashion. Clotilde Toussaint is a milliner who lives and works in Paris where she designs and creates hats, headdresses, and other accessories. She values excellence and traditional know-how and shares her thoughts about the intimate dialogue with materials and craftsmanship behind her creations. (French)
French Impressions: Isabelle Thomas and spirit of French fashion and personal style. Isabelle Thomas, personal stylist and personal shopper, is the author of Paris Street Style: A Guide to Effortless Chic and a volume dedicated to men—You're So French Men, Secrets d'élegance masculine. Isabelle helps people who want to present a good image of themselves and cultivate a personal style, to learn how to show themselves off, and to take the best of trends. (French)
French Impressions: Anne Fontaine's white shirts and the color of happiness. Anne Fontaine, a Franco-Brazilian fashion designer, entrepreneur, businesswoman and philanthropist, known as the "queen of the white shirt," brought new faces and unforeseen levels of diversity to the fashion industry. Thanks to her, the white shirt is now definitely a staple on women's wardrobes as a key piece. Anne shares her rise in the industry and 2011 launch of The Anne Fontaine Foundation, which is committed to the reforestation of the Brazilian rain forest. (French)
Beauty Confessions from a Globe-trotting Parisienne. Parisienne Bénédicte Mahé shares a French woman's approach to beauty and makeup; and how the relationship Americans have with beauty is very different from that of the French. Including her list of Beauty Resources in Paris and a vocabulary of French to English translations. (French)
The challenge of business casual, by French woman Bénédicte Mahé who shares suggestions for business casual with those beginning their work careers in Paris. Included are fashion brands and stores that are favorites of Bénédicte and her friends. 
Scarves à la Françoise: The lingua Franca for stylish women, by Barbara Redmond who shares her experience trying on scarves and tying them at the home of her French friend in Lyon. Arriving at the famous silk manufacture in Lyon, André Claude Canova, Barbara and her friend gently tapped on the window even though the shop was closed. The shop girl let them and they all enjoyed hours of playfully draping, twisting and knotting scarves and shawls. An experience spurred by the ubiquitous nature of women and scarves: our common language. (French)
Text copyright ©2014 Bénédicte Mahé. All rights reserved.
Illustration copyright ©2013 Barbara Redmond. All rights reserved.
barbara@awomansparis.com