French Impressions: Maribeth Clemente's "Tour of the Heart" on embracing French culture (part two)
12 Thursday Dec 2013
Tags
A Lady's Life in the Rocky Mountains by Isabella Bird, A Tour of the Heart: A Seductive Cycling Trip Through France by Maribeth Clemente, alsace, Bicycling in France, Burgundy, France, French countryside, French tours, French Travel, Institut Catholique de Paris, Paris, Provence, Sorbonne, South of France, Southwest France, The Chic Shopper's Guide to Paris by Maribeth Clemente, The Riches of France: A Shopping and Touring Guide to the French Provinces by Maribeth Clemente, The Riches of Paris: A Shopping and Touring Guide by Maribeth Clemente, Travel Fun radio KOTO
Share it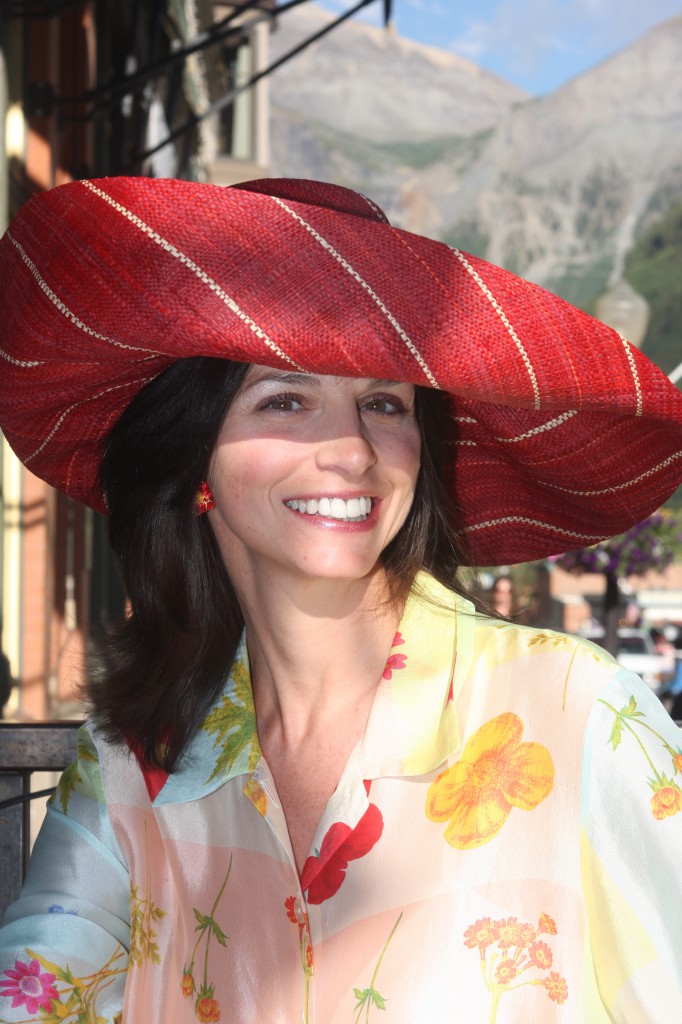 (Part one) Maribeth Clemente lived in France for eleven years before moving to Colorado, where she has lived for almost twelve. Maribeth hosts Travel Fun, a talk radio show on KOTO, a Public Radio Station in Telluride, as well as writing for various travel publications and websites. She is the author of The Chic Shopper's Guide to Paris, The Riches of Paris: A Shopping and Touring Guide, and The Riches of France: A Shopping and Touring Guide to the French Provinces.
In her most recent book A Tour of the Heart: A Seductive Cycling Trip Through France, Maribeth pens a love story and cycling adventure set in France.
Visit http://bit.ly/PIVoc3 to read A Tour of the Heart excerpts. Books are available at bookstores nationwide and also online at Amazon at http://amzn.to/UwYU9r. The eBook version is currently sold on kindle at http://amzn.to/PtkC1J and at http://amzn.to/19dy9Tv in the UK. Like A Tour of the Heart on Facebook to find out about news, travel tidbits and to see beautiful images of France.
"A Tour of the Heart is set in two parts, the first part is their journey through France; the second is about their return to cover the 2001 Tour de France. Set at the height of Lance Armstrong's fame (things have a different edge to them now), Clemente certainly portrays the hype and excitement of the time. …This is probably not the book for you if you are looking for a book on cycling in France, as, like her companion Pete, you may find there is not enough actual cycling in it. However Clemente is a travel writer who has a real love of France, so it is no surprise that her descriptions of France, the places they visited and the food they tasted stayed with me long after I finished reading this book." — Jacqueline Brown, Freewheeling France
"Maribeth is a first-rate tour guide." — Associated Press
PERSONAL STYLE
AWP: When you moved to France, how did you grapple with the cultural differences? Can you share the moment when you knew it had changed for you?
MC: Wow, there's so much to say about the cultural differences that I experienced (and continue to experience) in France. A lot of that is woven into A Tour of the Heart. I'd say that I've always fully embraced French culture; French mentality has been infinitely more challenging. Yet I always remind myself that for the most part, the French are behind all the wonderful things I love in France. I also have many dear French friends.
I'd say I first felt really changed by the French experience when I completed my junior year abroad. I was fluent in French, rail thin and hooked on an occasional cigarette. And that was just what you could see on the surface.
AWP: How did you become a "little bit" French?
MC: Scarves. The secret is in the scarves with the French—actually all manner of accessory and embellishment. My mother always wore scarves, so I was a scarf aficionado before I even traveled to France. Scarves were my first step and I've moved forward des kilomètres since then.
AWP: What French cultural nuances, attitudes, ideas, or habits have you adopted? In which areas have you embraced a similar aesthetic?
MC: I love the emphasis on making a ritual out of the simplest of meals, taking the time to savor what I eat whether I'm alone or with someone else. I've always been a slow eater and a lover of ceremony, so I think this came naturally to me. I believe in la présentation, something best accomplished with the help of a tray, pretty cloth napkins and a bouquet of color. Whether it's food, fashion or home decor, I believe in accessorizing. I'm also big into quality and not quantity and living modestly—but well—on a small scale.
AWP: When you first arrived in Paris. What was it like?
MC: My first trip to Paris was in 1978 when I was a junior in high school. I spent six weeks with a French-speaking family in Belgium and during that time we traveled to Paris. I devoured the museums and loved walking around this magnificent city, the thing to do in Paris. Always. I also loved the food, especially the buttery croissants and fresh baguettes at breakfast. The Belgians ate pâté at l'heure du petit déjeuner, something I couldn't stomach. I was happy later to discover that that was a Belgian—rather than French—tradition.
AWP: How has the idea of living abroad changed since you lived in France?
MC: I'm actually not sure of that—I'm not well informed on that front. I do, however, recommend a living abroad experience to everyone and anyone. It's terrific to look beyond the United States and living abroad offers the best opportunity for doing so. I think it's also important that people remember that we are all ambassadors when we travel, so how we act and treat others represents the U.S. as a whole.
AWP: Napoleon Bonaparte (1796-1821), a reactionary pragmatist regarding women, said in a letter written in 1795: A woman, in order to know what is due her and what her power is, must live in Paris for six months. In what way does this hold true with your experience living in France? How do we understand this statement today?
MC: That's a wonderful statement—thank you for sharing it with me. I see Paris as the venue for learning about all the beautiful things in life: art, culture, music, dance, food, and wine—and much more. It provides an education in elegant living; it opens all peoples' eyes up to a world centuries in the making. It offers many possibilities on a variety of levels.
AWP: Parisiennes dress well most of the time. How do you describe their understated elegance?
MC: Like Paris, Parisiennes are authentic. There's nothing cookie cutter about them. Each woman possesses her own look.
AWP: What is the most valuable thing the Frenchwoman has to work with?
MC: I think that must be her strength and sense of self-assuredness. French women are a force with which to be reckoned.
AWP: How do you define style? How do you express your own style?
MC: Style is how one chooses to express his or her individuality. My style has always been classic although certainly not old and fusty. I've had a lot of the pieces in my wardrobe for ages, some are old dogs, some are dear friends, and some are new acquaintances. With the right accessories, they allow me to pull off a look that is uniquely mine. I also like a lot of color and scarves are a must.
AWP: Describe your own "Paris."
MC: I think some of my fondest memories come from shopping at the neighborhood food markets and merchants. I was a part-time fille au pair the second half of my junior year abroad; those chores primarily entailed doing errands and shopping for the couple's dinner. That's how I cut my teeth on speaking French. Later when I was married and shopped in the 17th arrondissement, I had truly emerged as une vraie parisienne—albeit one with a slight American accent! I knew how to select all—especially the cheese—very well. Like most Parisians, my French then husband and I would host many dinners and I was known to serve the best cheese platter out of all our friends and acquaintances.
AWP: Name the single book, movie, work of art or music, fashion or cuisine that has inspired you.
MC: I could only name one, I'd say it's The Food Lover's Guide to Paris by Patricia Wells. That's what most inspired my guidebook writing, which served as the springboard for narratives including A Tour of the Heart and other stories in the works. That book taught me how to describe something in vivid detail, how to engage all the senses and how to transport the reader far away from the page.
AWP: What is the latest book you read? Would you recommend it?
MC: Since it's almost winter, I'd like to recommend the book How I Came to Sparkle Again by Kaya McLaren. It's a cozy, romantic story set in a ski town that resonated a lot with me. Since I've been living in Colorado for more than a decade, you can imagine that a similar tale has been percolating in my mind for quite some time now.
AWP: Tell us something we don't know about Paris – its style, food, culture or travel.
MC: There's so much that's been written about Paris. Here's one that is also about the provinces: Did you know that Paris is actually a fairly new city in comparison to the French provinces? Only a handful of half-timbered houses remain in Paris, for example, whereas if you go to Alsace, Burgundy, Dordogne, and other regions, you'll discover a ton.
AWP: If you were at a dinner party, what question would you be asked?
MC: It would probably be along the lines of que faîtes-vous dans la vie, madame? Never anything too personal or controversial at least before the wine has flowed considerably. Here's a question never to ask a French hostess: the recipe of the delicious dish or dessert she has just served. Americans trade recipes all the time and are often flattered to be asked to share theirs. French women guard theirs jealously, since they don't want anyone duplicating their famed (and often few) culinary offerings at their dinner party. 
AWP: Do you ever guide or plan trips to France?
MC: When I owned and operated Chic Promenade, my shopping excursion business in Paris, I conducted lots of tours both in and outside of Paris, many to behind-the-scenes places where I had special entrees. In recent years, however, I've enjoyed setting up trips for others to both Paris and the provinces. I've also planned travels for people coming to Colorado. Yes, France and Colorado are my stomping grounds and I love turning people on to the best places to go at both of these wonderful destinations. People can have a preview of my Colorado favorites and recommendations at bonjourcolorado.com.
AWP: Your passion for life is extraordinary. What's next?
MC: I'm actually really looking forward to ski season here in Telluride, Colorado, where I'm entering my tenth year of teaching skiing to children and adults. As much as it's hard juggling the writer's life during the winter season, I often say it's the best thing I've ever done for my writer's life. It keeps me in balance; it keeps me healthy and well. And more sane. As much as I love a dreary day, I used to suffer from the grayness of Paris in the winter. I moved to Colorado for the sunshine and then realized that I needed to take a job on the mountain to get out and soak it up. (I'm not enough of a ski bum to do otherwise.) My book A Tour of the Heart:  A Seductive Cycling Trip Through France is also about self-empowerment through sport, something that I'm still keenly aware of in my life, something I know helps me to be more whole. It also helps a lot with stress reduction, which I think is the key to finding your center and feeling more grounded in every aspect of your life. 
BOOK RECOMMENDATIONS BY Maribeth Clemente
Anything by Rosamunde Pilcher
Le Divorce by Diane Johnson
Le Marriage by Diane Johnson
L'Affaire by Diane Johnson
Toujours Provence by Peter Mayle
Encore Provence by Peter Mayle
Lunch in Paris by Elizabeth Bard
Bridget Jones's Diary by Helen Fielding
Into Thin Air by Jon Krakauer.
Tomboy Bride by Harriet Fish Backus
Dear Money by Martha McPhee
Tuesdays with Morrie by Mitch Albom
Animals Make Us Human by Temple Grandin
You may also enjoy A Woman's Paris® post, A dinner party: what makes the French so French. On a recent trip to France, Jacqueline Bucar, French teacher and immigration attorney, shares the dinner party conversation at the home of some of her friends—a conversation that was like no other she could ever imagine in the States…
Oh, so French! Crossing to the other side. Paris-based writer Shari Leslie Segall shares her observations of becoming a little bit French and writes: "To a greater or lesser degree, whether you expected to or not, one day you realize that you're crossing to the other side." She offers a very incomplete list of how you know when you've arrived. (First published in FUSAC.FR July 5, 2013.) 
What's in a Word? There's more to French class than you thought. Jacqueline Bucar, French teacher and immigration attorney, invites us to stimulate a way of thinking and learning that expands our understanding of the world and ourselves through the study of a foreign language. She shares "what's in a word," a way of thinking, a "mentality" that helps define the people who speak it and their culture. (French)
Fiction: The Last Passage, by award-winning Moroccan writer Hachim Sbaa whose fictional writing looks at the life of an elderly woman as she is lives life by herself and tries to figure out what truly matters and how she can fill her time and what is left of her life. 
French Lingerie: Mysterious and flirty, by Barbara Redmond who shares her experience searching for the perfect lingerie in Paris boutiques and her "fitting" with the shop keeper, Madame, in a curtained room stripped to bare at Sabbia Rosa. Including a French to English vocabulary lesson for buying lingerie and a directory of Barbara's favorite lingerie shops in Paris. (French)
Scarves à la Françoise: The lingua Franca for stylish women, by Barbara Redmond who shares her experience trying on scarves and tying them at the home of her French friend in Lyon. Arriving at the famous silk manufacture in Lyon, André Claude Canova, Barbara and her friend gently tapped on the window even though the shop was closed. The shop girl let them and they all enjoyed hours of playfully draping, twisting and knotting scarves and shawls. An experience spurred by the ubiquitous nature of women and scarves: our common language. 
A Woman's Paris — Elegance, Culture and Joie de Vivre
We are captivated by women and men, like you, who use their discipline, wit and resourcefulness to make their own way and who excel at what the French call joie de vivre or "the art of living." We stand in awe of what you fill into your lives. Free spirits who inspire both admiration and confidence.
Fashion is not something that exists in dresses only. Fashion is in the sky, in the street, fashion has to do with ideas, the way we live, what is happening. — Coco Chanel (1883 – 1971)
Text copyright ©2013 Maribeth Clemente. All rights reserved.
Illustrations copyright ©Barbara Redmond. All rights reserved.
barbara@awomansparis.com