French Impressions: Michelle Boor's French-American aesthetic and her luxury shoe brand
03 Tuesday Dec 2013
Tags
Apostrophe Paris, Catherine Deneuve, Colette Paris, DVF dresses, Etam Paris, Fashion Institute of Technology New York, film Belle de jour, film The Robe, France, French shoe designers, George Rech Paris, Goyard Paris, Granta magazine, Hermès, Inc. France, Michelle Boor Paris-Vienna, Paris, Paris shoe designers, Parson's School of Design New York, Rick Owens Taschen Books, Taher Marndini, The American in Paris Henry James, Vouelle, Vuitton luggage
Share it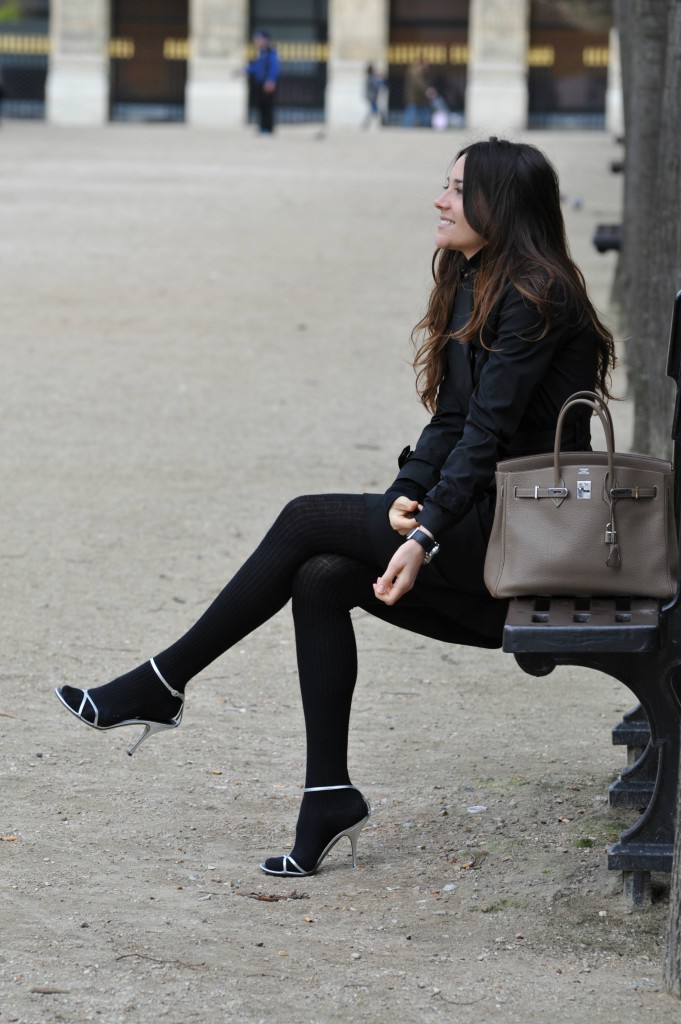 Michelle Boor is the designer of a collection of women's luxury shoes, under the brand name Michelle Boor Paris-Vienna that are handmade in Paris using the finest hand selected leather from Italy, and create a return to the art and craft of shoemaking. Collection No.1, Fawn, Ferrah, and Flame is inspired by Art Deco and the height of 1930s Hollywood glamour and are featured at Printemps Haussmann, Paris, in "Les Createurs" (on the 5eme etage), and in her shoe boutique—from her own name along with manufacturing partner Taher Marndini (whose collections she also designs): Michelle Boor Paris-Vienna / Taher Marndini 14, rue de Roi de Sicile, 75004 Paris. In 2007, she was co-founder and Senior Vice President of Design at Vouelle, Inc., a luxury French shoe brand based in Paris. Michelle has worked as a design consultant for brands, such as Apostrophe and George Rech in Paris, and has most recently brought her creativity to help grow a ready-to-wear accessories business for Etam, a French owned company.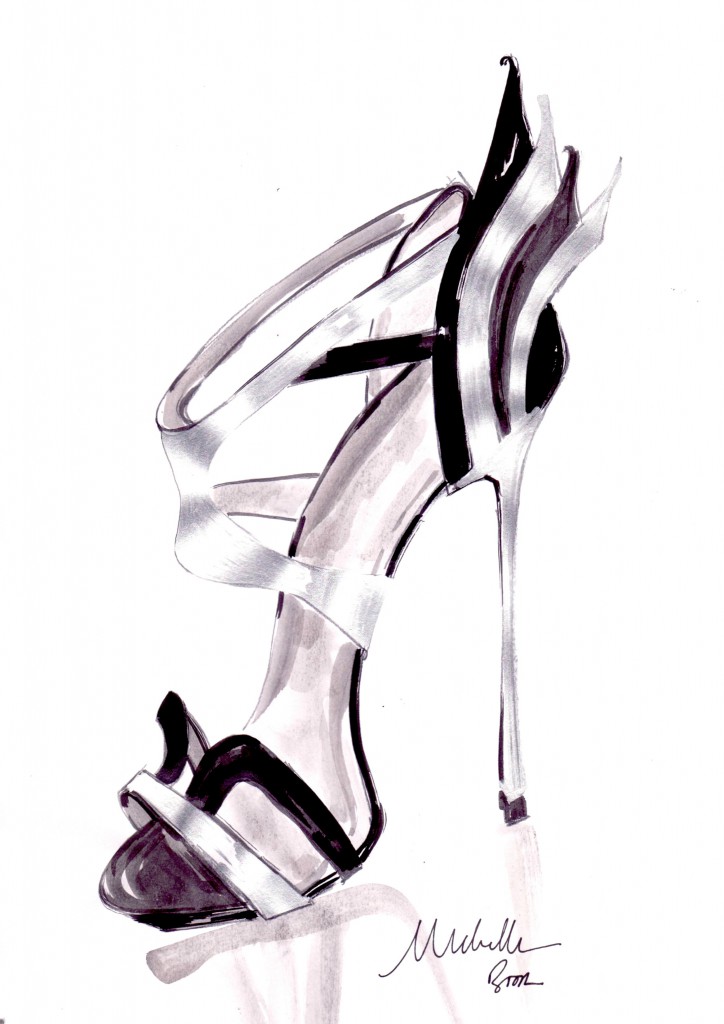 Born in Ogden, Utah, Michelle received her Bachelors Degree in Fashion Design from the Fashion Institute of Technology, New York, in 1996. After graduation, she completed several postgraduate courses in fashion design at Parson's School of Design, New York.
Michelle divides her time between Paris, Vienna, and New York. For more information about Michelle Boor visit: (Website) (Facebook)
FASHION DESIGN
AWP: What was your first exposure to fashion? How did your interest in fashion unfold?
MB: I had two inspirations: first, my mother who was quite fashionable and very beautiful. She modeled and had small film roles in New York in the 60s before she was married. I used to look at her old portfolio of photos and fantasize. I watched her getting ready to go out with my dad to the country club. She always looked so glamorous. As a pre-teen, I started going through her closets discovering vintage clothes! DVF dresses! And I really got into clothes as a fashion statement and way to express myself. The second inspiration was my great aunt Emily who was a costume designer in Hollywood. She won an Oscar for the film The Robe.
AWP: What inspired you toward a life and career in this industry? What influenced this vision? 
MB: My great aunt Emily. Her watercolors of the costumes she designed were so beautiful, and I thought I wanted to become a fashion illustrator. At age 14, I visited the Fashion Institute of Technology (FIT) in New York and felt like I had found the place where I belonged. It was there that I discovered clothing design.
AWP: How did the luxury shoe for women become the theme of your current work? 
MB: It's really based and inspired on how I feel and what I feel like expressing, like designing. I designed prêt-à-porter (ready to wear) for 15 years; then 5 years ago, simultaneously, I started designing shoes—and fell in love.
AWP: Is there a style of footwear that is not being created that would please today's women in terms of its architecture, its craftsmanship, its "made in Paris/made in France" manufacture, or comfort?
MB: Because today's market is dominated by either large luxury groups or mass market, I felt a space or a need for individual design—to create a small collection, deliberately.
To create one-of-a-kind, made-in-Paris shoes going back to a time when a designer designed for the individual woman. That is why having the boutique is key. I want my client to have a one-of-a-kind personal experience. Next season, I want to create a limited series design of 10 pairs of a particular design…and that's all!
I think timeless design appeals the most to stylish people. I believe this about clothes, architecture, and furniture, too. There is something uplifting about a design that endures through time, that is above trends, and that you can effortlessly use and wear throughout your life. I also find that this philosophy is stronger in Europe.
AWP: You opened your first boutique this year. Did you feel like this was the right time to open your store?
MB: To be very honest, it was totally unplanned. I believe the best things are not "planned." So I guess the answer is yes. The fact that I did it makes it the right time.
AWP: Why did you open your boutique on rue de Roi de Sicile in the Marais district?
MB: Opening the boutique was due to my partnership with my manufacturer, Taher Marndini. It was his space, and we have an agreement. I'm lucky to have the store to sell my collection, and also his collection, which I also design and oversee. He has had the space for about 3 years, and I transformed it. In January 2014, I am planning for the real "opening."
AWP: The shoes you design are as beautiful on a woman when she is standing still and even more elegant when she moves. What is this allure?
MB: I have no idea, but it just happens. When the shoe is worn (particularly "flame"), it becomes so much more elegant! And alive! Then the leg of a woman is longer, finer: it pushes up your backside…very sexy!
AWP: What do you think it is about your shoe designs that make women connect with them in such a powerful way?
MB: Maybe it is because the shoe is so specific and strong in its design that it forces you to either love it, or not. Shoes are an emotional buy, and I like to evoke and provoke emotion in women.
Maybe it's because shoes are so collectable or that when we were little our mothers wore them and we couldn't wait to wear them too! Shoes are also a status symbol. Something so delicate and expensive, its sheer luxury.
AWP: Do you keep a sketchbook or journal? Is there the temptation to preserve what you've experienced?
MB: No, I used to keep a sketchbook when I had more time! Sadly, I have so little time to sketch that it's a luxury now. Living between two European cities, Paris and Vienna; working; and raising my 5-year-old keeps me on my toes. Regarding preserving what I've experienced, now, for the first time, I'm all about going forward, not getting hung up on the design I just created. Also, what influenced me before was to look to the past, now I just look to the future.
PERSONAL STYLE
AWP: When you moved to France, how did you grapple with the cultural differences? Can you share the moment when you knew it had changed for you?
MB: I tried to speak the language, and smiled. I'll never forget ordering a cafe before my meal. The waiter clearly told me "no"—this would not be possible—but I loved it and respected it, and my attitude was always open. I wanted to learn and take in the "French way,"…when in Rome. When I first moved to Paris, I admit, I was still a bit hung up on New York; I used to compare everything: the people, the metro, the culture. It wasn't until I had moved back to New York for 2 years that I realized how much I loved Paris. What a romance.
AWP: How did you become a "little bit" French?
MB: I'd like to think I was always a "little bit" French. My great grandmother, on my mother's side, was French, and French was my mother's mother tongue. I grew up hearing French songs, and I thankfully got the language "in my ear." One of my goals when I moved to France was to be able to speak to my grandmother in French one day.
AWP: What French cultural nuances, attitudes, ideas, or habits have you adopted? In what areas have you embraced a similar aesthetic?
MB: I think, sometimes, I've embraced the French work ethic, i.e. not working too much!!! Seriously. I welcome their philosophy to take time for certain things: lunch, eating, and vacation. Paris is a super busy city, but the French still take time to sit, eat their lunch (and not at their desks!)—to enjoy everything in moderation; not too much to overdo anything, but to find that balance. The women all look great. They all take care of themselves, like women in the US used to do in the 70s. If their clothes start to get tight they watch what they consume. I remember feeling so intimidated trying on a swimsuit when I first moved here, all the women were so lean and beautiful!
AWP: Describe your own "Paris." 
MB: The way the lights hit the trees lining the boulevard St. Germain, it's like no other city—the sounds of the motos and scooters, the feel of the cobblestones under the car tires racing across Place de la Concorde. The way I feel when I am there, speaking French, the rhythm of the city. Paris is my organized chaos.

AWP: Tell us something we don't know about Paris—its style, food, or culture.   
MB: That they really do speak English, just kidding! Seriously, a lot of Paris is dependant on the "myth," the "idea" of Paris—in part like a post card, which can be misleading and after you live there, you see that. To be a tourist in Paris is not the same, which is really true; everyone wants to experience the glamour, the history, the great cafes, the food, and the wine! But when you live there, you see all sides, including the bad; the reality that all metropolitan cities have challenges: homelessness, slums, and racisms—Paris is not immune to that. It's sad to see the shantytowns and slums next to Charles de Gaulle Airport and the infants and children being raised there juxtaposed against such a beautiful city. I feel so helpless. The French also don't talk about it. It's quite sad, and I don't think it will get better without a plan.
AWP: Parisians dress well all of the time. How do you describe their understated elegance?
MB: I believe the fact that they don't care "so " much and that they don't "have" to be perfect. There is not as much pressure to be fashionable as I experienced in New York: to have the newest, the latest… If I carry my Goyard in Paris, and it's obviously not new, it's actually "okay." In Paris, it's all about being "used" and actually using your stuff: your handbag, your Vuitton luggage, etc. Parisians buy less to show off or have the trophy pieces, they buy and they use. Style and elegance have been in their DNA for centuries, they don't have anything to prove, but they seem to be more elegant. I believe women in Paris wear more skirts and dresses. New York is, and has always been, about the pant: the pantsuit, the 80s power suit. In Paris, I think women still want to feel feminine. There is no need for women to prove they are stronger than men. They are confident in their assets and in themselves. In Paris, each gender respects each other for their differences.
AWP: What do you think is a woman's greatest asset? What is the second?
MB: Femininity and strength.
AWP: How do you define style?
MB: Expression of oneself, a tool to express or define, whether it is to provoke, convey how one feels, or for social status. I think Coco Chanel says it all when she said, "Fashion changes, but style endures."
AWP: Napoléon Bonaparte (1769-1821), a reactionary pragmatist regarding women, said in a letter written in 1795: A woman, in order to know what is due her and what her power is, must live in Paris for six months. In what way does Napoléon's statement hold true with your experiences? How is Napoléon's statement understood by women of today?
MB: I don't know how women understand Napoleon's statement today, but how I understand it is by my own experiences. First, the French love women, all women, even women over 30 and 40!—and natural women, not too much Botox or lip injections. In Paris, it is okay to be feminine, to be a woman. The gender wars: I feel so much less in Paris. And in France there is no guilt. My impression of America is that it is still quite puritanical; don't drink, don't smoke, oh, a bare-breasted woman! etc… In France, you "take your pleasure," as many French told me. If you want to buy something that is a luxury, do it, eat the piece of cake, do it, smoke and even drink wine at lunch! you do it. This empowers anyone, any woman.
Second, in terms of style you learn a lot by living in Paris—you somehow become stylish, like Audrey Hepburn in the film Sabrina. It seems so cliché, but it is true—I experienced it. The Parisian chic rubs off on you; you learn what shoes to wear with what dress, how to do your hair up in a chignon, not to wear too many Hermès bracelets on the same arm! The French aren't shy; they'll tell you if you're offensive. A woman with whom I worked, who spent 10 years working with Lacroix, seemed to transform me. She took me to Maria Luisa, to Colette; it cost me a lot, but she taught me how to shop, how to try on things that flattered me and that projected how I felt, what colors looked good together, proportions. I think I lost 10 lbs my first 3 months in Paris not even trying, which got me get into a French size 38. I feel also that the "casual" epidemic that has haunted the U.S. does not exist in Paris. Women still dress up. I remember starting to wear heels and dresses every day: it became the norm!
AWP: Name the single book or movie, work of art or music, fashion or cuisine that has inspired you. 
MB: There is not a single one; I've been inspired by a cornucopia of books, movies, fashion, and people over the years. I think we're all influenced by the "idea" of something that inspires us, something we want to have, own, to be like. We project—that's a big part of fashion… "What do I want to be today?" "Whom do I identify with?" We "dress up" and take on an alter ego. France was a big part of what I wanted. If there is one book or movie, etc., that has inspired me, it's so cliché but it is the film Belle de jour, the clothes by YSL and Catherine Deneuve that made a big impression on me. My goal is to watch it one day without the subtitles!

AWP: What is the latest book you read? Would you recommend it?
MB: There are 3: one is a recent gift from my husband. Rick Owens from Taschen Books is wonderful. Believe it or not (and I'm not making this up), The American in Paris by Henry James, which I had read years ago, and I felt like picking up again recently. I do this when I miss Paris, because I go back and forth between Vienna and Paris. Granta: a literary magazine of new writing, issue #119, a soft bound cover of stories, poems, and memoirs focusing on the delicate human interactions within the brutal context of historical Britain. Outside of fashion, I love history.
AWP: If you were at a dinner party, what question would you be asked?
MB: Most of the time it's, "Where are you from and where do you live?" And, oh, how old are you?
AWP: Your passion for life is extraordinary. What's next?
MB: Thank you! I hope to grow my business. I want to do this by freelancing and working to finance it myself; and hope one day that an investor will believe in the shoe collection. The market is extremely tough—and flooded. I try to pray and stay optimistic! And, just move forward in the same crazy, naive way I did when I first left Ogden, Utah, to go to New York. What a journey!
You may also enjoy A Woman's Paris® post, Frédérique Veysset's take on the fashion world and impulse photography. Frédérique Veysset, Parisian fashion photographer, shares behind-the-scenes details about the world of fashion photography. She is co-author of You're So French: A Guide to Effortless Chic, a fashion handbook which describes the "French touch," and Paris Street Style: A Guide to Effortless Chic by Isabelle Thomas and Frédérique Veysset, which were both released in 2012. A volume dedicated to men You're So French Men, Secrets d'élégance masculine, by the same authors, was released in 2013, in France.
French Impressions: Isabelle Thomas and spirit of French fashion and personal style. Isabelle Thomas, personal stylist and personal shopper, is the author of Paris Street Style: A Guide to Effortless Chic and a volume dedicated to men—You're So French Men, Secrets d'élegance masculine. Isabelle helps people who want to present a good image of themselves and cultivate a personal style, to learn how to show themselves off, and to take the best of trends. (French)
French Impressions: Anne Fontaine's white shirts and the color of happiness. Anne Fontaine, a Franco-Brazilian fashion designer, entrepreneur, businesswoman and philanthropist, known as the "queen of the white shirt," brought new faces and unforeseen levels of diversity to the fashion industry. Thanks to her, the white shirt is now definitely a staple on women's wardrobes as a key piece. Anne shares her rise in the industry and 2011 launch of The Anne Fontaine Foundation, which is committed to the reforestation of the Brazilian rain forest. (French)
The Autumn Issue by Bénédicte Mahé who finds herself in a quandary and asks, "What can I wear at that time of year? The weather in Paris is particularly unstable: the day can start beautifully, then turn to rain, and vise versa. The matter of clothes… what to choose.
"Fatale: How French Women Do It" – Perfume that rocks the room, peeks at the mysterious ways Frenchwomen manage to appear sexy, smart and recklessly chic from the book Fatale: How French Women Do It by Edith Kunz (used by permission). Includes are tips for applying fragrance and a list of 18 key pulse points to consider.
Photo-ready in Paris: not what you might expect. Barbara Redmond takes you from Café de Flore to rue Bonaparte to Place de Furstenberg in Paris as fashion photographer and author Frédérique Veysset's Nikon clicked frame after frame, shooting faster and a lot, in the action without posing. Fixing on a place and time that was Paris.
A Woman's Paris — Elegance, Culture and Joie de Vivre
We are captivated by women and men, like you, who use their discipline, wit and resourcefulness to make their own way and who excel at what the French call joie de vivre or "the art of living." We stand in awe of what you fill into your lives. Free spirits who inspire both admiration and confidence.
Fashion is not something that exists in dresses only. Fashion is in the sky, in the street, fashion has to do with ideas, the way we live, what is happening. — Coco Chanel (1883 – 1971)
Text copyright ©2013 Michelle Boor. All rights reserved.
Illustrations copyright ©Barbara Redmond. All rights reserved.
barbara@awomansparis.com