French Impressions: Carol Cottrill on "Practicing Your French" – finding one's own way (part two)
14 Thursday Nov 2013
Tags
American diets, American lifestyle, Cannes Film Festival, Carol Cottrill, Clayton College of Natural Health, CNN, diet books, Dr. Mehmet Oz Share.com, FOX 35 News, France, French diets, French food, French gastronomy, French lifestyle, French markets, French women, French Women Don't Get Fat, French workouts, le déjeuner, le diner, le goûter, le petit déjeuner, Morgan James Publishing, natural weight management, obesity in America, obesity in France, Paris, San Francisco Chronicle, Shape Magazine, The French Twist: Twelve Secrets to Dining and Natural Weight Managment Carol Cottrill, The New York Post, W. Somerset Maugham, Working Mother Magazine
Share it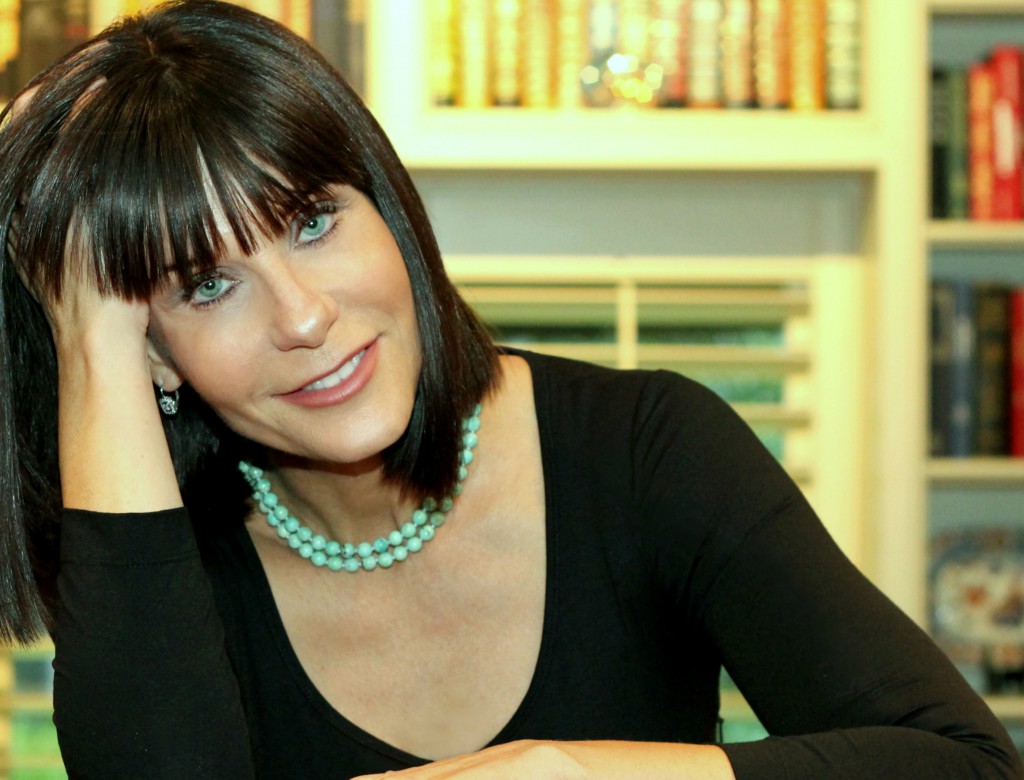 (Part one) Carol Cottrill is a nutritional consultant with a taste for all things French and author of the book The French Twist: Twelve Secrets to Dining and Natural Weight Management.
Carol worked in the film business for nearly twenty years, first as a principal actor in television commercials, then as an agent for film directors. In the late 1990s, at the pinnacle of her career—while attending the Cannes Film Festival, no less—she decided to switch fields entirely. In 2001 she earned a Bachelor of Science degree in holistic nutrition from Clayton College of Natural Health, Birmingham, AL, where she graduated with highest honors. That same year she opened a private nutritional practice in Atlanta.
As a seasoned overseas traveler, her visits to France, and throughout Europe, have opened her eyes to the way other cultures eat—routinely enjoying the best foods, even those considered "decadent," while staying healthy and controlling weight. Carol guides readers away from deprivation diets and instead encourages each individual to follow an authentic eating plan based on enjoyment, relaxation, balance and inner cues.
Carol practices nutrition in New York City and lives in Rowayton, CT, with her husband and two very spoiled dogs.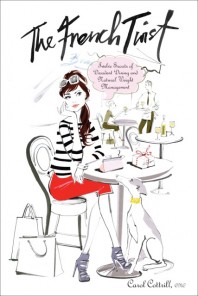 The French Twist: Twelve Secrets to Dining and Natural Weight Management, Carol Cottrill's first book, was published by Morgan James Publishing in 2012. For more information on Carol Cottrill, visit: (Website) (Facebook) (Purchase)
PERSONAL STYLE
AWP: You don't say "no" to chocolate, do you? How do you enjoy it?
CC: Often! As with all things French, but especially chocolate, I favor quality over quantity. It takes several pieces of inferior milk chocolate to satisfy my sweet tooth, but only one piece of high-quality dark chocolate. I eat a 1.6-ounce bar of good-quality dark chocolate almost every day. Dark chocolate's bitter taste helps the body regulate appetite; the high levels of cocoa butter help slow digestion and make the stomach feel full longer. For me, nothing short of this prescription for pleasure will keep off the pounds.
AWP: Your roots are Italian-American. How did you become a "little bit" French?
CC: I'm going to try and save myself here with my Italian friends and family. Did you know that the history of French dominance in the culinary arts is traced to the Italians? Turns out that when Catherine de Medici arrived in France in the 1540s to become the bride of the future King Henri II, she brought along an entourage of cooks skilled in the ways of Florence. She expected sumptuous feasts in fine cuisine and created a culinary explosion. So there.
But honestly, with the exception of my mother's rigatoni, I just prefer French cuisine. I was first introduced to French food through a gourmet club I joined in the 1980s. I remember making a cream of watercress and broccoli soup from a French inspired cookbook. To me that soup was very grounding, solid, back to basics cooking—and I loved that. I think a lot of people think that French food is fattening or heavy and what I discovered is the opposite—it's incredibly healthy. I'm not experienced in haute cuisine; my focus is French home cooking and that's not really as foreign as you might think. I grew up with ingredients like carrots, potatoes, butter and eggs so this cuisine is very accessible and appealing to me.
AWP: Parisians dress well and have a distinctive fashion style. How do you describe their understated elegance?
CC: Parisians are really minimalists when it comes to fashion—they have the best of the basics and they embellish with accessories like beautiful scarves, bags, shoes and jewelry. They don't follow fads—fads are for the masses. Personal style is well, personal. I would say that they have fashion sense as much as style. When they find a hairstyle that suits them they stick with it. They aren't interested in having Jennifer Aniston's hairdo because they know she wears that style because it flatters her—they want a signature style that flatters them!
Coco Chanel recommended that when accessorizing, always take off the last thing you put on. I think that is the understated elegance you're describing. Less is more. (Although I'm still wondering what she took off; Coco was always quite bejeweled—her personal style!).
AWP: What is the most valuable thing the Frenchwoman has to work with?
CC: A history steeped in pleasure, passion, love and lust for all things beautiful and delicious! 
AWP: How do you define style? How do you express your own style?
CC: For me style is very much like personality—it's that distinctive character that makes you, you. When I'm sensing I'm on top of my personal style, my outward appearance is congruent with how I feel on the inside. Like most people I have my whimsical moments, and that may be the time you'll see me in some brightly colored pants. Or I might be feeling a little edgy and toss a little leather trim to the mix. But all in all I stick to a classic style that works for my body and overall temperament. I keep things simple and tailored because I'm small boned and I really do look like a clown in ruffles or anything fussy. I love animal prints but if I wore them as a dress, the dress would wear me. So I stick with animal print shoes, bags, gloves and scarves.
AWP: What modern trend do you love the most?
CC: I LOVE mixing prints and combining patterns. I remember years ago a friend from Holland wore stripes with checks—he always looked fabulous. I wondered why it was that Americans where so committed to "matching" everything. So I'm happy to see that we've embraced this look along with the freedom to express ourselves.
AWP: What have you found the French like about Americans?
CC:
Our eccentricity
The American virtue of tenacity
The goodwill and hospitality we offer people from other countries
American literature
American-made cosmetics like Clinique, Mac, and Bobbi Brown
American fashion: Levi's, Calvin Klein, the Gap, and many others
Pop music
Our country's big open spaces
Classic Hollywood
AWP: Describe your own "Paris."
CC: In my Paris there is no following the crowd, but rather finding one's own way.
AWP: Name the single book or movie, work of art or music, fashion or cuisine that has inspired you.
CC: I was very moved and inspired by the film Chocolat, where sensual pleasure is pitted against disciplined self-denial, with the most tempting of all sweets—chocolat, the key weapon in the battle. It's set in 1959 and a mysterious woman named Vianne (Juliette Binoche) moves with her daughter to a small French village.
A few days after settling in and shortly after the beginning of Lent, Vianne opens a confectionery shop across the street from the church. The townspeople are supposed to be abstaining from worldly pleasures, but Vianne tempts them with unusual and delicious chocolate creations, using her expert touch to create just the right concoction to break down each customer's resistance.
With each passing day, more of Vianne's neighbors succumb to her sinful treats, but the Comte de Reynaud (Alfred Molina), the town's mayor, is not amused; he wants Vianne run out of town before she leads the populace into a deeper lever of temptation. Instead, with the help of a handsome Irish Gypsy named Roux (Johnny Depp), Vianne plans a Grand Festival of Chocolate, to be held on Easter Sunday.
The church stands for tradition, for the way things have always been, and, especially during Lent, for self-restraint and sacrifice. The mayor leans on the young parish priest, just five weeks on the job, to reinforce such values from the pulpit. Père Henri (Hugh O'Conor) dutifully preaches sermons the mayor has approved about the dangers of temptation, the threat of morality posed by outsiders, even the evils of chocolate.
Until Easter morning, when Père Henri tells his surprised parishioners that he doesn't want to talk about Jesus' divinity, he is more interested in his humanity and what we can learn from his life on earth:
"I'd rather talk about his humanity…how he lived his life, here on Earth. His kindness, his tolerance… We can't go around…measuring our goodness by what we don't do. By what we deny ourselves, what we resist, and who we exclude… We've got to measure goodness by what we embrace, what we create… who we include."
For me, the newcomer priest provides the perfect message for our culture of crazy dieting: Witness the insanity that surrounds you! Embrace your life and eat up every sweet morsel of goodness. Above all, be kind and tolerant not only to other but first, and above all, to yourself.
AWP: What is the latest book you read? Would you recommend it?
CC: I'm reading The Essence of Style: How the French Invented High Fashion, Fine Food, Chic Cafes, Style, Sophistication and Glamour by Joan DeJean. It sounds fluffy, but really, the author is one of the foremost authorities on seventeenth century French culture. The Essence of Style takes us back historically to the fascinating moment in history under Louis XIV, known for setting the standards of sophistication, glamour and style that rule our lives today. I do recommend it and think it will please fans of history and anyone who has wondered about the French superiority complex.
AWP: Tell us something we don't know about your favorite food – its style within a meal, preparation, or cultural history.
CC: My favorite food is my mom's rigatoni in a red sauce seasoned with pork—I was weaned on this dish. I've watched my mother prepare this sauce since I was a kid, but still, hers is always better than mine. It's a little different than a lot of Italian sauces: this one is made with only tomato paste (no crushed tomatoes) simmered with pork ribs (the meat falls off the bone while cooking). The sauce simmers for hours on the stove until dark red bubbles form—then it's ready to eat! Thank God—after smelling it for eight hours! We always serve it with meatballs made with veal or pork and ground beef—and lots of Parmigiano Reggiano.
It has taken me years to come close to mom's tomato paste-delight, and during that time I've realized that it's the preparation of the sauce, the stirring and the anticipating, as much as the flavorful outcome that is so special. Mom's sauce brings on priceless feelings that only a lifelong ritual can deliver.
I've moved all around the country, and I've developed a moving-day ritual that makes my new home feel as if I've lived there forever. I write "IMPORTANT! TAKE TO KITCHEN AND UNPACK IMMEDIATELY!" in large letters with a black Sharpie, ensuring that the box containing everything I need to make rigatoni dinner arrives in the kitchen and that cans of tomato paste, two large pots (one for the pasta, one for the sauce), a large colander for draining—everything I need is right there.
After I make a quick trip to the supermarket for the essentials, my sauce bubbles away for the rest of the day while I unpack. The aroma of the sauce fills our new nest. Wiping our chins the first evening in our new home, among boxes and chaos, we can say: "Home Sweet Home."
AWP: Your passion for life is extraordinary. What's next?
CC: There is no time like the present to make a difference in the lives of our children when it comes to the disordered eating behaviors and the more serious eating disorders associated with fad dieting.
When I'm feeling grandiose I imagine kicking down the door of restrictive dieting and tyrannical exercise along with all the maladies of this unhealthy behavior. More humbly and realistically I hope to at least stick my toe in that door by reaching parents—by asking them to think again. To help them understand that such a preoccupation with diets and appearance has contributed to an ongoing problem with our children.
I'd like to have an influence in revisiting our collective values by helping parents lift our children off of the scales of judgment and into the safe haven of acceptance. To show them the importance of teaching by example and by being a role model and a mentor for all of the young people we encounter and affect.
As we develop our own interests, talents, and self-esteem, we will encourage our children to value their unique gifts. This is the lasting imprint I hope to leave for future generations.
BOOK RECOMMENDATIONS BY Carol Cottrill
Entre Nous, A Woman's Guide to Finding Her Inner French Girl by Debra Ollivier
Bringing Up Bébé: One American Mother Discovers the Wisdom of French Parenting by Pamela Druckerman
Words in French Life: Lessons in Love and Language from the South of France by Kristin Espinasse
Daring Greatly: How the Courage to be Vulnerable Transforms the Way we Live, Love, Parent and Lead by Brene Brown
You may also enjoy A Woman's Paris® post, "Fatale: How French Women Do It" – Perfume that rocks the room, peeks at the mysterious ways Frenchwomen manage to appear sexy, smart and recklessly chic from the book Fatale: How French Women Do It by Edith Kunz (used by permission). Includes are tips for applying fragrance and a list of 18 key pulse points to consider. 
Beauty Confessions from a Globe-trotting Parisienne. Parisienne Bénédicte Mahé shares a French woman's approach to beauty and makeup; and how the relationship Americans have with beauty is very different from that of the French. Including her list of Beauty Resources in Paris and a vocabulary of French to English translations. (French)
Children fashionistas: Why French children dress better than you do. French au pair Alyssa Glawe tells that a child's clothes in France are more than just something to cover the body. "It's safe to say that, French parents would never put an item of clothing on their child that they would not wear themselves," she writes "Comfort is important, but in all truth, it's really about the fashion." Including a list of children's labels and websites. 
l'Américaine , by Parisian Eva Izsak-Niimura who writes about the myth of the unsophisticated and pathetically naïve American where book after book and article after article there is the lament of the hopeless quest of the American woman to resemble her French counterpart. 
French women do get wrinkles, by Parisian Eva Izsak-Niimura who writes about the super French myth of the coquettish French nymph—her "je ne sais quoi"—in her ballerina shoes, hair effortlessly tied in a messy chignon blowing in the wind, large sunglasses over her naked, no make-up, nevertheless beautiful eyes, and she then continues to define how we are all measured by it.
A Woman's Paris — Elegance, Culture and Joie de Vivre
We are captivated by women and men, like you, who use their discipline, wit and resourcefulness to make their own way and who excel at what the French call joie de vivre or "the art of living." We stand in awe of what you fill into your lives. Free spirits who inspire both admiration and confidence.
Fashion is not something that exists in dresses only. Fashion is in the sky, in the street, fashion has to do with ideas, the way we live, what is happening. — Coco Chanel (1883 – 1971)
Text copyright ©2013 Carol Cottrill. All rights reserved.
Illustrations copyright ©Barbara Redmond. All rights reserved.
barbara@awomansparis.com