Travel Diaries: French sites and the authentic Parisian experience
03 Tuesday Sep 2013
Tags
Arc de Triomphe, Byram Hills High School Armonk New York, Champs-Élysées, Charles de Gaulle Étoile station, Châtelet, Elizabeth Kingsley, Face the Music Manhattan New York, France, Learning Programs International, Louvre, Montmartre, New York City, Notre Dame, Paris, Paris Gay Pride celebration, Paris Metro, rainbow flags, Times Square New York City, Tuileries, Université Catholique de l'Ouest
Share it
By Elizabeth Kingsley
It was our second day in Paris, and my group of 12 American high school students was still running on adrenaline from sleepless flights and jetlag. We were with Learning Programs International to study abroad in France for the month of July. We visited Paris for three days, then went on to spend our weeks in Angers, studying at the Université Catholique de l'Ouest. The program crammed all of Paris tourism into three days—not an easy task. So on the first day, we took a tour of Montmartre, went to Notre Dame, strolled through the Tuileries, and visited the Louvre. We were left completely free to roam from 4:30 until 10, our curfew.
What to do?
With two new Californian friends, we took the Metro (I'm from New York and accustomed to subways; Paris below ground, by comparison, seemed much cleaner and extremely safe) and went down the Champs-Élysées to the Arc de Triomphe simply because we knew we must. I felt like the tourist in Times Square that I always snicker at, as they look around with gaping eyes, snapping pictures at sights they've only seen in photographs. This was not for me; I wanted a more authentic experience.
So we chose a place we'd never heard of. After all, I was 16 years old and free in Paris! We opened our Metro map, and decided to explore…and to push our comfort zones. Châtelet appeared to be a popular stop, with six different lines passing through. Standing just beyond the covering of the Arc de Triomphe, still in that central circle, we scanned above the speeding cars to locate the Charles de Gaulle Étoile station, and took the yellow line to our destination.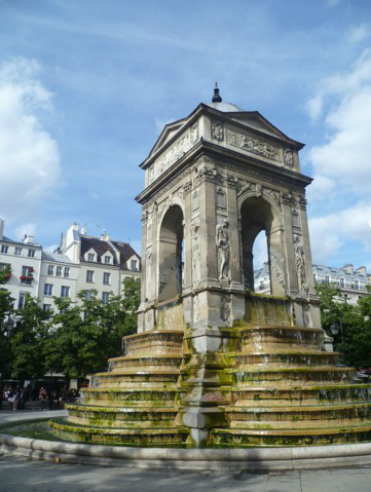 Our trio emerged in an energetic neighborhood with lots of stores, restaurants, and people. Our search for an inexpensive place to have dinner led us throughout the area, which ended up taking quite a while. There was a bustling restaurant scene; everyone seemed to be sitting outside sipping apéritifs. As we made our way through, without caring to look at a map, we found a central square with a beautiful fountain and sat down to take in this part of Parisian life. There were teenage boys skateboarding on the rim of the fountain, young women emerging from shops with bags in their hands, a couple sitting on a bench hand-in-hand. In less eloquent terms, we were people watching. What a treat!
Eventually our grumbling stomachs reminded us of our search, so we continued on our way through narrow cobblestone streets, stopping to look at menus, grimacing at the prices, and moving on.
We turned one corner, and what a surprise! We were in a swarm of rainbow flags, drag queens, and disco lights. It just so happened that we had found ourselves in the midst of Paris' Gay Pride celebration. I was ecstatic to be a part of the festivities. I felt at home surrounded by young people in an old city, progressive people in an historic culture.
Even as we continued past the crowds and settled outside at a quiet restaurant, I felt that Châtelet had been the perfect destination, and this was the perfect way for teens to explore Paris. The big sites we explored during the day—from Montmartre to the Louvre—paled in comparison to the authenticity and spirit that we encountered, and then embraced, on this, our second day. I slept well that night. Angers waited.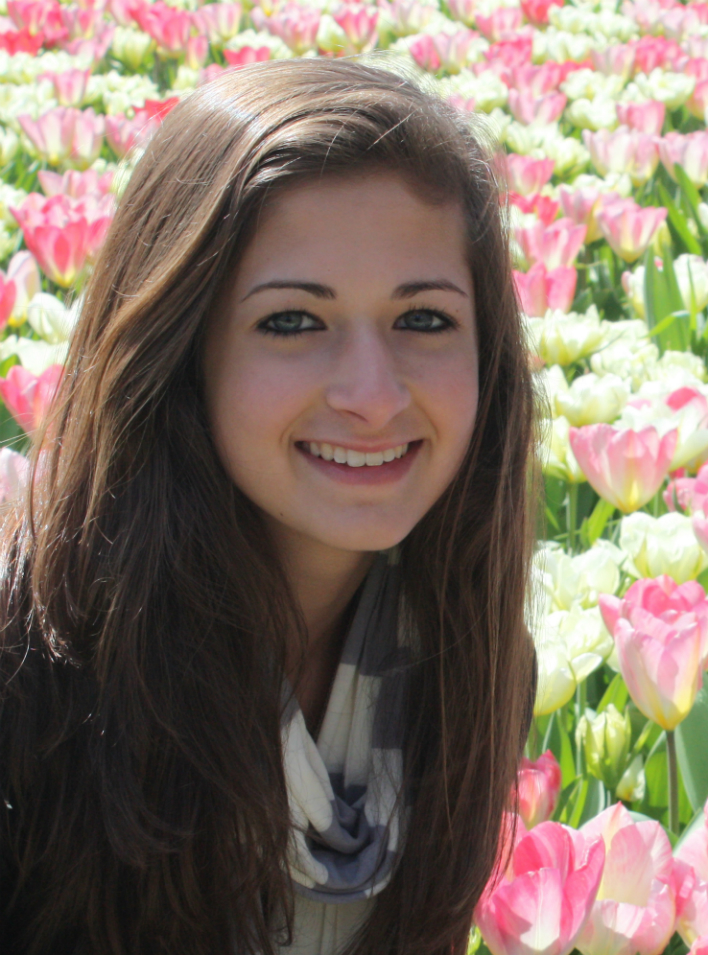 Elizabeth (Lizzy) Kingsley is a dual American and German citizen and is a junior at Byram Hills High School in Armonk, a suburb of New York City. She pursues her passion for languages by studying both French and Spanish and is also a part of her school's World Language Society. She is an editor of her school's newspaper and participates in statewide Mock Trial and Science Olympiad competitions. Lizzy plays flute in 'Face the Music,' the only youth music ensemble dedicated to contemporary classical music, based in Manhattan. She expects to pursue languages and urban studies in college.
You may also enjoy A Woman's Paris® post, Café Culture in Paris, by Parisienne Flore der Agopian. The café, writes Flore, is a pleasurable way of sitting unbothered for hours on end with a book, with friends, or jut watching all sorts of people coming and going. Le Café de Flore, one of the oldest and most prestigious in Paris, where you can meet or observe its famous clientele among the Parisians, tourists and waiters dressed in their black and white uniforms as if they were still in the 1920s. To Flore, Café de Flore is almost mythical, legendary—a real institution. (French)
Finding boubous, taibas, and myself in Sénégal, by Ashley Steele, an African American and student of French, who wanted to explore a non-Western culture and its perspective where she found a deep meaning once she stepped foot on African soil. (French)
Ballet Flats in Paris: And God made Repetto, by Barbara Redmond who shares what she got from a pair of flats purchased in a ballet store in Paris; a feline, natural style from the toes up, a simple pair of shoes that transformed her whole look. Including the vimeos "Pas de Deux Coda," by Opening Ceremony and "Repetto," by Repetto, Paris. (French)

Oh, so French! Crossing to the other side. Paris-based writer Shari Leslie Segall shares her observations of becoming a little bit French and writes: "To a greater or lesser degree, whether you expected to or not, one day you realize that you're crossing to the other side." She offers a very incomplete list of how you know when you've arrived. (First published in FUSAC.FR July 5, 2013.)
Pack White Pants, by Bridget Mulheran who was ready for adventure, to find her grove. Study abroad would provide the perfect backdrop to discover an individual style. "Pack white pants," advised Aunt Mollie, stylish and fashionably up-to-date, on what to bring on her first trip to Europe. A weekend trip to Paris gave her the perfect opportunity to find a pair.
I dream of Paris. Writer and educator Natalie Ehalt shares the quote from Napoléon, who wrote in 1795, "A woman, in order to know what is due her and what her power is, must live in Paris for six months." To Natalie, Paris is the ultimate in elegance and style. It is old-fashioned, it is cobblestone, it is aprons, it is a chauffeur helping you step off the curb…
Text copyright ©2013 Elizabeth Kingsley. All rights reserved.
Illustrations copyright ©Barbara Redmond. All rights reserved.
barbara@awomansparis.com