Bastille Day in France: parades, concerts, parties and fireworks
13 Saturday Jul 2013
Tags
Bastille Day, Bastille Day Firemen's Balls, Bastille day military parade, Eiffel Tower, France, French precision aerobatic team, French Revolution, It was the best of times it was the worst of times quote by Charles Dickens A Tale of Two Cities, King Louis XVI discovery his blood, La fete nationale, La Marseillaise, La Patrouille de France, Le quatorze juillet, Marianne symbol of France, Napoleon I, Napoleon III, Paris, Place de la Bastille, The French National Anthem, Trocadéro
Share it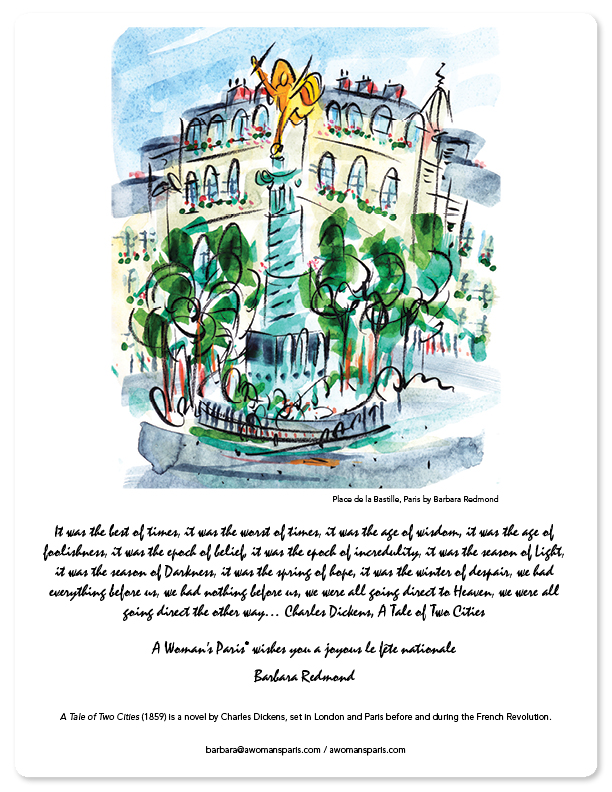 (Excerpt from a previous post in A Woman's Paris Bastille Day in France: Tyrants and tigers and blood, oh my!, by guest writer Philippa Campsie, Toronto, CA.)
Bastille Day in France: parades, concerts, parties and fireworks. Or not, as the case may be. The French have had a rather poor track record of repelling invasions since the song was written, so this is perhaps a case of wishful thinking.
If you are going to be in France this coming Bastille Day (usually known as le quatorze juillet or la fête nationale in France), you might want to learn the words to La Marseillaise, which has been France's national anthem, off and on, since the days of the Revolution. It was written to rouse citizens to repel invading armies from foreign countries, but it has become associated with Revolutionary fervour and republicanism, like the symbol of Marianne. So of course the emperors Napoleon I and Napoleon III banned it. (Thus when Tchaikovsky used the music to represent the French army in the 1812 Overture, he was taking liberties with historical accuracy.)
La Marseillaise, The French National Anthem
Allons enfants de la Patrie,
Le jour de gloire est arrivé !
Contre nous de la tyrannie
L'étendard sanglant est levé,
L'étendard sanglant est levé.
Entendez-vous dans nos campagnes
Mugir ces féroces soldats?
Ils viennent jusque dans vos bras
Égorger vos fils, vos compagnes!
Aux armes, citoyens!
Formez vos bataillons!
Marchons! Marchons!
Qu'un sang impur abreuve nos sillons.

Click here to remind yourself of the tune. Note the interesting move into the minor key for the last two lines of the verse part.
Here's the English translation, in a gender-neutral version.
La Marseillaise: French to English translation
Come, children of our homeland,
The day of glory has arrived.
Against us, tyranny's bloody standard is raised
Do you hear in the countryside the howling of these ferocious soldiers?
They are coming to wrench your children and companions
From your arms and cut their throats.
To arms, citizens!
Form your battalions!
March! March!
Let impure blood drench our furrows.
There are six more verses, but it's rare to find someone who knows the whole thing (and how many of you know all four verses of the Star-Spangled Banner, or all three of God Save the Queen?). The words are filled with violent images, with warriors and slaves and tyrants and even tigers (we are not making this up). If France's emblem is a woman, here she is in full attack mode, willing to stop at nothing to protect her young.
Given this warlike song, it's not surprising that in Paris, le quatorze juillet is celebrated with a military parade down the Champs-Elysées, and a flypast from the French precision aerobatic team, La Patrouille de France. Later in the day there are fireworks over the Eiffel Tower and the Trocadéro.
Most people, however, get together to eat and party. There is a big concert in the Place de la Bastille, pictured above, and about forty fire stations (casernes) throughout the city are flung open for Firemen's Balls, starting at 9 p.m. the night before and ending at 4 a.m. on the 14th.
Actually, it's hard to imagine a non-rousing version. But hey—Marchez! Marchez!
You may also enjoy A Woman's Paris® post, Marianne: National emblem of France, by Canadian writer Philippa Campsie who tells about Marianne, the feminine symbol of liberty and republicanism in France. Originally, images of Marianne were created using anonymous models, but modern depictions have featured famous French beauties, such as Brigitte Bardot, Mireille Mathieu, Catherine Deneuve, fashion designer Inès de la Fressange, among others.
French legend proved true with the discovery of blood of King Louis XVI in gourd, by Andrea Johnson who shares with us a stimulating morsel of French history that seems just a little more tangible as it occurs right before our eyes. (French)
Bastille Day Military Parade in Paris: la fête nationale, by Barbara Redmond who tells her story about watching the Bastille Day Military Parade in Paris with particular affection for the Garde Républicaine as they show off their talents and perform dressage.
French Crown Jewels: Empress Eugénie, by Barbara Redmond who writes about pieces from Empress Eugénie's private collection and the French Crown Jewels that were split up by the national assembly and sold at public auction. Stories of Empress Eugénie's famous Bow Brooch, Pearl and Diamond Tiara, and private jewels. Including Barbara's favorite book about the jewels in the Louvre, Paris.
French Empress Eugénie and her diamonds, by Barbara Redmond who shares the story of Empress Eugénie, the wife of Napoleon III, who lusted after diamonds—the most bejeweled clotheshorse and stylish woman of her day. Stories of Empress Eugénie's famous Eugénie Diamond, Great Diamond Cluster, Consort Crown, and "Regent" Diamonds. Including Barbara's favorite book about the jewels in the Louvre, Paris.
.
Text copyright ©2010 Philippa Campsie. All rights reserved.
Illustrations copyright ©Barbara Redmond. All rights reserved.
barbara@awomansparis.com