The World of Aristocratic Paris
13 Wednesday Apr 2011
By Jan Dolphin
"Walk a Mile in My Shoes: The World of Aristocrat Paris" reacquaints us with what Paris is known for; not only its monuments, but as the fashion capital of the world. Understated elegance and class with a capital "C" from the book Paris from the Heart: Ultimate Walking Tours to Fun, Fashion and Freedom by Jan Dolphin (used by permission).
Walk a mile in my shoes: the world of aristocratic Paris. Reacquaint yourself with what Paris is known for; not only its monuments, but as the fashion capital of the world! Rue Faubourg Saint-Honoré lives up to this claim and then some. Because the shops are within the storefronts of ancient buildings, it feels much, much more than your standard shopping trip. Not only does this famous street offer shopping, but it's also the home to the Élysées Palace where the president of France resides. When you enter the gates of the eighteenth-century parc Monçeau, enjoy the sound of birdsong and fountains among the flower gardens, statuary, and large trees. From there, you'll be guests in two historic townhouses: Musée Nissim de Camondo and Musée Jacquemart-André, where a wonderful tearoom is located.
We are fortunate to be able to tour these formerly private homes, with their art and furnishings still intact. Shop your way to the Grand Palais and Petit Palais, both holding wonderful treasures, exhibitions, and permanent collections. Then take a walk down avenue Montaigne, one of the most famous streets in Paris with its understated elegance and class with a capital C. Most stores are locked and you must ring to gain entrance―it's quite an experience being inside one of the stores when "Mrs. Got-Rocks" is on a shopping spree! Wear your sunglasses―the jewelry is dazzling!
The Hôtel Plaza Athénée is also located here and makes a very striking statement with its tumbling masses of red geraniums. If you have time before you dine, you might also visit the Paris Museum of Modern Art, which is located nearby. Dinner is suggested in Chez Francis, an indoor and outdoor restaurant located by the Seine in the shadows of la Tour Eiffel.
Parc Monçeau
On rue Faubourg Saint-Honoré at Place Beauvau when you reach rue Miromesnil, turn right and follow this street to avenue Messine, which will take you to Parc Monçeau. You'll find it to be a bit less formal than many of the other gardens in Paris since the gardens were originally designed by Louis Carmontelle in the English style. The Duke of Chartres purchased this property in 1769 and later became the Duke of Orléans, as he was cousin to Louis XVI. Before the park was completed, he fell victim to the guillotine (1793). The gardens were eventually sold to Paris in 1860 and redesigned into a more formal style. You'll be enchanted by the garden statues, pavilion, grotto, waterfall, and playgrounds (which offer freedom for children to play while accompanied by their nannies). The park even has a small store selling playground necessities (pails, shovels, etc.; I wonder if the children build grand palaces rather than simple cottages out of sand). The park may look like one you've seen before, as it was the subject of five paintings by Claude Monet. No wonder he chose to paint here―it's a beautiful neighborhood park offering a respite from the lively city streets. It also has the largest plane tree in existence, at twenty-three feet across. Keep your eyes open for his park's claim to fame!
Musée Nissim de Camondo
Four elaborate entrance gates and iron fencing surround the park. Try to remember which one you came in and exit the park. You will be reaching the place Rio de Janeiro. Veer to the left to get on rue Monçeau and follow it to Musée Nissim de Camondo at number 63, a pre-World War I townhouse belonging to a former wealthy aristocrat, Count Moïse de Camondo. He built a banking empire and moved a branch to Paris in 1870 and settled in his new home overlooking Parc Monçeau, which he filled with beautiful treasures: eighteenth-century decorative arts and antiques. The home is modeled after the elegance of Versailles (on a smaller scale of course, but grand nonetheless). The living spaces are behind the traditional wall panels. There are many works by eminent artists and much beauty to admire. However, the family's wealth could not save them in the end; the count's only son, Nissim, died in combat in World War I. His daughter, Beatrice de Camondo, along with her two children and husband, were deported by the Nazis in 1943 and died in Auschwitz. There is a plaque on the wall in the elegant mansion stating this sad ending to a fairytale world. 63, rue de Monçeau phone: 01 53 89 06 40. Métro: Villiers. Hours: Wednesday – Sunday 10:00 a.m. – 5:30 p.m.
Avenue Montaigne (designer heaven)
If you've decided not to miss a thing, follow avenue Winston Churchill up to the Champs-Élysées. Turn left at the Round Point and take a left on avenue Montaigne. You have now entered the premier shopping street in Paris! There are several streets to see in this wedge that all end up at the Seine. You'll notice a difference in the ambience of this posh neighborhood, each street lined with large chestnut trees on both sides. It is fabulous in April and May when the chestnut trees are bursting with pink flowers, so lucky you, spring travelers!
The hustle and bustle of the Champs-Élysées with its unending throng of tourists is left behind, and you have arrived. Even if you don't buy, you will see all the fashions that are in for the season. Be polite when you enter with a "Bonjour, Madame or Monsieur" and let our eyes get their fill of the beauty surrounding you! Don't expect to find a sale unless you are in Paris for the few prime weeks in January and June. I guess that's a good enough reason for those of us who love to shop to visit Paris in these months! I like to find small items to purchase that won't break my bank. (You know you've always needed a €250 key chain!)
Some of the stores that you will encounter
Céline, Louis Vuitton, Escada, Prada, Calvin Klein, Krizia, Jill Sanders, Barbara Bui, Nina Ricci, Valentino, Chanel, Loewe, Christian Dior, Dolce & Gabbana, Harry Winston, Armani, andMax Mara.
This is an amazing neighborhood, and it is unexpectedly relaxing as it has a slower pace. Whatever you do, don't feel intimidated. Remember, they need you more than you need them. You will be seeing many guards around the stores due to the Harry Winston robbery in 2008, when three or four armed men walked in just before closing and made a fortune in precious jewels and watches. A million-dollar heist! Harry Winston was also robbed in 2007 for the equivalent of twenty million dollars. Small change, right?
Take time to also visit the luxurious Hôtel Plaza Athénée while you are here. It is located at 25, avenue Montaigne, and is a modern day palace! In the warmer months, masses of red geraniums tumble out of window boxes on the balconies. Along with the red awnings, it's a breathtaking statement. The Bar du Plaza is open from 6:00 p.m. to 2:00 a.m.; perhaps you will have saved enough energy to stop later for a nightcap. Alain Ducasse is the chef of his signature restaurant, Plaza Athénée, but he also has a stunning restaurant in the atrium patio, Le Cour Jardin (surrounded by the balconies filled with red geraniums and red umbrellas). Both are definitely dinner options; however, be aware of the extremely high prices before you succumb. If you are interested in dining here, you may want to call ahead to the hotel and make your reservation in any of their restaurants. Phone 01 53 67 66 67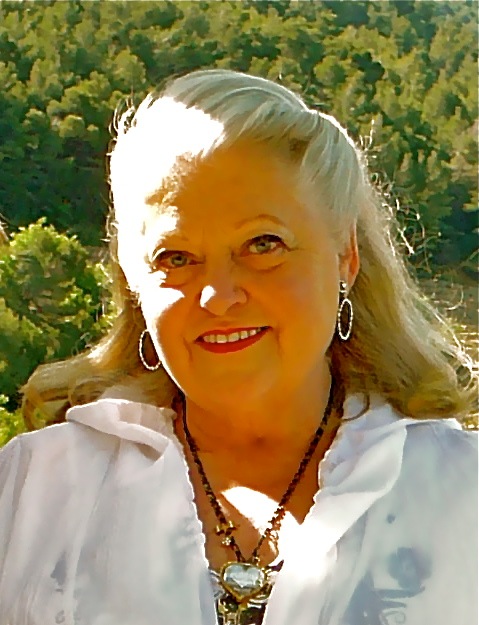 Jan Dolphin, author and interior designer, is a graduate of the University of Minnesota and has spent her life as an interior designer. She has visited Paris many times over the years, and each time she has added to her personal travel journals. For Jan, dreams happen when the stars and planets align to spell, "Go for it!" Thus, Paris from the Heart was born!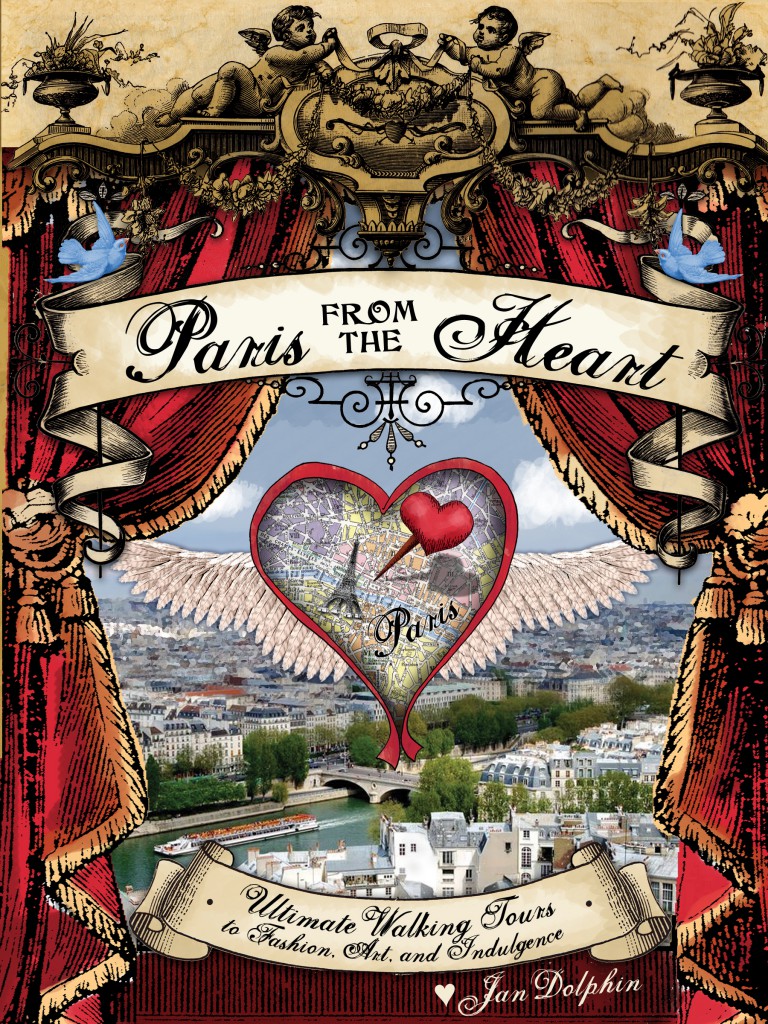 Jan's book is available though Amazon or Barnes & Noble, or it can be purchased directly from Jan at jandolphin@comcast.net if you'd like an autographed copy.
Paris from the Heart: Ultimate Walking Tours to Fun, Fashion, and Freedom. Used by permission. Beaver's Pond Press (2011).
You may also enjoy A Woman's Paris® post, The Left Bank: La Rive Gauche and the Land of Plenty, by special guest author Jan Dolphin. Jan brings us to the Left Bank to mingle with authors and artists, of the "Lost Generation" who appeared in Paris in the aftermath of WWI making the 1920s an era to be remembered from her book Paris from the Heart: Ultimate Walking Tours to Fun, Fashion, and Freedom.
Stars, Stripes and Seine: Americans in occupied Paris 1940-1944, by Alan Davidge. 5,000 Americans refused to leave Paris after war broke out in September 1939. Who were they? Read the stories of how Josephine Baker, Sylvia Beach, Arthur Briggs, Drue Leyton, and others lived and breathed Paris during the war.
McLain's "Paris Wife" will have you head over heels for the Hemingways. Bethany Olson was drawn to McLain's writing, detailed and thoughtful, that artfully captures Hadley's voice and Ernest's character in McLain's fictionalized rendering of Hadley and Ernest's relationship and their life in Paris. As did Hadley, Bethany found herself falling for for Ernest Hemingway, drawn to his exuberance, quick wit, and verve for life. Included are vimeos featuring interviews with Paula McLain by WHSmithDirect and BookLounge.
African-American Expatriates in Paris, by writer Kristin Wood who shares a few of our favorite books written by and/or about African-Americans in Paris and France. Some are novels; some are histories; all are fantastic reads.
L'heure bleue: the moment I fell in love with Paris, by Barbara Redmond who shares her unexpected first experiences with Paris. She was met with noise and hot and humid air; it was not the beautiful Paris she had imagined. Barbara discusses how there was moment when she found the true Paris and fell in love.
How to find a (suitable) place in Paris, and other miscellaneous information, by French woman from Brittany, Bénédicte Mahé, who is in her mastère-spécialisé final trimester doing an internship in Paris. Bénédicte shares with students how to find a place in Paris. (French)
Text copyright ©2012 Jan Dolphin. All rights reserved.
Illustration copyright ©2012 Barbara Redmond All rights reserved.
barbara@awomansparis.com