"A Man Named Romain" by Harriet Welty Rochefort (Paris, November 13, 2015)
23 Monday Nov 2015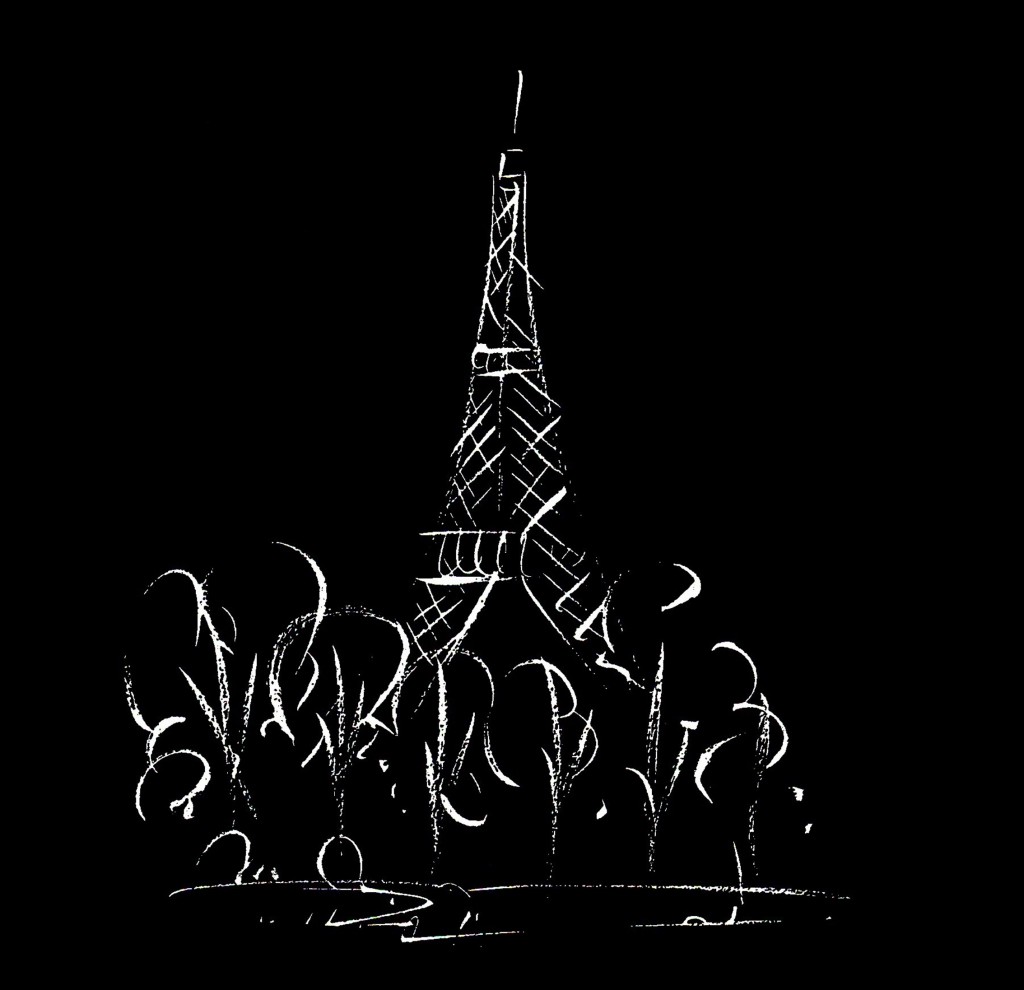 "A Man Named Romain" by Harriet Welty Rochefort. © 2015 Harriet Welty Rochefort. Published with permission. All rights reserved. Written in response to the attacks in Paris on November 13, 2015. 
Lest we forget….
This morning the terrorist attacks in Paris became even more real when I discovered that one of my local shopkeepers was among the victims. Below, my reflections:
It's now been a week and a day since Islamic terrorists carried out their insane and evil attack in Paris, eight days in which we have seen the number of wounded increase, learned that a friend or a friend of a friend was among the victims, gradually gone back to taking the metro and dining in restaurants or having a drink on a terrace.
It's been a week and a day but the shock is still there. It's there especially when you watch the news reports and listen to the escapees talk about their experience. A common thread runs among their accounts: Why me ? Why did I escape while others died?
It's been a week and a day and just when you think you've probably seen and heard everything there is to see and hear, more stories keep coming.
I discovered one such story this morning when I went shopping for the week-end food as usual, filling up my bright blue cart with fresh mangoes and pears at the greengrocers, scallops and shrimp at the poissonnier, a perfect Roquefort and chèvre at the fromagerie, a good warm baguette from the boulangerie. I don't have to walk far in this working class slowly gentrifying neighborhood to find all my favorite things and shopping is one of the joys of Parisian life.
I was busy thinking about what I was going to make for lunch as I approached the fish shop. A crowd gathered on the opposite sidewalk caught my eye, dozens of people silently gathered in front of a store whose shutters were closed. It took a minute to register—before the shock. This was the guitar and string instrument repair shop of a young man who had opened it only a year or so ago. I had passed it many times, admiring the guitars and the meticulous arrangement of the work space and, I must admit, wondering how the peaceful kind-looking fellow running the place all by himself could make a living. I no longer needed to worry about that: the shop's owner is now dead.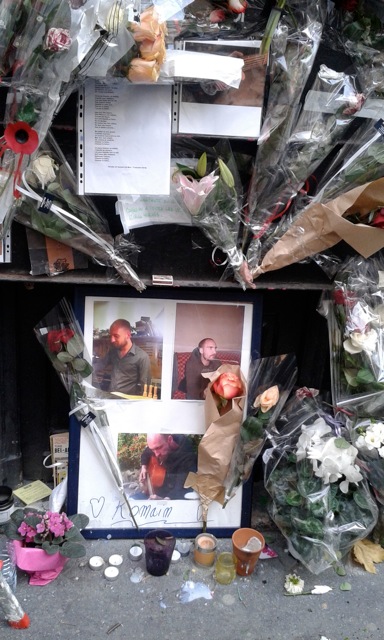 I didn't know his name but learned from the numerous and affectionate notes and letters posted among the flowers and French flags on the shutters that it was Romain, that he was 31, that he loved music, playing guitar, repairing guitars and attending concerts like the one at the Bataclan where he was felled by a terrorist's weapon. As I stood there, transfixed, horrified, with tears in my eyes, the owner of a next door shop put a candle in my hand and helped me light it. Then he bent down to pick up the flowers people had placed on the pavement and stood, bouquets in hand, to carefully place them on what had become a memorial wall.
Standing there alongside my grocery cart, a mute witness to a mowed down life, I was filled simultaneously with deep sadness and profound anger. Sadness for the life that this young man would never live, sadness for his family and his friends, anger for the terrorists but also for the governments that sponsor them and the governments that are too slow to keep ahead of them.
I did not know Romain but I will never walk down that street again without thinking of him and how on a Friday in November he closed the shutters of his shop for the day looking forward to attending a concert, a concert from which he—like so many others—would not return alive.
Photo credit: Philippe Rochefort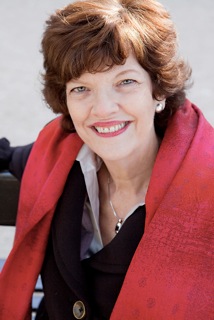 Harriet Welty Rochefort grew up and was educated in the Midwest (B.A. University of Michigan, Ann Arbor and M.S.J. Northwestern Medill School of Journalism). A French-American dual citizen, she has lived in France since 1973 with her French husband Philippe. They have 3 children, Nicolas, a neurologist in Marseilles, Benjamin, a computer specialist in Montreal, David, an editor and novelist in Paris, and 6 grandchildren.
An author, Harriet has written three humorous but informative books about her life in France. Her bestselling French Toast, a lively account of her first impressions, remained in hardcover for 11 years, appearing in paperback in 2010. It was followed by French Fried , an account of the way the French wine and dine viewed from her mother-in-law's kitchen and interviews with leading French food and wine experts.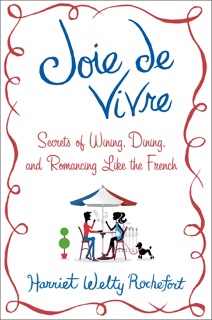 Her latest book, Joie de Vivre (2012), delves into the French penchant for enjoying life with style and panache. Published by St. Martin's Press, all have been translated into Chinese. A French version of French Toast was published by Editions Ramsay in 2005. Harriet is a member of several professional writers' organizations. They include PEN, The Authors Guild, and the Anglo-American Press Association in Paris where she served on the board for many years.
A freelance journalist, Harriet has written scores of articles on French business, culture and lifestyle for numerous publications, including the International Herald Tribune (now the International New York Times), The Atlanta Journal and Constitution, Huffington Post, and Time magazine where she worked as a reporter in the Paris bureau for more than ten years.
As a teacher and speaker, Harriet taught a reporting course in the international program of the Ecole de Journalisme of the renowned Institut d'Etudes Politiques de Paris (Sciences Po) from 2007 to 2011. She regularly gives lively lectures on France and French-American cultural differences to associations, travel groups, and university programs, such as the Sweet Briar Year Abroad, Smith/ParisTech Telecom and the International Media Seminar at the American University in Paris. She has spoken about her books at many venues in the U.S. and in France, including the American Library in Paris Evenings with an Author.
A true Francophile, Harriet loves French cooking which she learned from her French mother-in-law who hailed from the Périgord, and has a particular affinity for cheese and wine and the pairing of them. A fan of traveling in France, she knows the country well and claims to be one of the only Americans to have visited every one of its 13 regions! For more information, visit: (UnderstandFrance.org) (Harrietweltyrochefort.com)
From A Woman's Paris®:
How horrible the terrorist attacks on Paris on the 13th of November, 2015! We offer our sincere condolences to Paris. Our heart goes out to those who have suffered in Paris and communities worldwide; we are deeply saddened by the loss.
Liberté, égalité, fraternité "liberty, equality, fraternity," is the national motto of France and the Republic of Haiti. How true this is to our experiences with French friends, expatriates and colleagues living in France, and people from around the world.
Take care. Be well. Tell us that you and your family and friends are safe.
Love to all,
Barbara Redmond
Publisher, AWomansParis.com
A Woman's Paris®
Text copyright ©2015 Harriet Welty Rochefort. All rights reserved.
Illustrations copyright ©Barbara Redmond. All rights reserved.
barbara@awomansparis.com