"An Ordinary Day, with Kalashnikovs" by John Baxter (Paris, November 13, 2015)
19 Thursday Nov 2015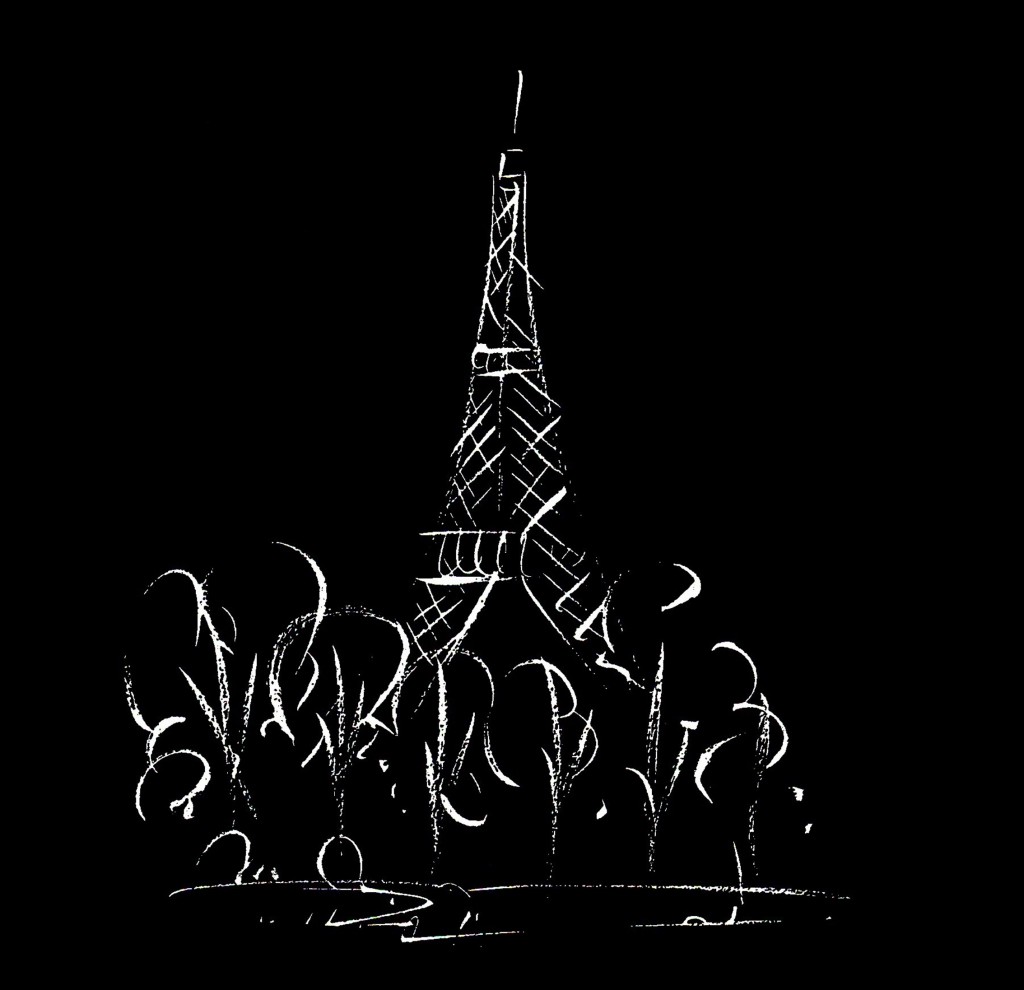 "An Ordinary Day, with Kalashnikovs" by John Baxter. © 2015 John Baxter. Published with permission. All rights reserved. A letter in response to the attacks in Paris on November 13, 2015. 
In Musée des Beaux Arts, a poem suggested by the painting The Fall of Icarus, W.H. Auden reflected on the almost casual way Breughel showed the hapless experimenter's end. In the foreground, a ploughman gets on with his day. All you see of Icarus and his melting wings is a pair of legs disappearing into the sunny waters.
To Auden, it embodied a truth about disaster:
About suffering they were never wrong, 
The Old Masters; how well they understood
Its human position; how it takes place
While someone else is eating or opening a window or just walking dully along.
So if you ask about our Friday 13th in Paris, I'd have to tell you that it was mainly about cats and a new DVD player.
In mid-afternoon, the DVD player took precedence. The old one having failed, our daughter Louise and I took a crowded bus to Montparnasse and, after plunging through waves of people at least as tumultuous as those that engulfed Icarus, emerged with a new and surprisingly cheap Sony. Whereupon Louise left me to carry it home while she went off "on a stroll."
The bus back was no less crowded than the one that brought us to Montparnasse, and the ride complicated by having to peer against the sunset at the fitfully-lit destination panels. Typically, the French tell everything but explain nothing. To make it too easy is to kill the fun.
Arriving home brought the evening's first note of disaster. Just as I opened our door, a neighbour knocked to tell me that, while the owner was in Japan, burglars had broken into the fourth-floor apartment once occupied by Sylvia Beach, proprietor of the original Shakespeare and Company bookshop, and publisher of Ulysses. This might have been a moment to reflect on Auden's assertion that momentous events are often overlooked. However, as Louise had arrived back just in time, we became more concerned with capturing our neighbour's two cats, which, having escaped through the smashed door, prowled the stairs.
As the sun set – and, as I would later reflect, eight men buckled on their explosive vests and checked their weapons – we were busy isolating the visiting felines from our own Scotty, while at the same time calling our neighbour in Kyoto with the bad news, and contacting her housekeeper (who speaks only Rumanian) in order to track down our neighbour's son, the polar explorer Sebastian Copeland. You would not think a two-metre tall person could be hard to find, but Paris, though charmingly open – too open, in hindsight – can, as we would learn that night, harbour all manner of secrets.
By the time we'd eaten a quick dinner, the worst appeared to be over. The tearful calls to and from Japan were completed, and the stolen jewellery lamented. As a carpenter boarded up the broken door and replaced the lock, the gendarme from the Commissariat suggested the thieves were probably the same eastern Europeans who burgled the building last year.
But what about the expensive new security gate and video interphone we'd installed after that attack?
He shrugged. "We think they climbed over the wall from the courtyard next door."
Ridiculously in retrospect, I remember feeling insulted by the obviousness of their method, the lack of finesse. Smash, kick, kill. The crude solutions of lesser minds.
Only then, with all apparently dealt with and under control: the cats contented, even the new DVD player installed, did my sister-in-law call.
"Is Louise there?" she asked anxiously. "Are you safe?" And the television began to ooze the horror that would dominate the night.
I sat and watched for hours while Louise rang her friends, with whom she'd often attended concerts at the Bataclan. Happily, all were safe.
Disbelief muffled understanding. This couldn't be happening here. Journalists assigned to the story appeared to succumb to the same numbness. Posted only a couple of blocks from the Bataclan, the BBC's chief correspondent rambled to camera on the improbabilities of the attacks, unaware that police had already burst in to find the hundred dead – the horror taking place, just as Auden said,  "while someone else is eating or opening a window or just walking dully along."
Maybe it was the thought of Breughel and Auden and the old masters that made me dig out the DVDs of Civilisation, the 1969 BBC documentary series in which art historian Kenneth Clark assessed the intellectual progress of man. I hadn't watched it in decades, but on this night it was as consoling as the Bible to a believer.
Clark, standing alone on the sunny bank of the Seine, with Notre Dame behind him, began by suggesting that it was "a good moment to look at some of the ways that man has shown himself to be an intelligent, creative, orderly and compassionate animal." Even more so than half a century ago, this made just as much sense.
I watched for hours as he enumerated barely a fraction of the works of the creative mind – Chartres, Florence, Dutch painting, English music; Wren, Bach, Picasso: each a further proof that civilisation cannot be extinguished, least of all by so crude a tool as physical violence. War, plague, bigotry, fanaticism and genocide might stifle, but they can never destroy. Not the human spirit, and certainly not Paris.
Acknowledgements: Alyssa Heitfeld, English, Media and Cultural Studies major at Macalester College in St. Paul, Minnesota and Editing Intern with A Woman's Paris.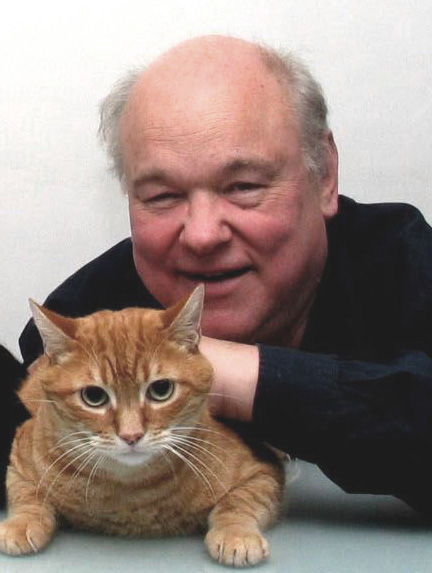 John Baxter is an acclaimed memoirist, film critic, and biographer. He is the author of the memoirs: The Most Beautiful Walk in the World, Immoveable Feast: A Paris Christmas, We'll Always Have Paris, The Perfect Meal: In Search of the Lost Tastes of France, The Golden Moments of Paris: A Guide to the Paris of the 1920s, Paris at the End of the World: The City of Light During the Great War, 1914-1918, and Five Nights in Paris. A native of Australia, he currently lives with his wife and daughter in Paris—in the same building Sylvia Beach once called home.
Since moving to France, John has published biographies of Federico Fellini, Luis Bunuel, Steven Spielberg, Woody Allen, Stanley Kubrick, George Lucas, Josef von Sternberg, Robert De Niro, and the author J.G. Ballard. He has also written five autobiographies, including A Pound of Paper: Confessions of a Book Addict. His most recent books are Chronicles of Old Paris and The Paris Men's Salon, a selection from his uncollected prose pieces. John's translations of Morphine, by Jean-Louis Dubut de la Forest and Fumée d'Opium, by Claude Farrère, have also been published by HarperCollins, the latter as My Lady Opium.
John has co-directed the annual Paris Writers Workshop and is a frequent lecturer and public speaker at universities and writers workshops. His hobbies are cooking and book collecting (he has a major collection of modern first editions). When not writing, he can be found prowling the bouquinistes along the Seine or cruising the internet in search of new acquisitions.
In 1974, John was invited to become a visiting professor of film at Hollins College in Virginia, U.S.A. While in the United States, he collaborated with Thomas Atkins on The Fire Came By: The Great Siberian Explosion of 1908, a highly successful book of scientific speculation, and wrote a study of director King Vidor, as well as completing two novels, The Hermes Fall and Bidding. (Facebook) (Website)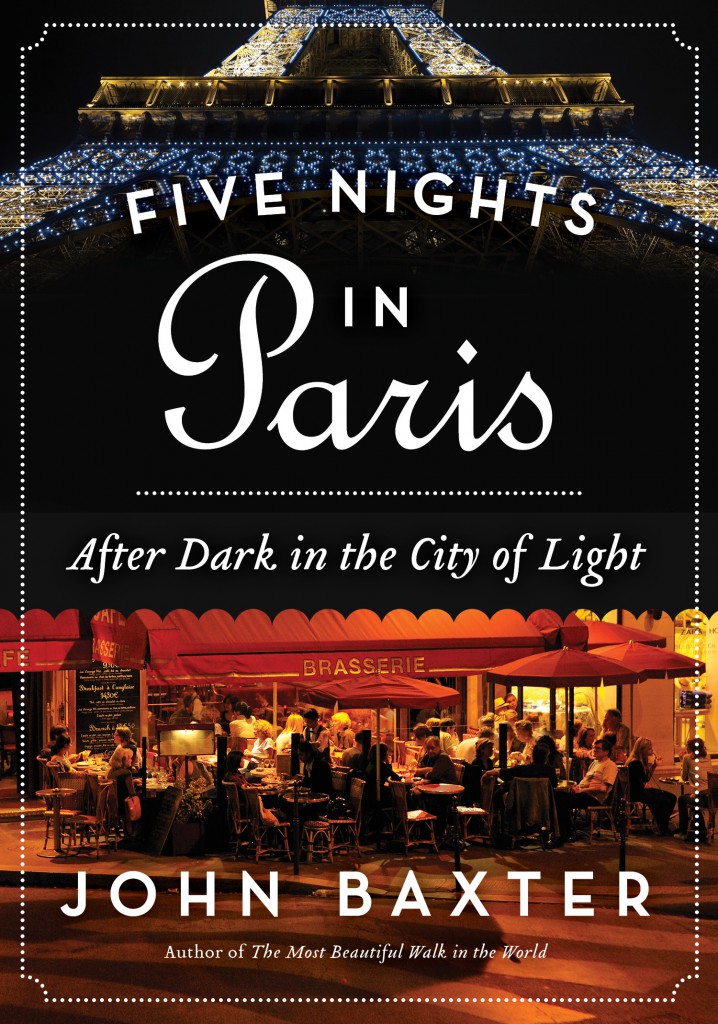 Any guidebook can tell you what to see and do in Paris during the day: Museums and monuments, cathedrals and croissants—the checklist of Parisian clichés is enough to keep any tourist busy until closing time. But what about when darkness falls on the City of Light? John Baxter wondered the same thing. Inspired by the literary tours he gave during the day, Baxter developed his dazzling sensory tour of Paris's greatest neighborhoods.
Five Nights in Paris is enriched by anecdotes from Baxter's own life in France and written with the alluring, authoritative voice only he can provide. From the late-night haunts of the city's most storied artists and writers, to the scenes of its most infamous crimes, this unique travel memoir whisks its readers off to places you won't find in your average guidebook.
For jetsetters and armchair travelers alike, Five Nights in Paris: After Dark in the City of Light is sure to become an instant classic and will make even the most dedicated home-bodies yearn for the land of cafés and literary greats. (April 14, 2015, Harper Perennial) (Purchase)
Photo: Rudy Gelenter
From A Woman's Paris®:
How horrible Friday night, November 13, in Paris! We offer our sincere condolences to Paris. Our heart goes out to those who have suffered in Paris and communities worldwide; we are deeply saddened by the loss.
Liberté, égalité, fraternité "liberty, equality, fraternity," is the national motto of France and the Republic of Haiti. How true this is to our experiences with French friends, expatriates and colleagues living in France and around the world.
Take care. Be well. Tell us that you and your family and friends are safe.
Love to all,
Barbara Redmond
Publisher, AWomansParis.com
A Woman's Paris®
Text copyright ©2015 John Baxter. All rights reserved.
Illustrations copyright ©Barbara Redmond. All rights reserved.
barbara@awomansparis.com