"The Thinking Space: The Café as a Cultural Institution in Paris, Italy and Vienna" – free book giveaway to 1 subscriber!
08 Tuesday Sep 2015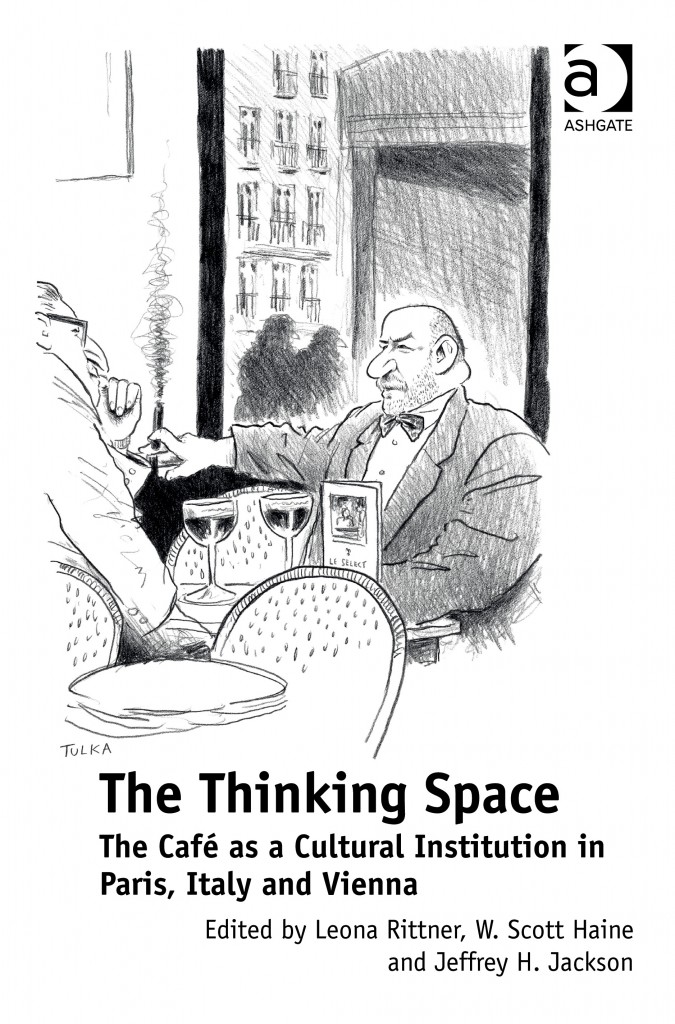 Subscribers, The Thinking Space: The Café as a Cultural Institution in Paris, Italy and Vienna edited by Leona Rittner, W. Scott Haine, and Jeffrey H. Jackson. A $124.95 value. Free book giveaway to 1 subscriber ends September 15, 2015.
Free Subscription: Join our thousands of followers to receive your copy of our Readers' Choice: 253 Books About France, including books about Architecture, Interiors and Gardens; Arts; Biography; Children; Culture; Fashion; Food and Wine; Memoir; Mystery; Novel; Science; Travel; and War, along with email notifications of new posts on the website.
Once subscribed, you will be eligible to win—no matter where you live worldwide—no matter how long you've been a subscriber. We never sell or share member information.
Excerpt: "The Thinking Space: The Café as a Cultural Institution in Paris, Italy and Vienna (Excerpt, Part One) published on A Woman's Paris®.
The cafe is not only a place to enjoy a cup of coffee, it is also a space—distinct from its urban environment—in which to reflect and take part in intellectual debate. Since the eighteenth century in Europe, intellectuals and artists have gathered in cafes to exchange ideas, inspirations and information that has driven the cultural agenda for Europe and the world. Without the café, would there have been a Karl Marx or a Jean-Paul Sartre?
The café as an institutional site has been the subject of renewed interest amongst scholars in the past decade, and its role in the development of art, ideas and culture has been explored in some detail. However, few have investigated the ways in which cafés create a cultural and intellectual space which brings together multiple influences and intellectual practices and shapes the urban settings of which they are a part. This volume presents an international group of scholars who consider cafés as sites of intellectual discourse from across Europe during the long modern period. Drawing on literary theory, history, cultural studies and urban studies, the contributors explore the ways in which cafes have functioned and evolved at crucial moments in the histories of important cities and countries – notably Paris, Vienna and Italy. Choosing these sites allows readers to understand both the local particularities of each café while also seeing the larger cultural connections between these places.
By revealing how the café operated as a unique cultural context within the urban setting, this volume demonstrates how space and ideas are connected. As our global society becomes more focused on creativity and mobility the intellectual cafés of past generations can also serve as inspiration for contemporary and future knowledge workers who will expand and develop this tradition of using and thinking in space. The Thinking Space: The Café as a Cultural Institution in Paris, Italy and Vienna (2013; Ashgate Publishing Limited). Ashgate History's Profile Twitter / Purchase
Praise for The Thinking Space
"Across this collection, what emerges is that the café is a site where we can begin to understand not just the relationship between solitude and sociability across time, but also the relationship between speech and place; between speakers and overhearers; between national identity and race; between occupying forces and the occupied; between the elites and the masses. What is hopefully apparent, then, is that while this collection will appeal primarily to scholars of café and literary scenes, it also touches upon ideas of wider interest in historical geography." – Journal of Historical Geography
"… provides a fascinating account of ways in which, since the eighteenth century, the intelligentsia of three countries deployed the amenities of the café as part of their professional practice." – European History Quarterly
Editors
W. Scott Haine teaches at the University of Maryland University College.
Jeffrey H. Jackson is Associate Professor of History at Rhodes College in Memphis, TN.
Leona Rittner, who died in 2010, was an independent scholar based in New York and published widely in French and Italian literature.
A Woman's Paris is a community-based online media service, bringing fresh thinking about people and ideas that shape our world and presents a simplicity and style, in English and French.
Connecting with you has been a joyous experience—especially in learning how to enjoy the good things in life. Like us on Facebook. Follow us on Twitter. Share us with your friends.
Barbara Redmond
Publisher
barbara@awomansparis.com