French Impressions: Natalie Ehalt and her passion for Buenos Aires often referred to as the Paris of South America
21 Tuesday Feb 2012
Tags
AmeriCorps, Buenos Aires, Coco Chanel, Gabriel Garcia Marquez, Isabel Allende, Joyce Bilingual Preschool, Mary Oliver, Paul Strathern, University of Iowa, University of Iowa International Writing Program, University of Iowa Writing Fellows Program, Walt Whitman
Share it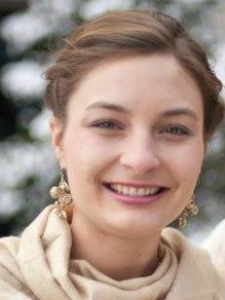 Natalie Ehalt, Program Manager at Joyce Bilingual Preschool and writer, is the senior editorial consultant for "A Woman's Paris®" publication. She studied Spanish and English with an emphasis in creative writing at the University of Iowa. In Iowa City, she participated for two years in the undergraduate Writing Fellows program and worked for three years with writers from around the world at the university's acclaimed International Writing Program.
Natalie spent her final semester in Buenos Aires and graduated Phi Beta Kappa. Currently, Natalie is a Lead Teacher at Joyce Bilingual Preschool, a nonprofit organization in Minneapolis. She and her husband, an Argentine, enjoy living in Plymouth, MN, with their two pet cats, Nala and Luna.
INTERVIEW
AWP: Name the books and movies, works of art and music, fashion or cuisine that have inspired you.
NE: Love in the Time of Cholera, by Gabriel Garcia Marquez. The House of the Spirits, by Isabel Allende. Leaves of Grass, by Walt Whitman, and "Wild Geese" by Mary Oliver.
AWP: Do you have any role models?
NE: Yes, but one is fictitious—Clara del Valle Trueba from Allende's House of the Spirits. I admire Clara's assuredness and the way she carried the magic of her childhood through to her old age. A real life role model for me is June Thiemann, writer and former board member at the nonprofit where I work. June has a way of accessing the core of a person to develop genuine care and trust.
AWP: Napoleon Bonaparte (1769-1821), Emperor of the French and reactionary pragmatist regarding women said in a letter written in 1795: A woman, in order to know what is due her and what her power is, must live in Paris for six months. In what way does this hold true with your experience living in abroad? How do we understand this statement today?
NE: I haven't lived in Paris, but I love this idea of women not yet knowing what their power is, then finding it through a transformative experience. My friends and I have talked about how the most trying times, whether traveling abroad or living through a break-up, have a way of empowering a person. I wonder what a woman found in Paris in 1795—and did Napoleon speak of Frenchwomen, or foreigners? Perhaps in Paris, even for a native, a woman found herself sufficiently removed from her other life, from her attachments, to recreate herself. Her own opinion, she discovered, was the most powerful.
AWP: What is the last book you read?
NE: Borges in 90 Minutes, by Paul Strathern. I'm on a Borges kick right now and am enthralled with the way he describes Buenos Aires, often referred to as the Paris of South America: "Streets of Buenos Aires made profound by a transitory barrel organ, vehement public expression of our souls; delightful streets, sweet in the enjoyment of memory, long like waiting; streets where hope, the memory of that which is to come, strolls; streets nailed together and solid so forever in my desire" ("Buenos Aires," Borges, 1921).
AWP: What is the best (or worst) advice you've ever given or received?
NE: Sometimes you have to be your own best friend. I heard one of my high school teachers say this to a student upon her departure for a year in Chile.
AWP: What handed-down wisdom did you receive from your mother or father?
NE: I've grown to admire my father's quiet ambition, which I interpret as a kind of wisdom. He can do anything that he wants to do. He envisions his result and creates a path. He's handed down his wisdom leading by example.
My mother always reminded me, "Be aware of your surroundings." This came from being a kid and knocking things over, or stepping on my mother's heels as she walked ahead of me at the grocery store, myself completely distracted by the myriad of cereal boxes. But now this piece of wisdom makes sense in a different way, as a heightened awareness of my surroundings and also self-awareness have assisted me in achieving my goals.
AWP: What childhood experience has served you many times?
NE: Beginning to learn Spanish in elementary school with Señora Rosati. She would bring an empty wine bottle full of candy, and we kids sat eagerly learning our colors, numbers, and names of animals, waiting for a prized sweet.
AWP: In your youth, what did you imagine your adult life would hold? What influenced this vision?
NE: I thought I would live in a home painted in rainbow stripes and drive a Volkswagen bus. While this proved false, from an early age I also imagined becoming a teacher, which I have done.
AWP: In your early teens, what formed your romantic fantasies of adventure and love?
NE: I listened to music nonstop: The Beatles, Nirvana, and Ben Folds Five were my favorites. When I had a crush, I would associate him with a certain song and listen over and over again. I had this romantic notion that there was only one true love out there for me, and that love would only strike once. While I was somewhat of a music head and bookish, my brother was the real adventurous one. He'd sneak out of the house late at night by putting his Jeep in neutral and pushing it down the driveway so my parents wouldn't hear him leave.
AWP: What were your favorite childhood things to do?
NE: I loved to climb on top of our tool shed and spend the afternoon playing with dolls or pretending to be Laura Ingalls Wilder. We lived in the woods, and I liked to pretend it was a farm and that we were homesteading. When I wasn't outside, I was memorizing Beatles lyrics or reading The Boxcar Children.
CREATIVITY
AWP: What nourishes your passions?
NE: Having time and space (i.e. Saturday afternoon and a clean house) really clears up my mind and allows me to pursue my passions: from planting a vegetable garden to writing a sonnet to enjoying the ancient tradition of Argentine mate with my husband.
AWP: How did you get your foot in the door at the beginning of your career?
NE: I started in a national service role through AmeriCorps, developing preschool curriculum and recruiting volunteers to work as literacy aides.
PERSONAL STYLE
AWP: Was being stylish important to you growing up in your teens? Is it now?
NE: Growing up I wore hand-me-downs, and I still do today! Granted, my style has changed somewhat, but I am lucky to have friends and family members who invite me to pilfer through their closets when they need to downsize. The habit has allowed me to add pieces to my wardrobe that I probably would have never bought myself. Yes, being stylish is important to me, but I'm no Coco Chanel.
AWP: How do you define style or fashion?
NE: Wearing what makes you feel your best.
CUISINE
AWP: Tell me about your cooking and eating habits and traditions.
NE: I love to make Szechuan green beans, squash and mole enchiladas, and my new favorite, fettuccini from scratch. On weeknights, I cook something quick and easy, but when I have the time, I really get into it. Traditions—cranberry sauce from a can on Thanksgiving, egg bake for Christmas brunch, and Amore Victoria, an Italian restaurant, for Valentine's day or anniversaries. I always order their "Mushroom Passion."
AWP: What was your most memorable meal to date?
NE: Breakfast in a hotel in Buenos Aires—it arrived through a miniscule delivery door right next to the bedside: fresh, hot croissants, orange juice, and coffee. Didn't even have to get out of bed!
AWP: What is in your refrigerator right now?
NE: Pepper jack cheese, whole wheat tortillas, plenty of garlic, plenty of beer, red cabbage, milk, butter, pesto, hummus and coffee. Don't know why we keep the garlic and coffee in the fridge.
ART OF LIVING
AWP: What do you live for? What do you love above all?
NE: Besides family—sunshine, feeling nourished by the earth and sky. And working with children. Their intensity and naivety is beautiful to me.
AWP: What natural gift would you most like to possess? What talent are you most thankful for?
NE: I wish I was a better musician. I also wish I had a better sense of direction; I have no orientation skills whatsoever. I'm thankful for my ability to cook even when I don't have all the ingredients.
You may also enjoy A Woman's Paris® blog, The Little Paris of Buenos Aires, by Natalie Ehalt. Natalie writes about Recoleta, a premier barrio in Buenos Aires, Argentina, this irresistible Little Paris of South America. Until the sounds of thick Argentine Spanish reveal Recoleta's true identity, a visitor might be fooled, stepping out of an urban rowboat and into a garden of 12,000 roses. 
Adventures in Travel: Réunion, French island, by Lindsay Pepper who shares her experiences of graduating college with a French major and going on to join TAPIF, the Teaching Assistant Program in France. Lindsay chose a non-conventional option and traveled to the French-speaking African island, la Réunion.
The Child Madeline, by writer and educator Natalie Ehalt who shares her love of Madeline, who brings a deserved respect for girls and children worldwide. Excerpts from Mad About Madeline: The Complete Tales, by Ludwig Bemelmans.
I dream of Paris. Writer and educator Natalie Ehalt shares the quote from Napoléon, who wrote in 1795, "A woman, in order to know what is due her and what her power is, must live in Paris for six months." To Natalie, Paris is the ultimate in elegance and style. It is old-fashioned, it is cobblestone, it is aprons, it is a chauffeur helping you step off the curb…
French Impressions: Laura Tompkins and her fascination by the ways language evolves and is shaped by the culture around it. Laura Tompkins, development and communications director at Joyce Bilingual Preschool, shares the books that resonate with her and the single book that inspired her to begin writing.
French Impressions: Catherine Watson on literary travel writing and memoir. Award-winning author, travel writer and photographer, Catherine Watson has developed a career that has taken her around the world three times, to all seven continents and into 115 countries. Catherine shares her life, on and off assignment, as a solo traveler.
A Woman's Paris — Elegance, Culture and Joie de Vivre

We are captivated by women and men, like you, who use their discipline, wit and resourcefulness to make their own way and who excel at what the French call joie de vivre or "the art of living." We stand in awe of what you fill into your lives. Free spirits who inspire both admiration and confidence.
Fashion is not something that exists in dresses only. Fashion is in the sky, in the street, fashion has to do with ideas, the way we live, what is happening. — Coco Chanel (1883 – 1971)
Text copyright ©2012 Natalie Ehalt. All rights reserved.
Illustrations copyright ©Barbara Redmond. All rights reserved.
barbara@awomansparis.com