French Silhouette, a New Look
02 Monday Jan 2012
A Woman's Paris™ in Style
By Barbara Redmond
Isabelle is French. I knew this immediately when we first met. Not because I was at her home in Cannes, France, but because of her attention to the tiniest detail of her appearance, good taste and natural style—brushing fashion aside with her blend of reasonably priced purchases and small number of luxury pieces. She knows what enhances her features and what sets off her lifestyle. Isabelle Burdel is a Master perfumer and founder of the French perfume house, Salon Privé Parfums.
Effortless chic. Simple style. Self-confidence.
Isabelle greeted me wearing metallic bronze straight-leg jeans with a leather belt and ankle boots, and an ultra-soft long cashmere sweater with pushed back sleeves—all in shades of toffee brown. Beneath her sweater was a luxurious skinny T-shirt in white cotton, and around her neck a supple, paper-thin Pashmina stole twisted to barely the width of three fingers with both ends flung forward cascading to her knees.
Her jewelry? A single ring, dangling earrings and an almost imperceptible necklace on a fine chain was all she wore. Her long dark brown hair brushed away from her face fell straight from her shoulders.
She wore little make-up other than the natural look of a little black kohl along the base of her eyes and a little mascara to the upper lashes, transparent gloss lipstick and a wonderful smile.
We are the same size and age. I was wearing velvet trousers over boots and a cashmere turtleneck sweater all in textures of black. Sparse jewelry, and very little makeup other than powder, a little black kohl along the base of my eyes and mascara to the upper lashes plus Chanel's lip-gloss with barely a hint of color.
But that wasn't it.
It was Isabelle's silhouette.
I travel to Paris and sketch frequently. I focus on famous places in Paris and, in particular, people—especially women passing me on the street, in a museum, shopping or sitting in a café. Petit women (and sometimes not), who elongate their silhouette with a dropped waist; a belt slung low on the hips,—tied, never buckled—the buckle hanging loose and angled coquettishly, encircling a long white shirt or airy blouse over skinny jeans with flat shoes or sandals worn de rigueur, in the current fashion. Or Parisiennes whose rail-thin legs—bare in summer or sporting leggings in winter—appear to go on-and-on, obscured at mid-thigh by a pencil skirt or an even shorter mini worn like a second skin.
Scarves draped to flatter the silhouette. Wearing a billowy top? Pair with a large twill silk or small silk square tied close, its ends flung loose or wrapped tightly, and voilà: an elegant swan-like neck. Wearing that long-lean look from neck to toe? A loosely wrapped stole, scarf or shawl swirling and spiraling about the body, its undulating patterns swelling and rolling, a kaleidoscope of abstracted motifs in chic color combinations.
Enough! I told myself, staring at my closet in my own home.
"Oksana, can you come to my home for a wardrobe make-over?" I asked.
"How soon?" she replied.
"Soon! This weekend?" I said, "I want you to look at everything in my closet—from my clothes and shoes to jewelry and accessories—hose, leggings, everything!"
Oksana is hip, stylish and young. Born and raised in Latvia, she brought with her to America clothing tissue patterns and stylebooks. She still purchases threads and notions from Europe that are not available in this country and uses these special threads, especially on my velvets. Mindful of my style, together Oksana and I have refashioned clothing and designed skirts from Chanel tweed purchased in Paris, and Armani tweeds and luxury Gabardines, both wool and cotton, bought in America. She never second-guesses her ideas on fit, texture, pattern, color, or silhouette.
We would begin with winter, the season ahead. My wardrobe is simple. Five black velvet pants, several Anne Fontaine shirts, both white and black, and an assortment of cashmere sweaters in black and navy blue. Calvin Klein slim-fitting long sleeved jersey tops in both black and white. Black pencil skirts in wool Gabardine, velvet and leather. Taffeta skirts of various colors and lengths for evening, and collections of never enough shoes, Hermès scarves, belts, hose, and cold weather coats and shawls.
Before rifling through my wardrobe, Oksana and I shared our thoughts on style, what's current and what's not, over brunch at a nearby café. I shared with Oksana my favorite fashion tips for an effortless style by Ines de la Fressange, former fashion model with Chanel and France's icon of chic, from her book, Parisian Chic: A Style Guide by Ines de la Fressange with Sophie Gachet.
Oksana talked. I sketched. I talked. I sketched. We spent the afternoon pinning, tucking, lifting, and slipping to the back of my closet clothes that now belonged there; like a boxy Chanel pink cashmere sweater-set trimmed in black satin. "In several more years you might add this back to your wardrobe," remarked Oksana, "but not now!"
Oksana found a long neglected, well-below-the-hip grey mohair and cashmere sweater purchased in Italy. I used to wear it cinched at the waist with a Chanel gold-chain belt with Coco Chanel's hallmark lion's head dangling several inches from the clasp. She loved it. In her hands this luxurious sweater lost at least two inches at the shoulders and several more inches in an uninterrupted healthy pinch of knit along the underside of the sleeves, from cuff to armpit, and down the torso to the ribbing at the hem. "This is so chic!" she said, "I can lengthen the sweater two to three inches by blocking with an iron. Do you have black leggings and tall black leather boots?"
"But, of course!" I replied.
She was back in my closet again, rustling through the items hanging from the rod and found an equestrian-style Armani fine tweed jacket and quickly whipped it out into the natural daylight. While I stood ramrod-straight in the middle of the room, having been tucked and pinned, she rummaged through the pile of belts that lay along the back of a chair. "This one," I heard her say. Lifting my arms slightly, she circled my waist with a tobacco-colored leather belt and fastened its bronze buckle at the front. "We'll search for bronze metal buttons, for the masculine/feminine look!" she declared.
Now, the black velvet pants fit slim to the body elongating the leg. Even the best fitting black cashmere sweaters have received a little nip and tuck at the armholes for that long-torso Chanel look. I have a clever mix of old and new accessories, shoes and jewelry, and a refashioned wardrobe for a more defined and elongated silhouette. Dressing à la Parisienne for me is discovering French elegance and a personal style.
Her silhouette may be a girl's best friend.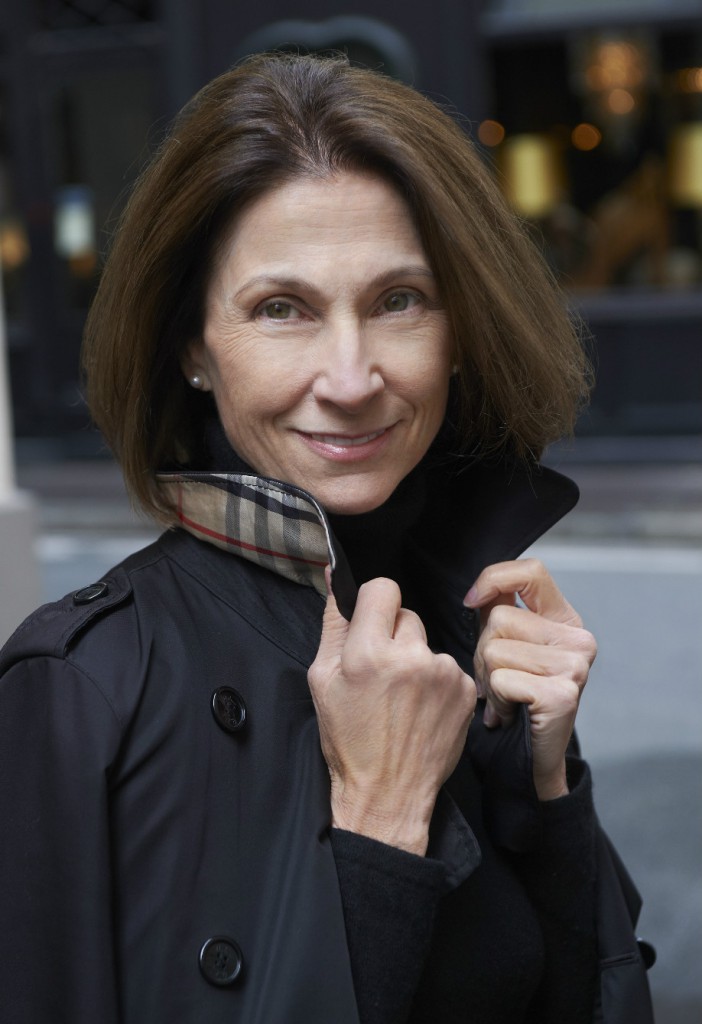 Barbara Redmond, publisher of A Woman's Paris®, is a long-time Francophile and travels to Paris every chance she gets. Her stories about Paris and France have been published in AWP® and republished, with permission, by other blogs and publications. Barbara has presented programs on French fashion and food, and has been a guest speaker for students planning their study abroad. She serves as an advisory board member at the University of Minnesota College of Design and is an active student mentor. Barbara has been recognized for excellence in art by international and national organizations and publications. Prints of her fine art paintings are in collections in Europe and North America and are available for purchase.
You may also enjoy A Woman's Paris® post, French Impressions: Isabelle Burdel on the very complex and marvelous alchemy of perfumes. Isabelle Burdel, founder and master perfumer at Salon Privé, Canne, offers her rare expertise of making very complex perfumes available to private individuals. She also shares her inspirations that allow her to create such perfumes that infuse the emotions and uniqueness of a person into a single perfume.
Imperfect Perfection: The new French woman, by writer Kristin Wood who reminds us of the words attributed to Henry David Thoreau, the famous American author and philosopher who eschewed material excess and extravagance… "Simplify, simplify, simplify." Kristin writes about the predicted trends of the "undone" makeup look, and the "de-blinging" of luxury items. What better place to introduce these two trends on a grand scale than in Paris?
Diving into Paris Fashion: From famous to fresh, by Parisian Abby Rodgers, who asks the question, "…with veterans such as Lagerfeld making the move to the street-wear market, where is fashion headed in Paris and what influence does the newest generation have?" Included are fashion brands and stores that are favorites of Abby and her friends. 
French Lingerie: Mysterious and flirty, by Barbara Redmond who shares her experience searching for the perfect lingerie in Paris boutiques and her "fitting" with the shop keeper, Madame, in a curtained room stripped to bare at Sabbia Rosa. Including a French to English vocabulary lesson for buying lingerie and a directory of Barbara's favorite lingerie shops in Paris. (French)
l'Américaine, by Parisian Eva Izsak-Niimura who writes about the myth of the unsophisticated and pathetically naïve American where book after book and article after article there is the lament of the hopeless quest of the American woman to resemble her French counterpart. 
French women do get wrinkles, by Parisian Eva Izsak-Niimura who writes about the super French myth of the coquettish French nymph–her "je ne sais quoi"–in her ballerina shoes, hair effortlessly tied in a messy chignon blowing in the wind, large sunglasses over her naked, no make-up, nevertheless beautiful eyes, and she then continues to define how we are all measured by it.
Scarves à la Françoise: The lingua Franca for stylish women, by Barbara Redmond who shares her experience trying on scarves and tying them at the home of her French friend in Lyon. Arriving at the famous silk manufacture in Lyon, André Claude Canova, Barbara and her friend gently tapped on the window even though the shop was closed.  The shop girl let them and they all enjoyed hours of playfully draping, twisting and knotting scarves and shawls. An experience spurred by the ubiquitous nature of women and scarves: our common language.
Text copyright ©2012 Barbara Redmond. All rights reserved.
Illustration copyright ©2012 Barbara Redmond. All rights reserved.
barbara@awomansparis.com